Newcastle's transfer window of inaction casts Rafa Benitez's future at St James' Park into further doubt
Benitez is unhappy with the lack of financial backing he received during the summer
Martin Hardy
Friday 01 September 2017 13:38 Comments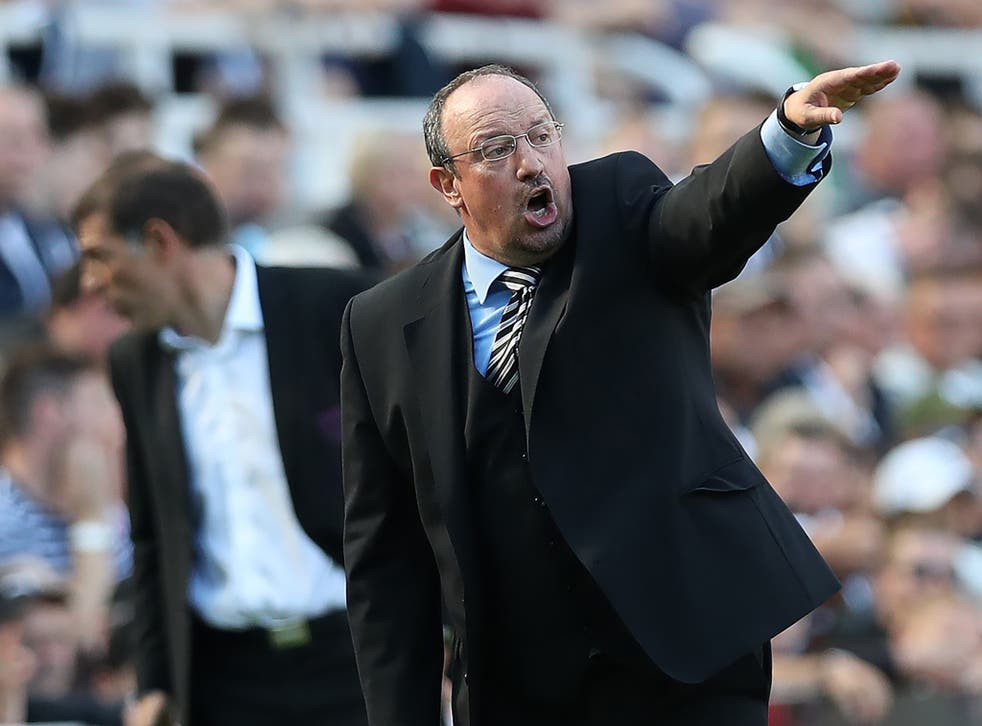 Rafa Benitez was on the first flight to Amsterdam from Newcastle International Airport on Wednesday morning at 6.05am. A connection later he was in Switzerland. He wasn't there to meet agents, players or the chief executives of football clubs.
Instead he was attending an elite coaching forum at the House of European Football in Nyon. If it sounds grandiose, that's because it was. In a team photograph, Benitez is pictured next to Louis van Gaal. Further along the row is Sir Alex Ferguson. In front, seated, are Jose Mourinho and Zinedine Zidane.
It really is the elite, and it is not where, these days at least, you find the manager of Newcastle United. "Yes it is unusual," said Benitez. "But I think it is very good for Newcastle because I am representing the club at the top level, at a prestigious meeting like this. I can make sure I can bring back to Newcastle experience and information from the conference to help the club."
The following day he flew back to Tyneside, took an afternoon training session at the club's Benton headquarters and then, at around 6 o'clock, said his farewells to staff and went home. No part of those two days suggested the transfer window was closing and that Newcastle needed to be moving.
Premier League transfer window: The key moves
Benitez knew, and he was on his way home, but the shock at the final two-day inertia still hit those watching Newcastle supporters hard. A Newcastle supporters' Twitter account asked for the window to be summarised in three words. 'Rafa's gonna walk,' 'Lied to again,' 'Same old shit,' and 'fans suffer again,' were more representative of the reaction (within five minutes) than the, 'Some decent signings,' and 'some deadwood gone.'
The euphoria of the club's first victory of the season against West Ham (following three straight defeats) had barely subsided when Benitez was visited, in his office, by Lee Charnley, Newcastle's managing director, Justin Barnes, a lawyer who works for Ashley at Sports Direct and Keith Bishop (in charge of Mike Ashley's PR). There, Benitez was told to stop undermining the club's action in the transfer market.
It bore an uncomfortable parallel to May 2008, when Kevin Keegan was called to London to an office of Freshfields, and having been driven there by his wife, was put in his place by Denis Wise and Tony Jimenez in what was called a forceful meeting. Keegan was taken aback by the hostility and later successfully sued Ashley (who was also present) and Newcastle Untied, the club he rescued from oblivion twice, for constructive dismissal.
It is for another time whether the club has learned anything since but it does believe there is currently a major discrepancy in the figures that have emerged since the window closed. They insist more than £40 million has been spent on the six players Newcastle have signed this summer and that the initial incoming figures for their two major sales, Florian Thauvin to Marseille (£10 million) and Lewis Gibson to Everton (£6 million) will be a fraction of the actual total.
There has also been an inability to move players on. Dwight Gayle, Jack Colback and Aleksandar Mitrovic told the club they did not want to leave, and there was plenty of interest in the first two.
Principle amongst Benitez's complaints has been the speed at which the club has moved. Tammy Abraham and Willy Caballero were top of his summer wishlist. He lost the former to Swansea because of salary and the latter, he feels, because the club questioned the figures involved in the deal. It disheartened him and he felt the lines of communication were down during that crucial period, when others went full speed for their first choice.
There was also major surprise at the size of fees this summer. Again, Newcastle have been outmanoeuvred. In January they could have had Andros Townsend for a deal that would have cost around £14 million (a loan fee plus a guaranteed permanent transfer) and decided the transfer was too much of a gamble. The player is now valued at £27 million.
Newcastle's summer warchest was suddenly inadequate, yet nothing was done to react to the market. This has been a symbol of the last ten years. Newcastle's starting centre forward, Joselu, and number 10, Ayoze Perez for that victory against West Ham cost just £7 million. The top earner at the club, Jonjo Shelvey, is on less than £80,000 (although the club wage bill is currently the highest it has ever been). The average age of the ten outfield players against West Ham was 24. The average price of a 24-year-old moving this summer was £30 million.
Newcastle do not appear to be matching the ambition of their support. In the ten years since Mike Ashley took over, there have been two top ten Premier League finishes and the club has never reached the fifth round of the FA Cup. Newcastle in that ten year period have struggled repeatedly to merge the needs of the balance sheet and the team sheet.
In his managerial career Benitez has won 13 titles. In modern bloke speak, Newcastle are 'punching', and their support knows that.
Crucially, Benitez is not expected to walk. It would cost him £6 million - a year's salary - if he did. That is unlikely to happen and for all the posturing behind the scenes - and the sense of Benitez being put in his place - there is no desire to either lose the Champions League winning manager, or indeed let him leave.
Should West Ham ever come calling (and it appears Slaven Bilic has been given time) then there will be an almighty fight. Benitez feels angered and disillusioned at what has happened since May, but he will not be allowed to leave, should he believe that his position has become untenable.
It leaves Newcastle United in an uneasy truce. Benitez has cut an increasingly demoralised figure at the training ground this summer. Ashley has been angered at the brief public utterances from his manager about his displeasure with the lack of spending.
It feels like a clock is ticking, once more.
Tyneside awaits, most likely at a later date, yet more acrimony involving their beloved football club.
Register for free to continue reading
Registration is a free and easy way to support our truly independent journalism
By registering, you will also enjoy limited access to Premium articles, exclusive newsletters, commenting, and virtual events with our leading journalists
Already have an account? sign in
Join our new commenting forum
Join thought-provoking conversations, follow other Independent readers and see their replies