Rafa Benitez prepared to mix things up as Newcastle prepare for Manchester United's visit
The Newcastle manager has been prepared to try everything to milk the points from his side to stay in the Premier League for another season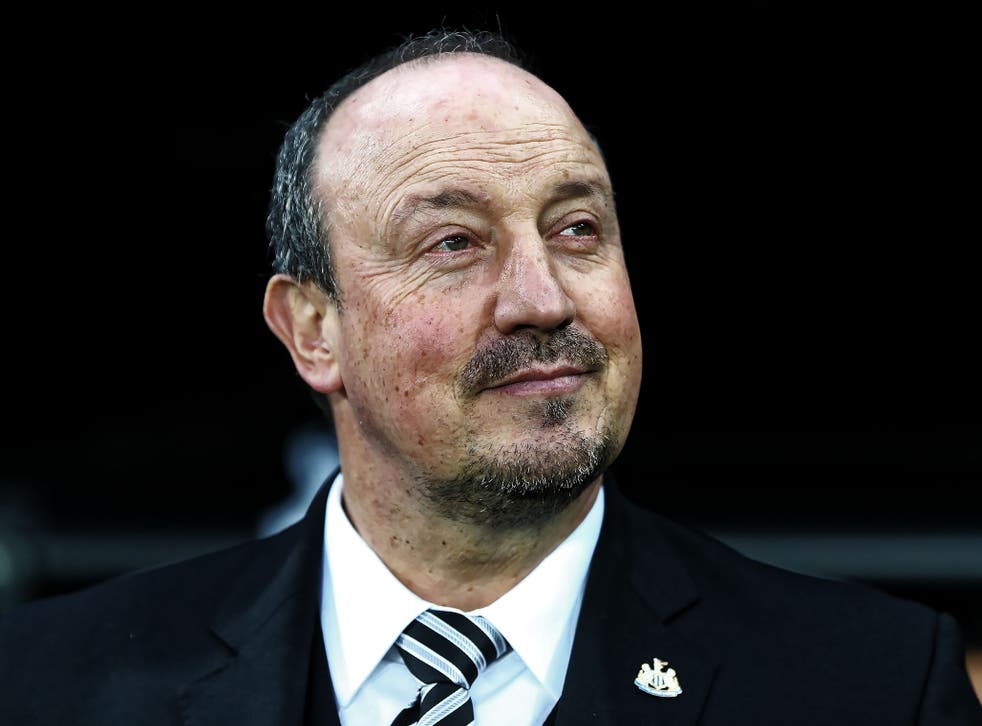 It has become, not through design, one of the images of the season. The whistle blown to start a night game at St James' Park, followed by Jonjo Shelvey belting the ball as hard as he could at the Manchester City goalkeeper, Ederson. And then the retreat: with every player in black and white dropping deep into their own half.
At stages during the first 45 minutes of that match back in December, the home side's possession wobbled at around 10 per cent. To some, like Gary Neville, it caused outrage. "Embarrassing," he called it.
When the game was finished, and City had edged a one-nil victory, Pep Guardiola lamented the approach. "We did absolutely everything but it is difficult to play when the other team doesn't want to play," he said.
Tyneside backed its Champions League-winning manager and railed against the criticism, despite the odd dissenting voice.
When Newcastle had faced Manchester United at Old Trafford a month earlier, the reverse had been the case. Then Newcastle roared out of the traps. The England Under-21 winger Jacob Murphy, called into the side for his first start in six weeks, was given license to use his speed down the Manchester United left. The tactic worked. For half an hour the home side were rattled, and in that time Newcastle, through Dwight Gayle, took the lead.
"We didn't start well but I don't blame my players, I blame, in the positive sense, Benitez," said Mourinho. "He is very experienced, very intelligent. Their team started well, caused us problems and we couldn't play in our defensive areas."
Mourinho reacted to Murphy, nullified him and Manchester United ran out 4-1 winners. Benitez was in a corridor in Old Trafford when he heard of Mourinho's praise and smiled. The two men used to be at war.
Two weeks later, Benitez tried the same tactic at Chelsea, starting with his team high, took an early lead, again through Gayle, but lacked the defensive nouse to see the game through and protect the lead. Newcastle lost 3-1.
Above all, it shows Benitez has been prepared to try everything to milk the points from his side to stay in the Premier League. He has already referenced goal difference as being a potential factor come the final league table. They are tiny margins, but Benitez has searched each one to find safety and he bristled when asked if he would be scared to repeat the tactic employed against City, at home to Manchester United, on Sunday.
"What would I be scared of?" he said. "Why would I be scared (to do it again)? I've seen other teams with the number nine back on the penalty spot. It depends on the pundit and how they analyse. We're not a defensive team, we are a team that has to defend.
"I was watching the TV analysing some tactics from Huddersfield, Burnley, West Ham, Stoke and Leicester and a lot of teams were playing defensive against Man City, that is what you have to do with 80 per cent possession. Your tactics have to be right against different teams.
"We were in the game the last time against Man City, each game has its own tactics. It's difficult to say what we learned (from the way Newcastle played against Manchester United) because we did well at the beginning, scored a goal and were organised. Then we made a couple of mistakes and conceded two goals. That's what can happen against the top sides. You can soon lose 1-0 or 2-0. You can't make mistakes or they will take chances. We know where we are and we have to compete with what we have."
However, Newcastle have now not won a league game at St James' Park since Mikel Merino headed them to a one-nil victory against Crystal Palace in October. It is a run of eight games. Not since 1978 has a Newcastle side failed to win in nine successive home league games.
It is not a record he wants. The additions of Islam Slimani, Kenedy and Martin Dubravka has lightened his mood. The two outfield players,both quick, are likely to feature at some stage on Sunday. Slimani is the kind of centre forward he has wanted since he lost out to Swansea in a move for Tammy Abraham last summer.
"Sometimes we have deserved more but you have to take your chances and score a second goal," added Benitez. "Our idea is to win any game. It doesn't matter at home or away. The fans will be supporting the team and it can be easier to put in more effort at home, but we need to improve our finishing or experience to manage the games. That's what we need to learn quick."
The curiosity is that Mourinho has never won a Premier League match at St James' Park in six attempts (he was victorious in a League cup quarter-final back at the stadium in 2006). After a 2-2 draw at the ground in 2015, a season in which Newcastle were relegated, he lambasted the home side.
"I think maybe one of the reasons why Newcastle over the years doesn't get good positions (in the league) is because of this mentality, it's because they choose some matches to sweat blood in and in other matches, they don't," he said. "This is an attitude typical of a team that wins nothing."
Fantasy Premier League tips: Gameweek 27

Show all 10
Benitez's team is certainly not like the one Steve McClaren led that day; it is pragmatic and resilient. It also has the backing of the support, despite the unprecedented style of play for a Newcastle side on home soil. That might yet prove the detail to guarantee a safety that Mourinho on Friday said he also expects.
Join our new commenting forum
Join thought-provoking conversations, follow other Independent readers and see their replies