Noel Gallagher as a pundit on the Manchester derby? Sorry Sky Sports, your paying viewers deserve better
The former Oasis frontman may well be a legendary Rock and Roll Star, but what place did he have offering both pre and post-match analysis on the biggest match of the season?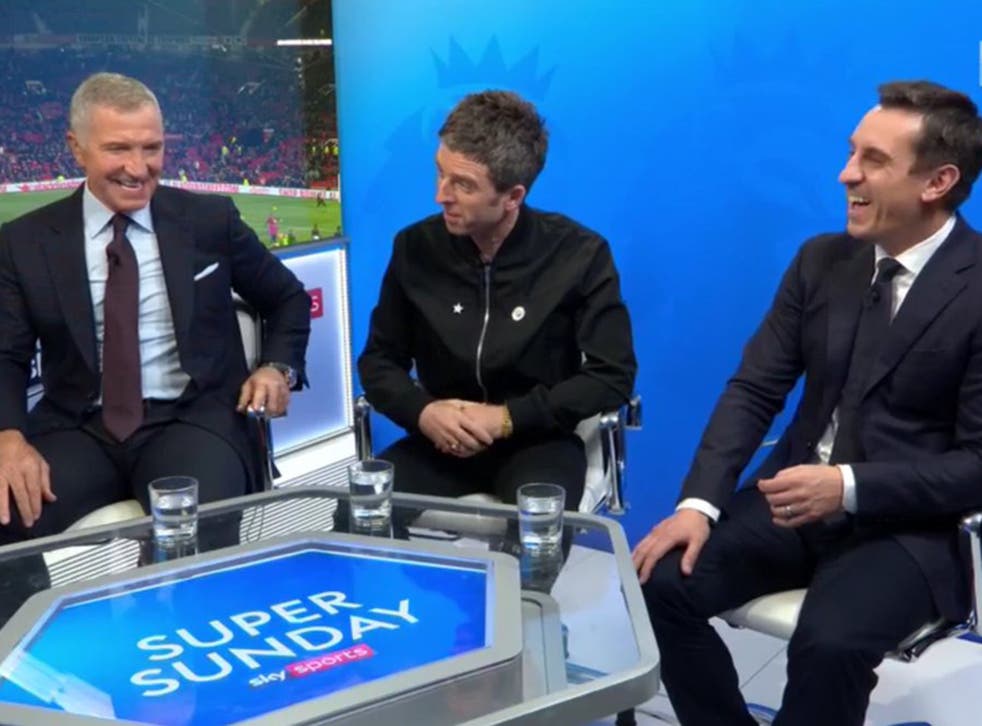 Thierry Henry, Jamie Redknapp and Craig Bellamy – with their 847 Premier League appearances between them – were all left on the Sky Sports subs bench for the television coverage of Manchester United vs Manchester City. Why? Because it turned out a football fan named Noel Gallagher had a bit of space in his diary, obviously.
First thing's first: Gallagher is a likeable character and a legendary Rock and Roll Star, and he is usually entertaining when making semi-frequent cameo appearances on Sky Sports. But by his own admission he knows as much about football as the average punter – so should he really have been invited along for the pre-match, half-time and post-match analysis?
Instead of one of their expensive roster of ex-pros, Gallagher happily trotted out a series of standard, anodyne observations, as regular guests Graeme Souness and Gary Neville shifted awkwardly in their seats, wishing they were Half the World Away. And who did presenter David Jones turn to first for professional insight at half-time? Yup, you guessed it – Gallagher.
The vast majority of City fans will no doubt have been delighted to see Gallagher in the studio, beating the City drum and generally looking to slip in digs at United whenever possible. But really – was anybody else that impressed by his presence?
For one thing, a Sky Sports subscription doesn't come cheap, and people pay for a high level of service, not to hear a former musician spout on about his beloved team.
The success of Sky's much-trumpeted Monday Night Football, which isn't afraid to take a serious, analytical view of the Premier League, has shown that there is genuine interest in informative, intellectual football broadcasting. So what sense does it make for Sky to utterly ignore that and turn their coverage of one of the biggest games of the season into little more than a pub chat?
Manchester United vs Manchester City player ratings

Show all 22
Then there's the clear bias. Much is made of Neville and Carragher's Manchester and Merseyside connections, but at least they aim for neutrality and are always willing to criticise their former clubs. Not so Gallagher.
And to be fair, why should he? He has no expert analysis to offer, he is simply a fan cheering on his own team. Some Might Say we would all do the same.
Gallagher is a confident on-screen presence and boasts an undoubtedly huge fan base. He would make for a fantastic guest on, say, A League of their Own. Or – God help him – Soccer AM. But he is not a football pundit and so has little place in the Sky Sports studio for one of the biggest football matches of the season.
Join our new commenting forum
Join thought-provoking conversations, follow other Independent readers and see their replies