The Independent's journalism is supported by our readers. When you purchase through links on our site, we may earn commission.
'Noisy neighbours' Manchester City get some courtesy at last from United manager Alex Ferguson
Ferguson changes his tune and moves away from taunts and barbs to offer begrudging respect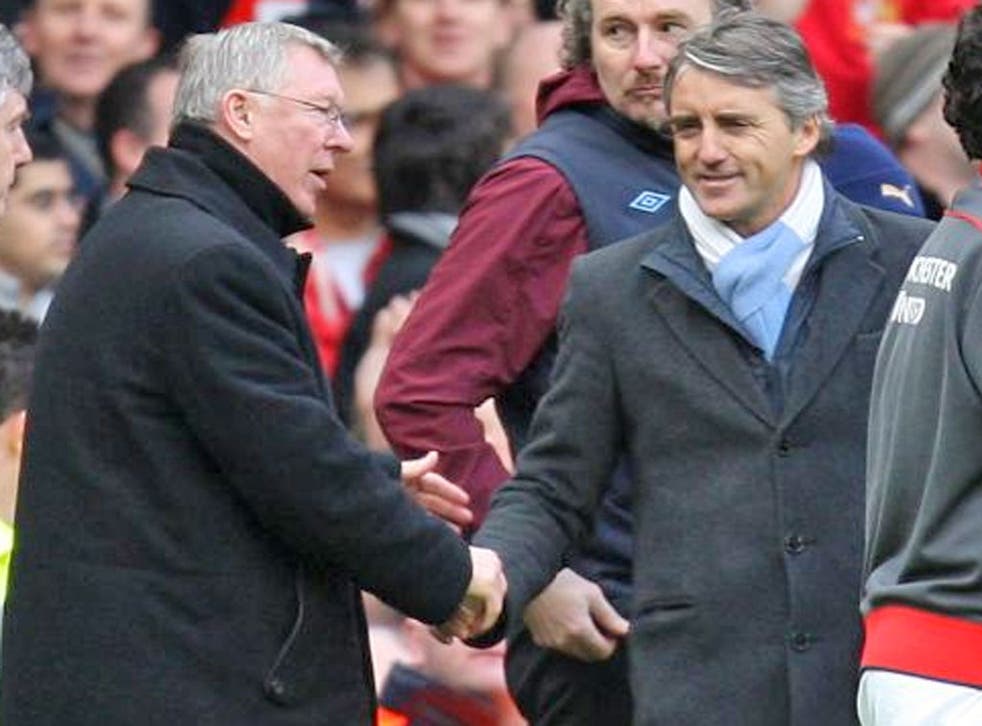 The rain hammered down like stair rods yesterday on the roof of the elevated space where, across the course of the past three years, Sir Alex Ferguson has periodically dispensed wisdom on the topic of Manchester City, generally while wearing a smile on his face.
Click here to see 'Respective positions since Sir Alex Ferguson became United manager' graphic
The "small club" with "plenty of talk, all talk" as he described them early into their Abu Dhabi ownership were also, of course, the noisy neighbours who "keep the radio on all the time". The custodian of the body tattoo predicting City to be "Champions League winners 2011", only to see them fail even to qualify for last season's tournament was a particular gift for the Manchester United manager. "I mean, people get carried away..." was his wry observation last year.
But City's development has been as steady as the Manchester rain and after what seemed like a semi-significant re-ordering of the Ferguson football world order last month, when he appeared to place Liverpool and City on a par, yesterday came the evidence that their city rivals have now moved ahead, in Ferguson's view.
Four short words – "our direct opponents now" – might appear a truism, given that Liverpool are 37 points adrift of the top of the table and as far away as ever from their own 19th title. But Ferguson has never before held that another club can stand in place of one which has entranced him ever since he left Anfield after watching Liverpool's 1977 European Cup quarter-final with Saint Etienne.
"I floated out," he said years afterwards. "It was as if I had been given an injection of one of those stimulant drugs. Instead, all that had happened was that I had been caught up in the most exciting football atmosphere I have ever experienced."
Manchester City's ground is, by comparison, the one he has always called the "Temple of Doom", and Ferguson was insistent yesterday that the "emotion" of visits to L4 will probably remain unparalleled, even if their significance is eclipsed. But we are well into a third phase of his relationship sentiments about City. First the farcical boasts of the Abu Dhabis' initial mouthpiece, Sulaiman Al-Fahim, drew Ferguson's ridicule. Then, feeling Arab heat on his collar, there was Glaswegian verbal ammunition to deal with the "chic", as Ferguson described City's owner, Sheikh Mansour, in an Eric Cantona documentary two years ago.
Then, when it became clear that this challenge would not be receding, the cutting statements gave way to courtesies – much as they did midway through the last decade when it became clear Jose Mourinho was not going away. City's procession past United to take last season's FA Cup was the turning point, to Ferguson's mind. "We all reach points in life and say: 'This is a different life now,' whether it is a job or winning the lottery," he said last summer. "Look at that couple who won the lottery – €110m – do you not think that was a turning point in their life? We all have points in our lives when it happens."
It was hard to work out at the time whether that Ferguson homily was a reference to City or United, though it was self-evident that then, as now, he loves the challenge. Ferguson's reluctance publicly to abhor City's wealth as Arsène Wenger has done, feels significant. Of course, he knows his own work in breaking British transfer records will be quoted back at him. Neither does he wish to have his club characterised as the poor relations. But above all, he is delighted to test his messianic belief in youth against the world's richest club. The only difference between United and City, Ferguson said in an interview with French television this week, "is perhaps that we're trying to build with youth".
Ironically, this is the very quality which he saw across at City when he arrived as United manager in 1986. United's 1986 FA Youth Cup defeat to a City side featuring Ian Brightwell, Paul Simpson, Paul Lake and Andy Hinchcliffe reinforced this view that United trailed. Uefa's attempts to enforce a regime of financial fair play mean that City are playing catch-up now.
Yesterday's managerial courtesies took us a very long way from Paddy Crerand knocking out David Wagstaffe in the tunnel at Maine Road in 1963 and Nobby Stiles punching the dressing-room wall in the same stadium. Ferguson, who penned a polite reply when the then City chief executive, Garry Cook, wrote congratulating him on surpassing Sir Matt Busby's longevity as United manager, has only responded when provoked. Patrick Vieira's suggestion that his own recall of Paul Scholes smacked of desperation was returned with interest.
For now, it would appear that United's advantage is the presence on Monday of those experienced players, Ryan Giggs, Rio Ferdinand, Scholes and others, who have trodden this late-season turf together so often before, in a way City's players have not. Rather surprisingly, Ferguson rejected that notion yesterday. "I think [those players] are irrelevant," he said. "I think that it is a one-off game. I think it was inevitable, given the fixture list, that it was maybe going to come down to this. It was the one that everyone wanted."
All-in-all, then, it will be just like playing Liverpool – the side Ferguson has said several times over the years that he would desperately want to beat at any sport. "Whatever it is – tiddlywinks or ludo, anything."
Famous five: Sir Alex's great rivalries
Liverpool (1986-91)
When Alex Ferguson became Manchester United manager in 1986, he vowed to knock Liverpool "off their perch". It was a long job. Under Kenny Dalglish they finished ahead of United in each of Ferguson's first five seasons, before United won their first Premier League title in 1993. They have now won 12 league titles under Ferguson, and 19 in total, surpassing Liverpool's 18 last season. "Anyone who manages Liverpool is always a rival to me," Ferguson later said.
Blackburn Rovers (1994-95)
The 1994-95 season saw Dalglish earn his revenge, leading his Blackburn team to the league title by just one point to end United's run of successive titles, despite Rovers losing both league fixtures against them.
Newcastle United (1995-96)
In January 1996, Kevin Keegan's side were 12 points clear at the top of the Premier League, with United in second, but the pressure at the top, combined with Ferguson's mind games soon got to Keegan. An Eric Cantona goal gave United a crucial 1-0 win at St James' Park in early March and they eventually won the league by four points.
Arsenal (1997-04)
Arsène Wenger was previously Ferguson's greatest rival in the division, with Ferguson taking a seemingly immediate dislike of the Frenchman, calling him a "novice" as he sensed a genuine challenger. That threat was realised when Arsenal overcame United's 11-point lead in 1998 to win the Premier League, but United bounced back in triumphant fashion with a hat-trick of titles. Wenger's rebuilt side then snatched the trophy back – having the gall to clinch the league at Old Trafford in May 2002, before the 'Invincibles' of 2003-04 again left Fergie purple-faced.
Chelsea (2004-07)
Bankrolled by the Russian billionaire Roman Abramovich, and with the talented young Portuguese Jose Mourinho as manager, Chelsea went on to win their first league title in 50 years in 2004-05, defeating United in both league matches that season. Chelsea's dominance continued in 2005-06, after they won a second successive title, making Mourinho a clear winner against Ferguson.
Chelsea (2009-11)
Managed by Carlo Ancelotti, Chelsea would win the title on the final day of the 2009-10 season by a point, but Ferguson got revenge the following season by reclaiming United's Premier League crown. Ancelotti was then sacked.
Register for free to continue reading
Registration is a free and easy way to support our truly independent journalism
By registering, you will also enjoy limited access to Premium articles, exclusive newsletters, commenting, and virtual events with our leading journalists
Already have an account? sign in
Register for free to continue reading
Registration is a free and easy way to support our truly independent journalism
By registering, you will also enjoy limited access to Premium articles, exclusive newsletters, commenting, and virtual events with our leading journalists
Already have an account? sign in
Join our new commenting forum
Join thought-provoking conversations, follow other Independent readers and see their replies