Paolo Di Canio explains his views on tomato ketchup, why Phil Bardsley was guilty of treason and that Steven Fletcher was always unhappy
Di Canio has responded to individual criticisms by his former players as well as the man he replaced at the Stadium of Light in Martin O'Neill
Jack de Menezes
Friday 15 November 2013 12:05 Comments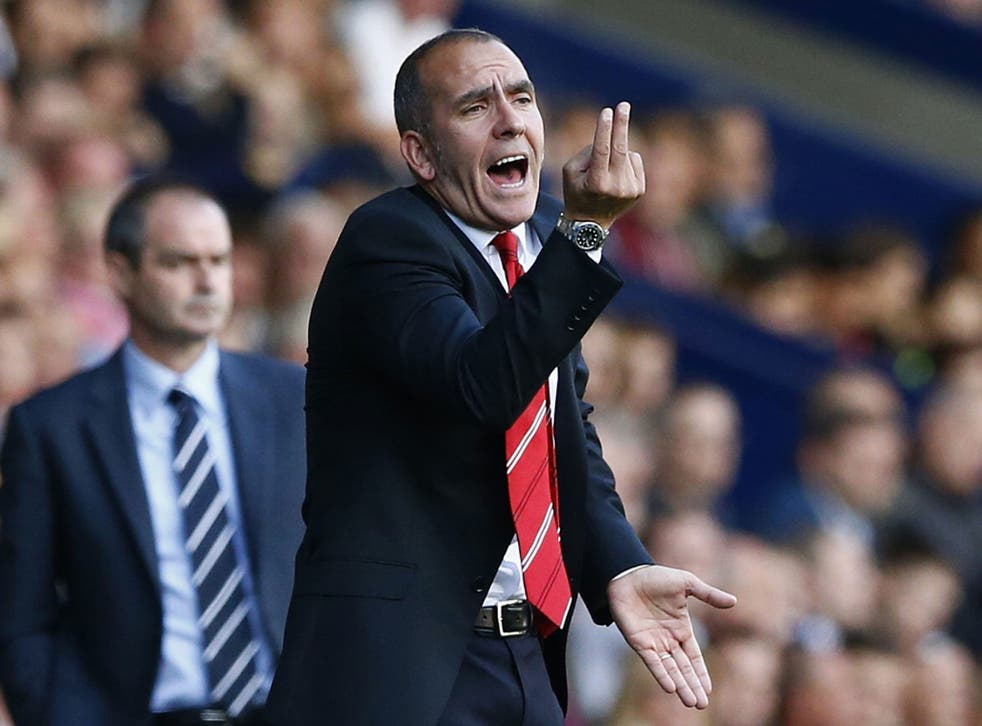 Paolo Di Canio has elaborated on his famous ban of tomato ketchup and mayonnaise among the Sunderland players, insisting that his former Sunderland squad ate "too much of it" and that it was "not healthy".
Speaking in an interview with Sky Sports, the 45-year-old was adamant that his predecessor Martin O'Neill had left him a significantly unfit squad, which he felt was to blame for their poor form.
O'Neill spoke earlier this week to address the situation and labelled the Italian a "managerial charlatan", with Di Canio responding that O'Neill didn't know the meaning of the word and that he was "not a big man".
But he also took the time to explain some of his seemingly rash decisions during his tenure at the Stadium of Light, in which he banned the condiments from the club's canteen, and also had a major fall-out with defender Phil Bardsley.
"I did ban ketchup and mayonnaise because the players have too much of it and it is not healthy," Di Canio explained. "It is not professional in a top club in one of the top leagues in the world. I saw people put ketchup in their pockets trying to smuggle it in! It was crazy."
"I had players who told me they had cramps from driving the car. I had three players with injuries in the calf after 20 minutes of a game. Six different players with problems means they were not fit.
"There were moments when the players had fun but there were also moments when the players had to be serious. If there was a mistake, it was that maybe I let them become too relaxed. I should have been more tough."
Di Canio admitted that the ban did not go down well with the players, which came after a major squad overhaul that saw 14 new players arrive in the summer transfer window. However, Di Canio attempted to deflect the criticism away from him by suggesting the director of football Roberto Di Fanti and chief scout Valentino Angeloni were responsible for all of the transfer dealings.
"I think 80 per cent of the squad should be British footballers," he said. "I don't know why more didn't come, you would have to ask Roberto De Fanti and Valentino.
"They were given power by the chairman. I gave them my opinion, I gave them names, but not one came and I don't know why. The players that did come, I accepted, but obviously they weren't my first choices."
His fall-out with Bardsley was widely publicised after the former Manchester United player posted a picture online of him in a Newcastle Casino covered in £50 notes, which led to a suspension of the 28-year-old.
He then posted a tweet on his Twitter account mocking the opening day defeat to Fulham, and has since criticised Di Canio publicly for trying to end his career.
"At the beginning of the season, he made tweets celebrating the defeat of the club that pay him," Di Canio explained. "A person at the club came to me and said 'we want to fine him', and I agreed.
"He was celebrating, that is the worst treason for the people next to you. It is clear that he tried to destroy his career on his own."
And he also had words for striker Steven Fletcher, in which he denied the Scots' claims that he did not want any laughing or smiling during training, although he did not hold back in his criticism of the 26-year-old.
"Fletcher was never happy when I said, publicly, that after four years in England his record was two relegations, and twice 17th in the table," said Di Canio.
"Maybe the players wanted a big screen with a comedy movie. When you have a training session you are there to improve. Maybe there is a moment when you have fun, and they probably had too much fun."
Register for free to continue reading
Registration is a free and easy way to support our truly independent journalism
By registering, you will also enjoy limited access to Premium articles, exclusive newsletters, commenting, and virtual events with our leading journalists
Already have an account? sign in
Join our new commenting forum
Join thought-provoking conversations, follow other Independent readers and see their replies