Paul Scholes: 'It might upset people... but I say it as it is'
Paul Scholes, The Independent's new columnist, tells Sam Wallace why he will approach the role in typical whole-hearted fashion, how Gary Neville got him into punditry and why he has no plans to be a manager...yet
Sam Wallace
Friday 08 August 2014 15:10 Comments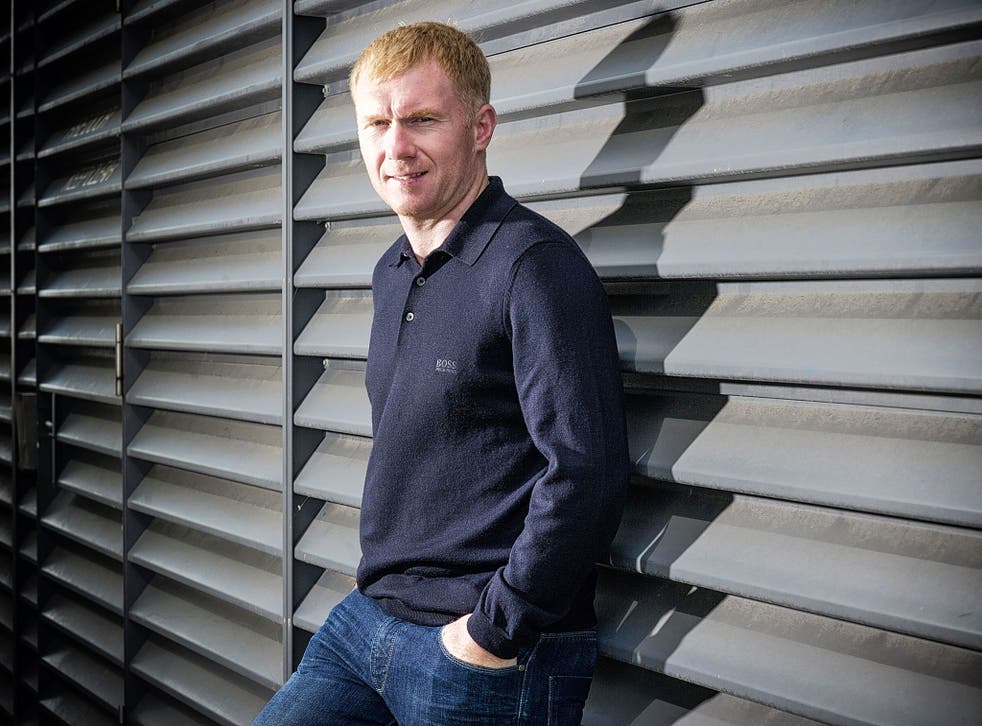 Come next month, it will be 20 years since Paul Scholes pulled on one of those baggy 1990s Manchester United shirts, and scored twice on his first-team debut at Port Vale in the League Cup. The first thing to say is that he became one of the greatest English footballers of this generation, or any other. The other is that he wore his fame so lightly that in the age of the celebrity player, Scholes felt closer to a bygone era, when no one cared much for what went on beyond the pitch.
"No celebrity bullshit, no self-promotion – an amazingly gifted player who remained an unaffected human being." It is quite a compliment for any figure in the public eye. When you know that it was said about Scholes by Roy Keane, that tireless scourge of bluffers, liars and dissemblers, it is quite another. But you do not have to look far to measure the esteem in which Scholes is held.
Ryan Giggs calls him United's "greatest-ever player". Zinedine Zidane and Pep Guardiola both considered him the "best midfielder of his generation". Pele and Eric Cantona turned up to his farewell match. The late Brazilian 1980s star Socrates said he loved to watch "the boy with the red hair and the red shirt". Xavi said that Scholes was the "most complete" midfielder he had watched. Not bad for a lad from Middleton in north Manchester who only grew to 5ft 7in and suffered asthma his whole career.
Manchester United: Potential summer transfer targets

Show all 10
Today The Independent presents Scholes as our new football columnist; his words will also appear in our sister newspapers, the i and the London Evening Standard. Over 19 years as a Manchester United footballer, and seven with England, he was famously reluctant to speak his mind in public – although, as he says himself, he did more than he is given credit for. Since retiring last year for the second time, he has established himself as one of the most trenchant and respected commentators on the game, and he will bring those forthright opinions to these pages.
His new career started when Gary Neville persuaded him to make an appearance on Sky Sports for what turned out to be one of Manchester United's worst defeats under David Moyes, 3-0 at home to Manchester City in March. In the studio that night, even Neville could not supress a smile as an impassive Scholes filleted United's performance. The busy press room at Old Trafford came to a standstill as, one-by-one, the assembled journalists stopped what they were doing and listened to Scholes on the television monitors instead.
Over the summer, Scholes has led the news agenda with his views in his World Cup finals column for the Paddy Power betting website. He will be a pundit this season for BT Sport, whose first live match is a week tomorrow, when Louis Van Gaal's Manchester United start their Premier League campaign against Swansea City, and Scholes will also feature in ITV's Champions League coverage this season.
When we meet in Salford this week, it is clear that Scholes has finally made his peace with retirement having first made a comeback for United in January 2012 having quit the previous May. In the last year he has finally had time to play golf properly, summer holidays are in full swing for his three children and there is still the occasional game of five-a-side with mates "to try to get the buzz back".
The YouTube clip of him scoring from his own half in a game with friends in Chadderton has 75,000 views. He pinged the ball 40 yards on to someone's head for an advert for Paddy Power. He has always been regarded by team-mates as having a paper-dry sense of humour. What you first notice about Scholes is that, for all the plaudits showered on him, this is not a man who has the kind of ego that some in the game lug around with them.
Did he ever see the day where he would be a pundit? "No! As a player it was probably the furthest thing from my mind," he says. "Gary Neville twisted my arm for the derby game last season. I really enjoyed it. I surprised myself really how much I did. Football is something I know a little about, and it is something that I think I like talking about … it's something I am looking forward to for the coming season.
"As a player I suppose I concentrated mainly on playing. I didn't really like doing interviews at the time because I didn't want to read something that I had said on a Saturday morning when I was playing on a Saturday afternoon. I wanted my full attention on the game and on football. Later on when MUTV came in there were certain obligations that you had to do it. I did my fair share. People say I didn't do anything. I think I probably did my fair share of interviews over the years. It was not something I went around looking for."
In his autobiography, published last year, Sir Alex Ferguson gave a clue as to Scholes' potential as pundit. Ferguson described his player as "a man of excellent opinions. His assessments were brilliant. Always in one line. There were no maybes."
"That's just the way I am generally," Scholes says, "I say it as I think it is. It might upset people. I don't intend to upset anyone. From the last couple of months talking about the World Cup it seems that I might have done that – but it is not my intention. I have given my honest opinion about something, if people like it or they don't like it then … great. But I will be honest and I will be honest this year. What I see in a game of football, I will give my opinion. Whether it is right or wrong, it's up to people to decide. But it will be my opinion."
It may come as a surprise that Scholes does not see himself as a coach, just yet. He has done his Uefa B badge, but there are no plans to do the A license just yet. Put simply, he says that the passion he felt about playing football that has burned his whole life is just not there for coaching. Among his Class of '92 comrades he cites Phil Neville as the man whose enthusiasm for coaching is boundless. For Scholes, who had three weeks as part of Ryan Giggs' caretaker staff last season, the feeling is different.
"Did I enjoy coaching? A little bit I suppose. It is not something I love doing ... my A license which is a bit more difficult, the next step, would be nice to get if something came along. But it's not something I enjoyed that much. Maybe one day I would like to be in charge of my own team but it is not something I am thinking about now. You can never say never. If an opportunity came along that got me interested a bit then maybe. But it's not something I am looking for.
"I am not really bothered about pressure or it being a tough job. In the coaching stints I have had I don't know if coaching is something I am that passionate about. It is not something that has really got me going. It's not something that gets me out of bed in the morning thinking 'I really want to do this'. But in the next couple of years, who knows? Things might change. If something came along that really did excite then who knows? It could be different."
That said, his return to United at the end of last season following Moyes' dismissal was a novelty, to be re-united on the training ground with friends he had known since his childhood. "I enjoyed it. It was hard work. I did do a bit with the Under-21s when I retired the first time for six months with Warren Joyce which was good as well. To be with the first team was a good experience, just to help Ryan in any way I could.
"We would like to have won four games and maybe Ryan would have had a better chance to get the job full-time! It was great working with him, and being with Nicky [Butt] and Phil. Ryan was great as well and I am sure he is being groomed to being the manager in the next few years.
"It is a very different experience to being a player. You are there at 7-7.30am trying to prepare training and get everything right. Then you are there to 3-4pm watching videos of the opposition and watching players that the staff might be interested in for the following year."
Scholes, as well as Butt, Giggs and the Nevilles, is involved with Salford City, an Evo-Stik Northern Premier League, First Division North side based in the city of his birth and a brisk walk from United's old Cliff training ground where he spent so many happy times. Salford are in the eighth tier of English football but their famous new friends have high hopes for the club and the community it serves.
"It has excited the five of us. You are going right down to the lower levels of English football but it is something we are looking forward to. We want to get up the league as fast as we can. We know it is not going to be easy. There are a couple of examples. Fleetwood Town, they have gone up six leagues in 10 years. We would take that. We know how hard it is going to be and it is going to cost a lot of money but it is something that we are going to do.
"The five of us trained in Salford with United since we were 16, 17. It is something that gets us going a bit. Something to look forward to over the next 20 years, whatever it may be. I think it is exciting, being involved with a team and you see your team doing well every year, touch wood. If we could get as many local players as we can; develop an academy as well; create jobs for local people … Salford is a really big city. It is one of the biggest cities without a Football League club. We are looking forward to trying to change that."
He came back from retirement once before, but Scholes is now at ease with the life of the former professional footballer. The last of the Class of '92 has hung up his boots and it is time for a new chapter. Does he spend much time looking back? "No, it's not something I think about. My father-in-law has all the medals and shirts. He was quite keen to collect stuff, old newspaper cuttings. I sometimes watch the old games if they are on MUTV.
"I was very proud to be part of so many unbelievable teams at United and win so many trophies but it is not something I think about a lot. I think I have handled retirement OK. I always knew it would be difficult. I will always miss playing but I have to realise that I cannot go on forever."
Register for free to continue reading
Registration is a free and easy way to support our truly independent journalism
By registering, you will also enjoy limited access to Premium articles, exclusive newsletters, commenting, and virtual events with our leading journalists
Already have an account? sign in
Join our new commenting forum
Join thought-provoking conversations, follow other Independent readers and see their replies