Players are behind Aston Villa manager Paul Lambert insists captain Ron Vlaar
Villa crashed out of the Capital One Cup this week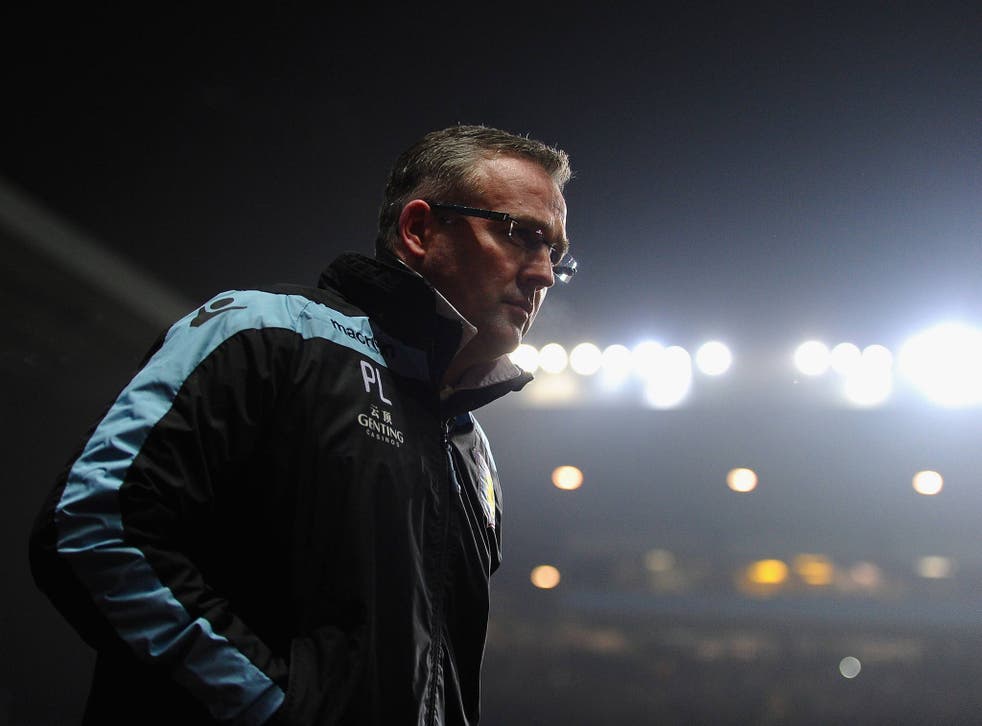 Skipper Ron Vlaar insists Aston Villa manager Paul Lambert retains the full support of the players as they look to recover from Capital Cup One heartbreak.
Villa suffered a shock 4-3 aggregate semi-final setback against npower League Two side Bradford despite winning the second leg 2-1 at Villa Park.
It was the latest blow in a season where the club have become embroiled in a Barclays Premier League relegation battle.
Bradford fans chanted 'you're getting sacked in the morning' to Lambert during the second half.
But Vlaar and his team-mates retain total faith in Lambert whose position is not under threat.
The Dutch international said: "The players are still all behind the manager. That is not an issue. Why should it be?
"I didn't hear the Bradford fans sing that (about being sacked). I cannot believe that will happen.
"I believe he is the right man for the job."
Villa now face another tricky clash at Millwall in the FA Cup on Friday evening.
But Vlaar is aware the main priority is top flight survival ahead of next Tuesday's home meeting with fellow strugglers Newcastle.
He said: "We have to pick ourselves up. We have no option. We have no choice. We are fighting really hard in the league.
"Everyone is very disappointed. We have to get ourselves together and start over again.
"Staying up is the most important thing for us. We have to look forward, keep our head, get together.
"We all know the situation we are in so we have to fight back. But we want to do well in the FA Cup as well if we can."
Vlaar knows Villa have to improve at set pieces and he admits he was at fault for Bradford striker James Hanson's decisive goal from a corner in the second leg.
He said: "Why can't we defend set pieces? It is a very good question. We work a lot on that. I just can't answer that question.
"Bradford scored all four goals over the two legs from set pieces which is bad.
"As to their goal at Villa Park, it's my man so it's my responsibility. I should have done better but I didn't.
"It was a bad moment for everybody. It killed the game actually.
"But we defend as a team and try to score as a team. Our football is getting better if you look back to the last weeks."
Vlaar believes it is vital Villa retain the support of their fans who have backed Lambert after the vitriol often aimed at his predecessor, Alex McLeish.
He said: "The supporters were brilliant against Bradford. The atmosphere was really great. I can't remember this before in my time with Villa. It gave such a good feeling.
"I understand everyone is disappointed and upset. That's their right. We are also disappointed.
"I hope they stay behind us like they did every game this season. This is going to be hard for them and I understand that.
"They also know what situation we are in and we need their support and I really trust and believe that they will do that."
PA
Register for free to continue reading
Registration is a free and easy way to support our truly independent journalism
By registering, you will also enjoy limited access to Premium articles, exclusive newsletters, commenting, and virtual events with our leading journalists
Already have an account? sign in
Register for free to continue reading
Registration is a free and easy way to support our truly independent journalism
By registering, you will also enjoy limited access to Premium articles, exclusive newsletters, commenting, and virtual events with our leading journalists
Already have an account? sign in
Join our new commenting forum
Join thought-provoking conversations, follow other Independent readers and see their replies