Leicester and Chelsea play their part in turning the 2015/16 Premier League season upside down
The hectic holiday programme has seen a brilliantly unpredictable Premier League season pass its halfway point. As we pause for breath, Michael Walker tries to make sense of the campaign
Michael Walker
Saturday 02 January 2016 20:20 Comments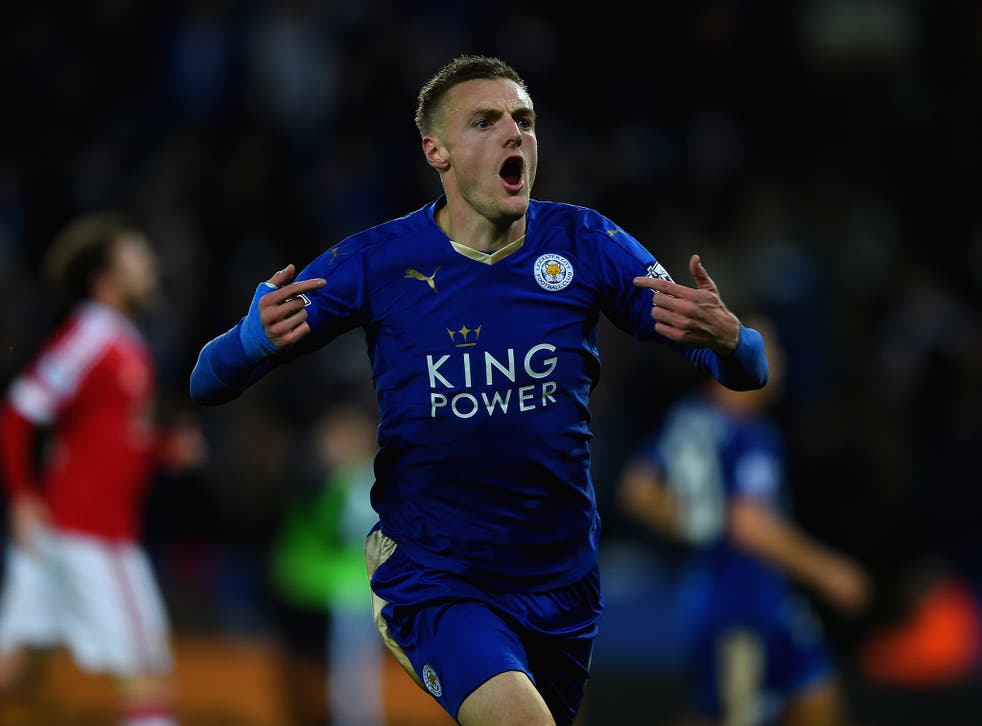 One of the joys of Premier League season 2015/16 is that it has become predictable to call it unpredictable. Unpredictability has been the happy hallmark of the season so far and now that it has reached the halfway stage, it will remain with us. In years to come, this season will be recalled for a first half featuring Leicester City's improbable rise and Chelsea's equally unlikely fall.
As for Manchester United – sideways is the word that will be applied.
These three clubs are major characters in the story of the season to date. With those cardboard clapperboards laid on every sold-out seat at Leicester adding the soundtrack, there have been sing-a-long parts for Jose Mourinho – "betrayal" – and United fans – "attack, attack, attack".
Others have been significant, too, of course. The season began with Brendan Rodgers in charge of Liverpool, Garry Monk at Swansea, Dick Advocaat at Sunderland and Tim Sherwood at Aston Villa. With Mourinho gone from Chelsea, that's a quarter of Premier League managers changed by December.
In each case, the human factor should not be downplayed, but neither should results. Nor should we forget, as Harold Macmillan had it: "Events, dear boy, events."
While stimulating to observe, for punters this has been a weekly waste of coupon-filling as we try to fathom how the Tottenham Hotspur team which beat Manchester City 4-1 in September could lose 2-1 in December to the Newcastle United side which City had beaten 6-1 in October. Or how Everton could beat Sunderland 6-2, then lose 4-3 to Stoke who had just been beaten 2-0 by Sunderland.
Lines of form have become zig-zags. Leicester topped the League at Christmas, which seemed closer to a miracle than a novelty, having lost 5-2 at home to the team which would usurp them, Arsenal. The Gunners, who have not finished in the top two since May 2005, leapfrogged Leicester with a 2-0 victory over Bournemouth that followed a 4-0 defeat at Southampton that followed a 2-1 home win over Manchester City.
There was more predictability yesterday but even so, such has been the volatility in the first half of the season that that no one could confidently forecast the outcome of today's games between Crystal Palace and Chelsea or Everton and Tottenham.
Last season Chelsea won 2-1 at Selhurst Park on the way to winning the title by eight points. Mourinho, in his second spell, had brought the title back to the club for the first time in five years and appeared set to cement Chelsea's position as a long-term force in England and Europe. The Chelsea hierarchy clearly thought so: one day before the new league season began, Mourinho was given a four-year contract extension. "It's great news for the club but terrible news for everybody else," said John Terry. "He [Mourinho] knows everything."
Manchester United vs Swansea ratings

Show all 24
One thing Mourinho knew was that Chelsea had not strengthened. While Manchester City were spending £50m on Raheem Sterling – the most appropriately surnamed player of our time – and Manchester United were blowing nigh on £70m on Memphis Depay, Morgan Schneiderlin, Bastian Schweinsteiger and Matteo Darmian – before Anthony Martial arrived – Chelsea signed goalkeeper Asmir Begovic. They had lost Petr Cech to rivals Arsenal after all.
Begovic made a quick, unexpected debut, just 24 hours after Mourinho's contract, when he replaced Thibaut Courtois in goal, Courtois having just been sent off in the season opener against Swansea at Stamford Bridge. In a tumultuous 2-2 draw that set the tone for the season – though we did not know it then – Courtois' red card was overshadowed by Mourinho's row with the Chelsea doctor Eva Carneiro.
The cement was cracking. In Chelsea's next home game they lost 2-1 to Palace – Palace's first League win at Stamford Bridge since 1982. Chelsea, whose modern prominence can be traced to the fall of the Berlin Wall in 1989 and what that meant for the Soviet Union and Roman Abramovich, were beginning to resemble it.
They wanted John Stones, to help rebuild, but Everton said: "Nyet" and when the Palace defeat was immediately followed by one at Goodison Park Chelsea were in disarray. And the transfer window had closed.
It was 12 September and the reigning champions had four points from five matches, nine points fewer than at the same stage last season. Then Diego Costa had scored seven in his first four games; it's a tally he has yet to reach this season. The £32m striker has provided one of the images of the season, though – his tossed bib at White Hart Lane. Those close to Chelsea say this sort of Costa behaviour was also seen at the training ground.
The same day Chelsea lost at Everton, Manchester City won again. Kelechi Iheanacho – one of the new names of the season along with Xherdan Shaqiri, Odion Ighalo, Dimitri Payet and Dele Alli – scored a 90th-minute winner at Palace.
It was City's fifth win in five matches and they did not concede a single goal in those five. City were rampant; the League was a formality. Then they lost 2-1 at home to West Ham. Remarkably City travelled to Watford yesterday having not won away from home since Palace. If unpredictability is the word of the season, untrustworthy runs it close. Can City or Arsenal be trusted to take a grip of the lead?
Into the leadership vacuum rode Leicester. Their season began with scepticism about Claudio Ranieri succeeding Nigel Pearson, but some doubts mellowed when they were three up in 25 minutes against forlorn Sunderland on the opening day.
Leicester then won at West Ham, who had stunned everyone by winning at Arsenal on the first day with 16 year-old Reece Oxford in the team, but it was not until a 3-2 victory at West Bromwich at the end of October that people began to notice Leicester.
That win – Riyad Mahrez (2) Jamie Vardy (1) – propelled the Foxes to third. When they won five of the next six, including a 2-1 win against Chelsea, Leicester were top and Vardy had scored in 11 successive top-flight games. The good news for Leicester is that before yesterday they had reached 39 points, and only once in the past 10 seasons has a team been relegated with that number. And Leicester's goal difference is rather superior to Birmingham City's in 2011.
Leicester face trips to Tottenham, City, Arsenal, Watford and Palace by mid-March. We will know more by then about what they can achieve in points terms, but they have already made their mark.
So, too, have Watford, Palace, Stoke and Bournemouth. They are part of this middle-class uprising that has seen the statues kicked over at Stamford Bridge and Old Trafford. City and Arsenal also have structural weaknesses that are as striking as collective strengths.
The one sure thing seems to be Aston Villa's departure from the top division after 28 years. This was a club that reached the FA Cup final in May. But of the team that started at Wembley, Given, Vlaar, Cleverley, Delph and Benteke left, young Jack Grealish has gone missing and Remi Garde has been handed a hotch-potch squad with limited connections to the club, or so it seems. Villa fans who welcomed their American owner Randy Lerner now say he has gone "from hero to Nero". Villa are part of the trend for outside ownership. On 1 December China bought a chunk of Manchester City; a fortnight later Americans bought into Palace. The world cannot get enough of the "EPL". In a season as intriguing as this once, you can understand why.
When Rodgers left Anfield, in came German Jürgen Klopp, proclaiming normality; when Sherwood left Villa in came Frenchman Rémi Garde, whose mentor Arsène Wenger is still there at Arsenal, heading for his 20th anniversary in September.
Will Wenger be able to celebrate that moment as a title-winning manager? As things stand, he's halfway there.
Register for free to continue reading
Registration is a free and easy way to support our truly independent journalism
By registering, you will also enjoy limited access to Premium articles, exclusive newsletters, commenting, and virtual events with our leading journalists
Already have an account? sign in
Join our new commenting forum
Join thought-provoking conversations, follow other Independent readers and see their replies