Brian Deane on how the Premier League hype has grown since his landmark goal against Manchester United
Serie A was the league that everyone wanted to play in when the Premier League was launched
Tuesday 08 August 2017 17:52 BST
Comments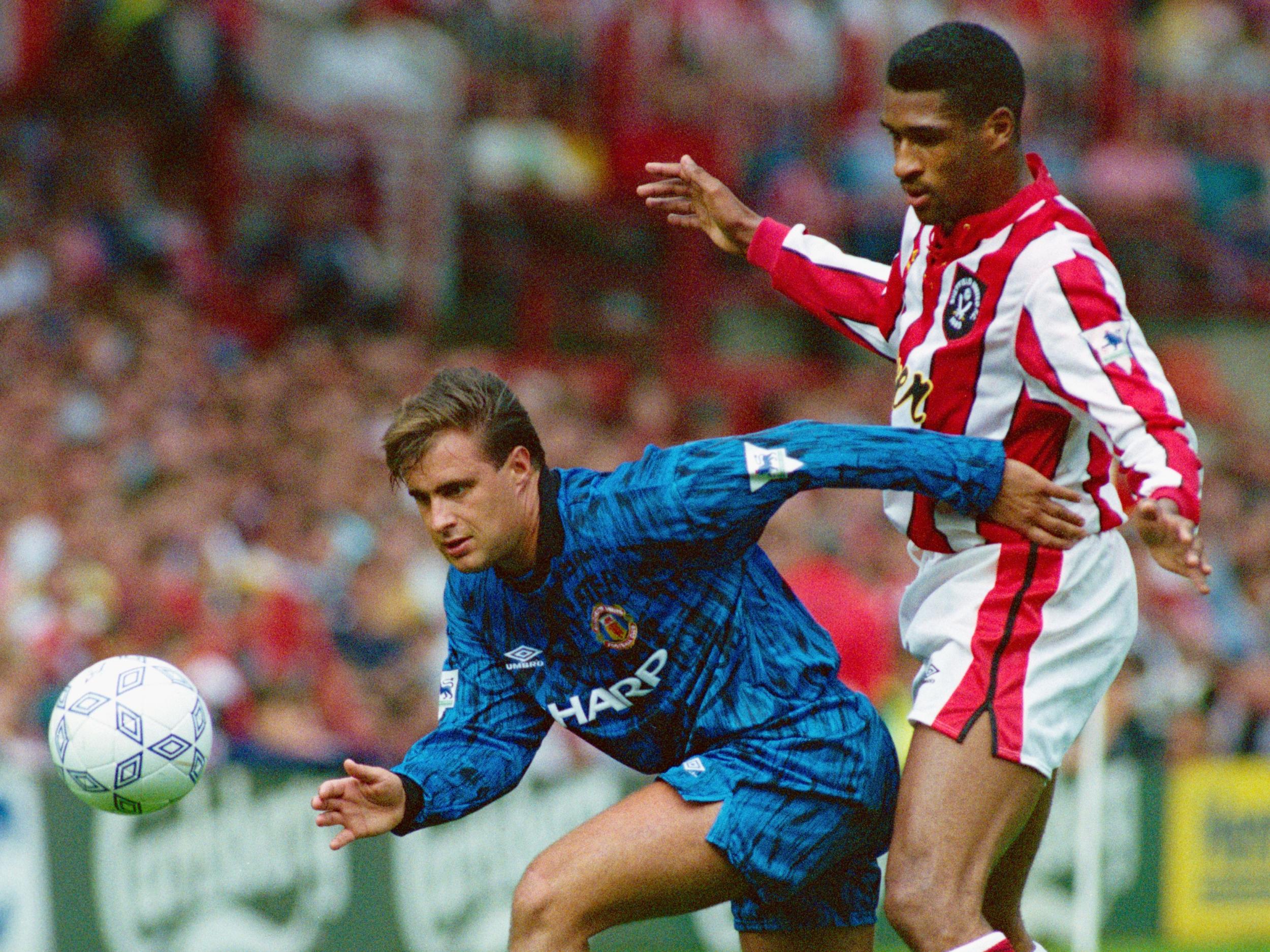 "It seemed like every team had a new kit – straight away you had the commercialisation of football, right there," Brian Deane tells The Independent. "Everyone wanted to be a part of it, though. No one knew what was going to happen next."
Deane would write his name into Premier League history in the fifth minute of Sheffield United's season opener against Manchester United on August 15, 1992, scoring with a header past Peter Schmeichel following a howler from Clayton Blackmore to put Dave Bassett's side 1-0 up against a team that hadn't won the league since 1967.
"I found out I had scored the first goal at half-time but it didn't really feel like a big thing at the time," he says. "It didn't really have any real significance until years' later. Now it's known the world over."
Top 25 managers in Premier League history
Show all 26
His headed goal in a match the Blades won 2-1 in front of over 28,000 at Bramall Lane provided a more memorable contribution than his one in the matchday programme. That featured a front-page picture of a tinsel-clad Deane, Bassett in a Santa hat and club captain, Chris Gayle, incongruously holding aloft a helium bumble bee. It was meant to signify the Blades' mystifying ability to play to anything like their full potential until after Boxing Day.
For the country's footballers, though, the start of the Premier League era appeared to signify everyone's Christmas's coming at once. Set against a backdrop of falling attendances, crumbling stadiums and an environment that was about as family friendly as the local boozer at kicking out on a Friday night, the promise of a new era had Deane and his team-mates salivating.
"There was a lot more publicity, players suddenly realised they were going to be involved in a lot more live games on TV, which meant more exposure," says Deane. "Fans were starting to get to know a little bit more about individuals. You weren't just getting a 10-minute slot on Match of the Day, if you were lucky.
"As a spectacle, you started to see clubs spend far more on their pitches. You look at a pitch in November 1992 and look at them now and there's no comparison. Now pitches are like a billiard green all the way through the season. All these things started 25 years ago.
"Realistically, the Premier League and the investment that came along saved English football to a degree because the club game wasn't in a good way back then. Now you see fantastic stadiums, great training grounds and facilities and, ultimately, that's down to the money that the Premier League has brought into the game. That's why the game is so attractive to foreign players and owners now. Football would still have developed but at nowhere near the same speed we've seen."
Deane made his third and final appearance for England just a month after opening the Premier League's goal account at Bramall Lane and spent well over a decade in the top flight, with Sheffield United, Leeds and Middlesbrough.
In that first season, his Sheffield United side were one of a number of clubs relying purely on homegrown talent from within the British Isles to sustain their Premier League status at a time when the post-game post mortem was more likely to have been conducted in a Sheffield pub rather than in front of a bank of screens at the training ground.
When he retired in 2006, though, the make-up and direction of the English game had changed beyond all recognition.
"In the early 90s, I used to watch a lot of Italian football," he says. "Everyone was going there because that's where the money was. AC Milan had (Ruud) Gullit, (Marco) van Basten, (Frank) Rijkaard, Inter had players like (Jurgen) Klinsmann and (Lothar) Matthaus. If you were a top, top player, you wanted to play in Serie A.
"It's quite obvious that you're fuelling a hunger and the best players will always gravitate to where the most money is being paid. That's one of the reasons there are so many foreign players here now, that and the fact that maybe clubs don't feel like they're getting value for money for English players.
"It has always been a fallacy to think that the national team was going to benefit from all the money that was coming in. The problem is that the Premier League and the FA have always had an issue because they both have separate agenda. The FA wants a strong national team and the Premier League wants to be the best in the world."
That has been the case since Deane first set the ball rolling 25 years ago and with the anniversary of that header looming, he jokes he should start charging every time another significant date rolls around.
"Make sure you have a price in mind when you call me back in 2042," he laughs.
"How about £198m," I say. "That would be very nice," comes the response.
Join our commenting forum
Join thought-provoking conversations, follow other Independent readers and see their replies