Premier League nets £1.4bn TV rights bonanza
Global broadcasting deals double in value after bidding war, shattering expectations / Clubs in line for extra £13m each per year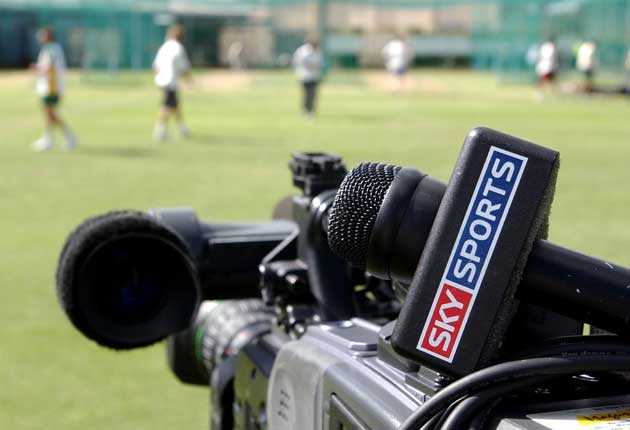 The Premier League's sale of its overseas broadcasting rights for 2010-13 will raise around £1.4bn, more than double the previous level of £625m, The Independent can reveal.
With just two deals left to be concluded – in Albania and Russia – the League is assured of raising each club's average annual income from overseas rights alone from £10m now to about £23m per season from this summer.
That leap of £13m per club per year will not necessarily be split evenly. Some of the new cash will bankroll increased parachute payments, up from £11.2m last year to £16m from this summer. Parachute money will probably also be extended beyond the current two years. The League is finalising details on that, as well as how much extra money it might give the Football League in "solidarity payments". It currently gives the 72 Football League clubs £21.6m per year combined for a variety of academy, community and club projects.
The overseas rights bonanza underlines the global appeal of England's top football division, and has been fuelled by intense bidding wars in key areas, mainly between pay-TV rivals in Asia.
The Abu Dhabi royal family, from which Manchester City's owner Sheikh Mansour hails, has also played its part. The ruling elite's Abu Dhabi Media Company has won the rights for Premier League matches across the Middle East and North Africa from the incumbent holder, Showtime Arabia.
Local sources say Showtime paid around $120m (£80m) last time and that ADMC entered the auction for 2010-13 at $150m, but ended up paying more than $300m (£200m-plus). If that is a stunning endorsement of growth in one region, then the auctions in Singapore and Hong Kong were downright jaw-dropping.
In Singapore, an island with a population of 4.8 million people, the rights are held by the pay-TV operator StarHub, which paid an estimated £67m for 2007-10. Its fiercest commercial rival, SingTel, believes that Premier League content equals lucrative subscriptions so poured huge resources into the effort to take the rights from StarHub. It succeeded. Sources in Asia say SingTel paid £200m for 2010-13.
In Hong Kong (population 7 million), the Now TV station currently has the rights (having paid about £115m last time) but has lost them to i-Cable, which is understood to have paid close to £150m.
The Premier League will retain the same partners for 2010-13 in some regions: Fox and Setanta will continue to be the main carriers of the Premier League across North America and the Caribbean, as will Fox Latin in South America, and ESPN Star across 18 major Asia countries, including India.
Canal+ retains rights in France and Poland (in a deal worth about £60m), but a shake-up in Scandinavia has seen Canal+ lose the rights there to an intermediary sub-licensee, Medge Consulting. Medge has paid £111m for rights in Denmark, Finland, Norway and Sweden. Medge has sold or will sell the rights on to individual broadcasters at a healthy mark-up. An incidental quirk in the Scandinavian sale is the involvement on a consultancy basis in the sell-on of rights of Rune Hauge, the agent at the centre of the Arsenal "bung" scandal of the early 1990s. Almost 20 years on, Hauge is still making money from English football, strictly legally this time.
The League simply does not have the manpower to do individual deals itself in all 211 countries where its games are shown, so sub-licensing and the sales of packets of regional rights is common. The League has 98 broadcast partners, as well as its own new TV station, Premier League TV, which will provide "viewer ready" action, commentary and analysis for nations wanting to buy rights "off the shelf".
In the future, the League hopes PLTV can attract non-traditional buyers to the market, for example entrepreneurs who want to enter the football market but don't have broadcasting capabilities themselves.
The Premier League's live domestic rights for 2010-13 raised £1.782bn when sold last summer. With such enormous growth in international sales, and room for expansion, foreign rights should overtake home sales in the future.
The League has been careful to strike the right balance in its latest sale between maximising income while making matches available to audiences that are as large as possible. Pay-TV stations pay more because they can earn more by charging viewers, but free-to-air stations always deliver much higher ratings.
In China, the pay-TV firm WinTV will keep rights for 2010-13, having paid around $50m, the same as it did for 2007-10. Exchange rate movements mean that $50m was worth £25.6m in 2007, but £33.3m now.
As The Independent first reported two years ago, the last WinTV deal caused a furore among the Premier League's top clubs because WinTV alienated potential viewers with crass marketing and high prices, and got so few subscribers that viewing figures were negligible. Chelsea, Arsenal, Manchester United and Liverpool were unhappy at the lack of exposure in what is seen as a key market for their international brand growth.
The difference this time is that while WinTV has retained the rights for 2010-13, the new deal in China will involve the screening of at least one free-to-air match per week from this summer.
Join our commenting forum
Join thought-provoking conversations, follow other Independent readers and see their replies