Jonathan Moss: Premier League referee makes more mistakes than any other in top-flight, study reveals
A total of 84 'fundamental' errors have been recorded this season, according to research by a group of former officials
Mark Critchley
Thursday 28 April 2016 08:45 Comments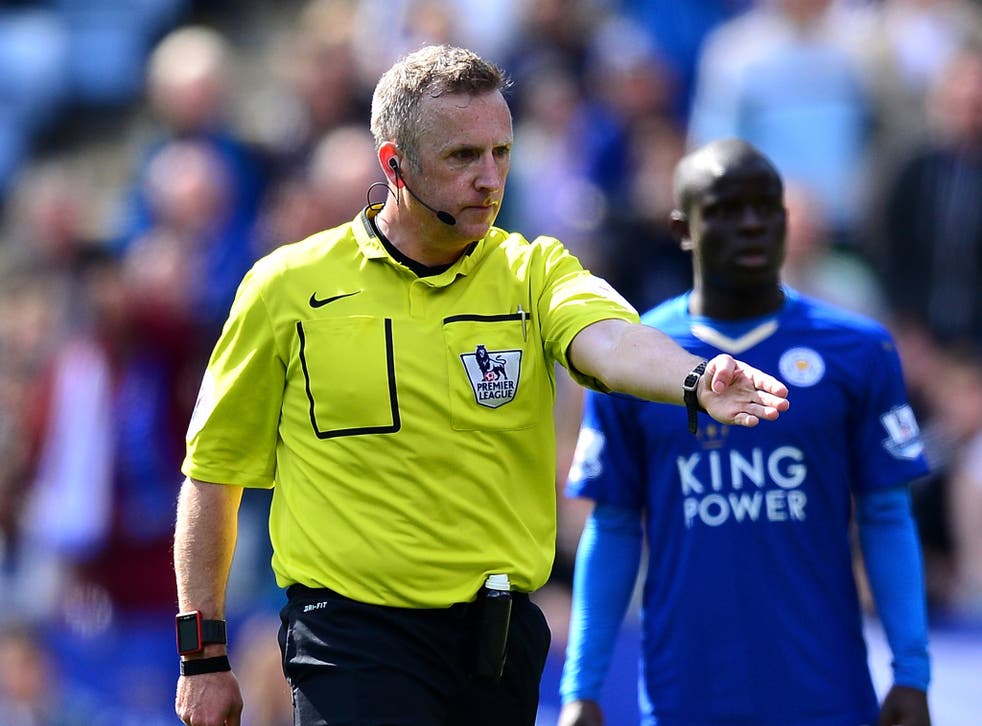 Jonathan Moss' officiating has come under further scrutiny following the publication of a report into errors by Premier League referees.
The 45-year-old official attracted controversy earlier this month with his handling of Leicester City's 2-2 draw against West Ham United, which saw him show a red card to Jamie Vardy for simulation and award two contentious late penalties.
Moss has now been found to have made more 'game-changing' mistakes than any other top-flight referee this season, with 13 in 22 games.
Glenn Turner, a former World Cup assistant referee, carried out the study in conjunction with YouAreTheRef.com and recorded a total of 84 "fundamental" errors in the 333 matches played up to 22 April.
Incorrect decision on goals, penalties and sendings off were included once identified by both Turner and YouAreTheRef's 'Ref Show' panel, which includes Keith Hackett, a former general manager of the Professional Game Match Officials Board (PGMO).
The study revealed Moss makes, on average, a mistake which could potentially influence the result every 1.69 games.
By comparison, the league's least error-prone referee Anthony Taylor only makes a fundamental incorrect call every nine games, with a record of three mistakes in 27 games this season.
Mark Clattenburg, who will represent England's officials at this summer's European Championships in France, fares relatively well, with a key error every 5.40 games.
Martin Atkinson, also selected to officiate in France, has made a total of 7 mistakes in 29 appearances, at an average of one every 4.14 games, according to the study.
YouAreTheRef's release does not disclose specific examples of incorrect decisions and makes no direct comment on Moss' performance in the game between Leicester and West Ham.
Hackett, writing on YouAreTheRef, said: "I have great respect for the referees shown to be consistently good by our survey. But it is clear that standards have slipped across the board.
"Those referees letting the side down should be helped to improve for the benefit of the group as a whole – and all the stakeholders in the game.
"One thing the Premier League and its set of referees can pride itself on is integrity. There are none of the suspicions that you see in other countries. Mistakes are honest mistakes.
"But it's for the integrity of the competition and its image as supposedly the best in the world, that refereeing standards need to be addressed by all the stakeholders."
The Independent has approached YouAreTheRef and the PGMO for further comment.
Register for free to continue reading
Registration is a free and easy way to support our truly independent journalism
By registering, you will also enjoy limited access to Premium articles, exclusive newsletters, commenting, and virtual events with our leading journalists
Already have an account? sign in
Join our new commenting forum
Join thought-provoking conversations, follow other Independent readers and see their replies