Premier League top four race: Who has the best run-in? Manchester United, Liverpool, Chelsea or Leicester?
West Ham, Tottenham, Everton and Aston Villa are also in the race for a Champions League spot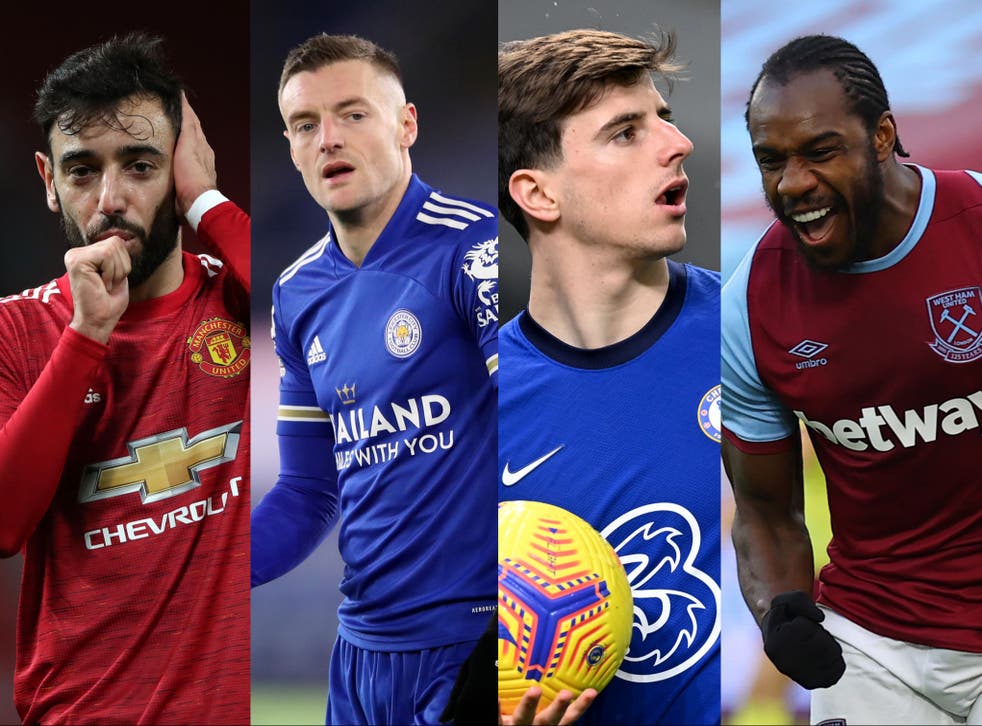 The Premier League may not have much of a title race to speak of this season but the battle to finish in the top four and earn a place in next year's Champions League has a large field of contenders once again.
Manchester United, Leicester City and Chelsea are currently in position behind runaway league leaders Manchester City.
Surprise packages West Ham are also in the hunt though, while Tottenham Hotspur, Liverpool and Everton have work to do in order to make up lost ground.
With around 10 games remaining for most of the contenders, The Independent has broken down the run-ins, checking the average home and away points-per-game and average expected goal difference (xGD) of their remaining opponents.
Who has the easiest run-in and who could run into trouble?
Manchester United
Position: 2nd
Points: 57
Run-in difficulty: ⭐⭐⭐
It will take quite a collapse for Manchester United to fail to return to the Champions League next season.
Sunday's narrow win over fifth-placed West Ham has given Ole Gunnar Solskjaer's side a comfortable nine-point cushion inside the top four and United have just come through a rough run unscathed.
Solskjaer deserves credit for emerging from games against Chelsea, City and David Moyes' men not only undefeated but with two wins and a draw. Things only get slightly easier down the stretch, though.
Testing trips to Tottenham, Leeds and Villa await, while Liverpool and Leicester visit Old Trafford. Even relegation-battling Brighton and Fulham have generally played better than their results suggest.
The meetings with Burnley and Wolves could be the only games in which United's opponents do not have much to play for.
Even so, Solskjaer and his players can be confident of picking up enough points to hold their place in the top four.
Leicester City
Position: 3rd
Points: 56
Run-in difficulty: ⭐⭐1/2
Leicester's secret? Winning games. Sometimes it's really that simple.
Only runaway leaders City have more wins to their name than Leicester's 17 this season and Pep Guardiola's side are next up at the King Power after the international break.
A trip to the London Stadium follows but then come four games that Brendan Rodgers will target to secure a Champions League place: West Brom, Crystal Palace and Newcastle at home, with Southampton away in the middle.
Win those and Leicester should be able to negotiate their challenging end to the season without much trouble.
Rodgers will want to avoid a repeat of last season's near miss and go into games against United, Chelsea and Tottenham with a top-four spot already in the bag.
Chelsea
Position: 4th
Points: 51
Run-in difficulty: ⭐⭐⭐ 1/2
Chelsea's run-in is deceptively difficult once their next two games against West Brom and Palace are out of the way.
They will be heavily-fancied to beat both Brighton and Fulham but other appointments - like the trips to West Ham, City and Villa, and Leicester's visit to Stamford Bridge - look more problematic on paper.
Then again, this isn't the inconsistent, uncertain side seen under Frank Lampard earlier this season.
Thomas Tuchel's possession-heavy style has made Chelsea more defensively resolute and there are tentative signs that the attack is coming along too.
Provided they come through that test at the London Stadium, they should have enough to get over the finish line.
West Ham
Position: 5th
Points: 49
Run-in difficulty: ⭐⭐
Even after a pair of disappointing results against United and Arsenal, West Ham are only two points adrift of Chelsea and most certainly in this race.
It is a huge credit to David Moyes and his staff that they are contenders for a top-four spot - especially because of all this season's surprise candidates, they have the best chance of actually getting over the line.
To do so, they will need to start taking points off their immediate rivals though.
In April, they play both Leicester and Chelsea at home in the space of a fortnight. Win those two without tripping up against Wolves and Newcastle and suddenly a Champions League place will look possible.
The rest of their schedule is made up by bottom-half and mid-table opponents with little to play for, and Moyes' men have been fairly reliable against those sorts of sides this season.
Tottenham
Position: 6th
Points: 48
Run-in difficulty:⭐⭐
The humiliating Europa League elimination at the hands of Dinamo Zagreb has left Tottenham with only one way to avoid two consecutive years without Champions League football.
Fortunately for Jose Mourinho, a late run to the top four is not totally out of the question.
Spurs' schedule is fairly kind, with the likes of Newcastle, Southampton and Sheffield United to come.
A trip to Leeds looks daunting on paper but could provide the space for Harry Kane, Heung-Min Son and Gareth Bale to thrive. Even going to Goodison Park is not too intimidating, given Everton's wretched home record.
Spurs have been relatively consistent against bottom-half teams. Keep that up, and a final day showdown against Leicester could have a lot riding on it.
Liverpool
Position: 7th
Points: 46
Run-in difficulty: ⭐1/2
If an unlikely surge into the top four is going to come from anyone, it is the champions.
Injury-hit Liverpool may be able to spare their blushes judging by their run-in, which is the softest schedule of all the contenders by far.
Their final six games see Newcastle, Southampton and Crystal Palace visit Anfield, while Jurgen Klopp and his players also travel to West Brom and Burnley as well as Old Trafford.
The Liverpool of old would have expected to take at least 16 points from those games.
The problem is that they already have a lot of ground to make up. If Chelsea, Leicester and West Ham slip up and take points from each other, a sustained run of wins would be enough to get back in contention.
Is this current Liverpool side still capable of that?
Everton
Position: 8th
Points: 46
Run-in difficulty: ⭐⭐⭐1/2
Despite only being two points behind West Ham, back-to-back defeats have sucked a lot of the air out of Everton's top-four push.
The underlying numbers have never really liked Carlo Ancelotti's side and it is easy to see why after losing four of their last five home games.
Everton's poor record at Goodison Park does not bode well for Crystal Palace's visit after the international break, with Tottenham, Villa and Wolves set to visit over the coming months too. Even Sheffield United may fancy their chances in May.
It has been a different story on the road - Everton are already top four if you're looking solely at the away table.
Villa, West Ham, Arsenal and even Brighton are not particularly easy places to go, though, and Ancelotti's side close out the campaign at the Etihad.
Join our new commenting forum
Join thought-provoking conversations, follow other Independent readers and see their replies