QPR visit to Manchester City no grudge match insists Roberto Mancini
Andy Hampson Comments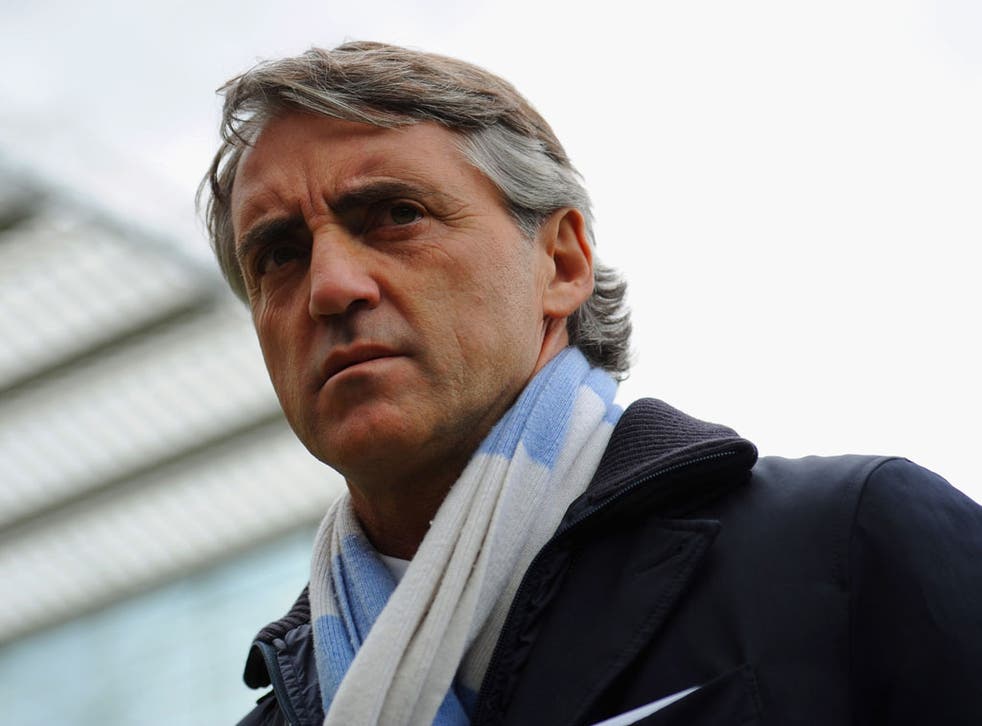 Manchester City boss Roberto Mancini has downplayed attempts to build up this weekend's title crunch against QPR as a grudge match between him and Mark Hughes.
Hughes, Mancini's predecessor, returns to the Etihad Stadium with his new side on Sunday for a match that has major implications at the top and bottom of the Barclays Premier League.
Victory for City would secure a first title for 44 years but anything less would open the door for great rivals Manchester United to reclaim the crown, and they face a QPR side anxious for points.
Rangers need to avoid defeat to be sure of avoiding relegation without relying on other results and, given the manner of his departure from City in 2009, it is felt Hughes has double incentive to succeed.
But Mancini, whose managerial style has been criticised by Hughes in the past, insists footballing matters are all that are relevant.
The Italian said: "This is not important - on Sunday we play Manchester City against QPR.
"For me, they are a good team, they don't deserve to stay at the bottom.
"They want to do everything to stay in the Premier League and for this reason I think it will be a tough game.
"I don't know him very well but it is not Mancini against Hughes or Hughes against Mancini. It is City against QPR.
"One team plays for the title, the other plays for (to avoid) relegation."
City lead the table on goal difference from United heading into the final fixture and know, with an advantage of eight under that criteria, they effectively control their own destiny.
City regained the lead with victory in a tense Manchester derby before they came through a stern test at Newcastle last weekend.
But, as tough as those games were, Mancini feels the hardest assignment still lies ahead of them. He believes City must win because he expects United to have little trouble in their last game at Sunderland.
He said: "When you play the last game, and if you win you can win the title, it is a big game.
"In this situation we are playing a team playing against relegation. It will be hard, more difficult than Newcastle, more than United.
"Sunderland play for nothing. I am sure they will play 100%, but they play for nothing in their last game.
"I think it was the same against Newcastle. Newcastle played for Champions League and Swansea [United's last opponents] for nothing. For this reason it is an easier game (for United)."
Mancini guided City to their first silverware in 35 years with FA Cup success last season but the pressure is now on to end their league drought.
Mancini is proud of efforts so far but can feel the weight of history and wants to finish the job for the sake of supporters.
He said: "It is a big game for Manchester City because it is the first time after a long time.
"I am very proud - I think my players have worked very well this year.
"When you arrive here you can lose or win but when you fight with a top team like United - I am proud for this.
"We would like to win this championship for our supporters. After more than 40 years, for them, it will be very important."
Mancini says his squad have enjoyed a relaxed build-up to the weekend but concedes the nerves may arrive in the final hours leading up to kick-off.
He said: "It is a normal week, without problem, without injury. We have worked well.
"The players are very well. I think maybe tomorrow, Saturday, we can have pressure - I don't know - because it is the last game.
"But it doesn't change our situation, we need to play another difficult game. We need only to have focus about the game."
With the league title in close sight, City have faced a renewed attack from critics in recent days claiming they have bought success.
Mancini accepts that City's vast wealth has helped but feels the accusations are unfair as other clubs have also spent heavily on players, just not in the same condensed timeframe.
He said: "It is clear if you can spend money you have more chance to win but it is not always easy.
"If you have money you should choose the players that can play in this team and, also, all the other teams that have played for the Premier League have spent a lot of money in the last 10 years.
"Every time we talk Manchester City, it is they can spend the money.
"But if you spend money on a good player - you can play well but it is difficult to win."
PA
Register for free to continue reading
Registration is a free and easy way to support our truly independent journalism
By registering, you will also enjoy limited access to Premium articles, exclusive newsletters, commenting, and virtual events with our leading journalists
Already have an account? sign in
Join our new commenting forum
Join thought-provoking conversations, follow other Independent readers and see their replies