New year but same old noises from Rafa Benitez after late Joselu strike wins Newcastle a point against Swansea
Benitez is still hoping for more investment in his squad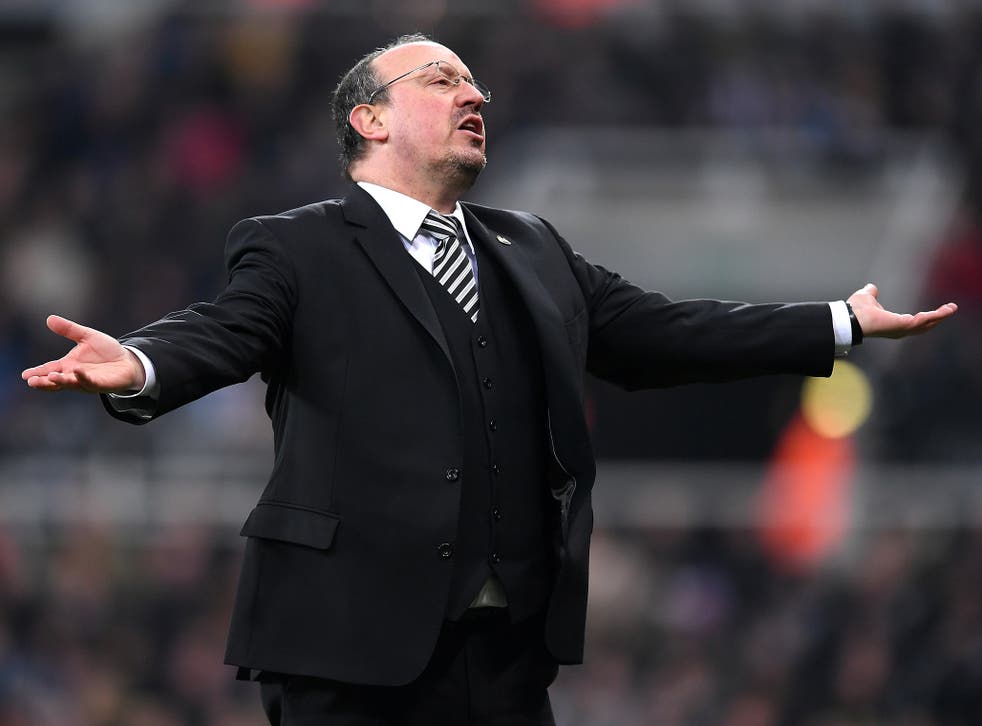 There was a smile, a slight laugh and then a fairy emphatic 'no'.
Rafa Benitez had just been asked if he thought, back in May last year, after leading Newcastle to a dramatic Championship success, that eight months and a different division later, he would be relying on the exact same players.
The starting eleven that dominated, conceded and then fought back against Swansea were all available last season. Christian Atsu's position at the club became permanent for what looks like a very decent £6.7 million, but that technicality aside, Benitez was facing a manager he faced last season in Carlos Carvahal with a side from then.
Saturday's Premier League matches in pictures

Show all 32
Benitez was then asked if relying on much of the same squad as last year made his job more difficult.
"It's not easy," he replied. "When you can see all the games together sometimes you know that there are things you can improve and things you cannot but the only thing and the main thing and the positive thing is the attitude of the players, even in training sessions, trying to improve.
"That's quite good. Even when they come from the bench the majority of them give everything. That's what you're expecting from your squad.
"It tells everybody where we are (having the same players). I have been saying it all season. Some people say 'ah, but you have to do this, you have to do that', but that is the reality. We are in the Premier League and we have a lot of players giving everything but still sometimes it is not enough. That is the amazing thing and the positive thing, that they are working so hard."
Newcastle did spend around £44 million in the summer (around the same level as Huddersfield and Brighton, the two other clubs promoted with them). That was pointed out to the man who spent it.
"It depends on the moment," he replied. "Some of them are injured. Sometimes players are not doing so well, so you have to manage that."
In fairness to Benitez his summer spending was not bad. Atsu has been a big success, Javier Manquillo was bought as cover, Florian Lejeuene (injured) has shown flashes and similarly Jacob Murphy has pace and potential.
The curiosity comes in Joselu, who remains liked by his manager, if not necessarily by sections of Newcastle's support.
For just under £5 million, Benitez, frustrated he did not have more to spend, went into the bargain basement for an attacking option. He used that option on what could have been a devastating day, with the home side losing to a 60th minute Jordan Ayew header. Joselu came on to a muted reaction in the 64th minute and then scored a goal he pretty much made himself four minutes later.
"I'm very pleased for him," said Benitez. "He works very hard for the team. I said before this game that we had to win, we needed to win, to have more confidence, to have wins in a row and all these things, but it was really, really crucial not to lose this game.
"The way that we played the first half, the reaction of the team, the way we didn't concede from the late chance they had means we are still in a good position, they are still six points behind. That is the positive thing.
"Obviously now it is the transfer window so the next question will be 'so do you need help' and the answer is yes, we do need help. But we will try to do our best. "
Carlos Carvalhal twice beat Benitez with Sheffield Wednesday last season. He has overseen two draws, a victory and a defeat since his surprise appointment at Swansea.
"After these 15 days and four games, and after what I saw and with the players that I am working in, we have a lot of work to do," he admitted. "We are winning points. We are reacting, playing better, offensively I like it more. The confidence is growing, we are organised, we are controlling games. We are scoring goals and it means we are progressing but it will be very, very hard."
Join our new commenting forum
Join thought-provoking conversations, follow other Independent readers and see their replies