Rafa Benitez to miss Newcastle's trip to Swansea as he recovers from operation
Benitez chose the break to go into hospital so as to lessen the impact on Newcastle's season but will miss the trip to the Liberty Stadium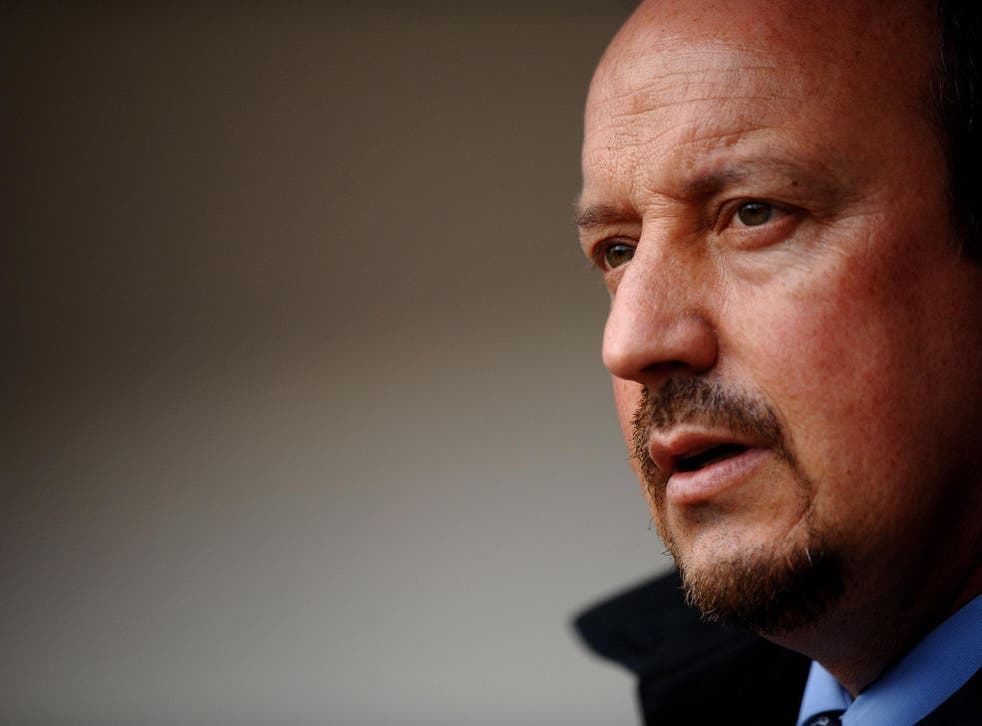 Rafa Benitez will miss Newcastle's game at Swansea on Sunday today because of the operation he underwent at the start of the week
The Newcastle owner Mike Ashley had personally put aside a helicopter to fly the 57-year-old Spaniard to the Liberty Stadium for the 4pm kick-off.
Benitez has been unable to take any training at the club's Benton training ground this week, as revealed in the Independent, but there had been a hope he would be able to fly from his family home in the Wirral to take control and lead the club from the dugout.
However, the severity of his recovery from the medical procedure to deal with an infection he picked up during a hernia operation two years ago, means that has not been possible.
Benitez missed one game for Liverpool, away at Arsenal, when he was in charge at Anfield, and was desperate to be in charge of his young side today. He has had to turn back on the road to training this week because of the pain as he recuperates from his operation.
Newcastle won their first game of the season against West Ham two weeks ago and will now be led by Benitez's assistant, Francisco De Miguel Moreno, known to all at the club as Paco.
"We are a family," he said on Friday. "Obviously, Rafa is the man. Normally, the way he works and the way he does things is important for us. But I think the message is quite clear. So even if it is me or whoever one of the staff members, they will listen in the same way. It will be the same. Although obviously, it is not quite the same if Rafa says something or Paco says something. It is totally different."
Newcastle meanwhile have resolved their bonus row with their players, after Ashley intervened on Thursday. Newcastle's players will now receive £4 million if they finish 17th and keep the club in the Premier League and the bonus structure will increase incrementally with each league position.
However, the real shock for the players was the offer of a £20 million carrot to end Newcastle's FA Cup drought since 1955. That was the last time Newcastle won the competition, although they have lost in three finals since then.
The record in the FA Cup since Ashley took ownership of Newcastle United from the Hall and Shepherd families in 2007, has been poor, with the club failing to get beyond the fourth round in a decade.
The club's board had gone on record to state that survival in the Premier League and the financial implications that went with it meant cup competitions would be lessened in their significance.
That, however, changed on Thursday when Ashley intervened and promised the bonus payment from his own money, not from the club's finances. Ashley has told club officials that the policy u-turn will now see Newcastle throw everything into finally ending their 63-year wait for domestic silverware.
Register for free to continue reading
Registration is a free and easy way to support our truly independent journalism
By registering, you will also enjoy limited access to Premium articles, exclusive newsletters, commenting, and virtual events with our leading journalists
Already have an account? sign in
Register for free to continue reading
Registration is a free and easy way to support our truly independent journalism
By registering, you will also enjoy limited access to Premium articles, exclusive newsletters, commenting, and virtual events with our leading journalists
Already have an account? sign in
Join our new commenting forum
Join thought-provoking conversations, follow other Independent readers and see their replies