Celtic, Chelsea, Newcastle? Rafa Benitez wants big European job after leaving Chinese Super League
A return to Newcastle is unlikely until Mike Ashley departs but there are other potential avenues back into the Premier League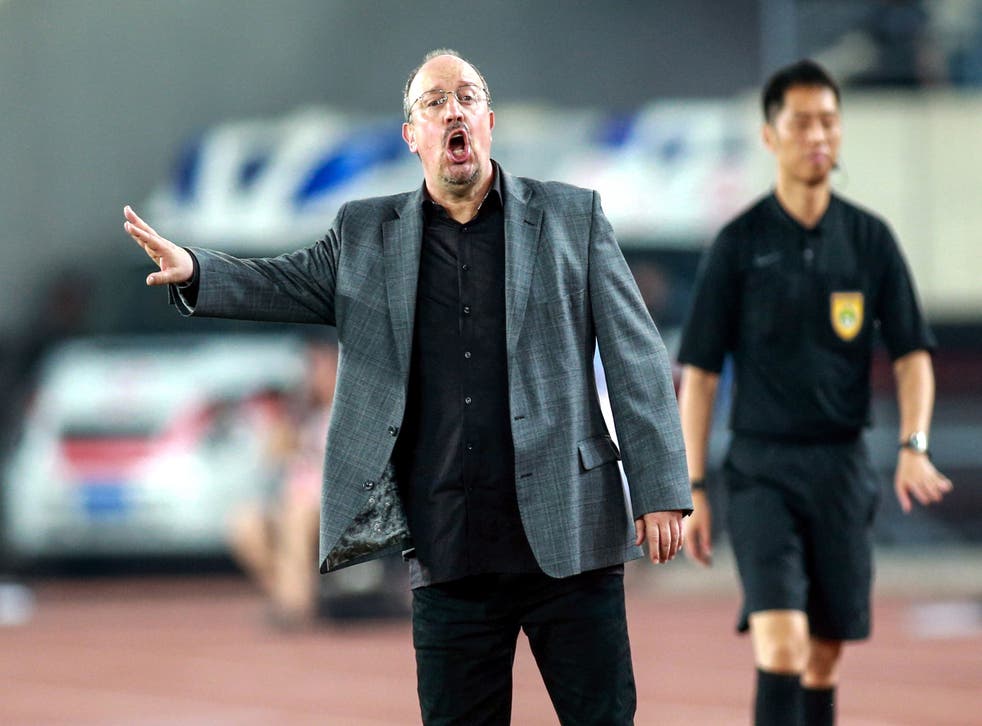 Leer en Español
Rafa Benitez is keen to get back into management after leaving Dalian Professional, the Chinese Super League (CSL) team this weekend. Although the 60-year-old has been liked with a move to Celtic, he wants a job in the Premier League.
The former Newcastle United manager decided not to go back to China because of the pandemic rather than offers of employment at home. A number of teams across Europe have contacted him about his availability in recent months but the Spaniard is waiting for the right position to come up.
The decision not to return to Dalian is recent. Benitez cancelled an appearance on Sky's Monday Night Football this month in anticipation of flying to the Far East. There was some disquiet among foreign coaches and players that the CSL planned for them to quarantine in Wuhan, where the virus first emerged 13 month ago. The former Liverpool manager was frustrated, too, about the way the game functioned in China. He came to believe that the sport was structured to favour certain clubs and that the odds were stacked against Dalian and a number of other teams. Benitez had almost a year left on a contract that paid in the region of £1m a month and he has never hidden the fact that the money was one of the main attractions of China but his competitive instincts have not been blunted. He wants his next club to have a chance of winning trophies.
Neil Lennon is in deep trouble at Celtic but Benitez is unlikely to go to Scotland, even if it presents a chance to rack silverware. Hopes have risen on Tyneside that he will return to St James' Park. Steve Bruce is on the brink in the north east but Benitez's previous experience with Mike Ashley makes it almost impossible to envisage that he would work with the present ownership.
Ashley is in the early stages of exploring legal action against the Premier League over the stalled sale to the consortium led by Amanda Staveley and primarily funded by Saudi Arabia's Public Investment Fund. There remain hopes that the deal can eventually be completed and Staveley's relationship to Benitez goes back to her failed attempt to purchase Liverpool for Dubai 13 years ago. He would be near the top of Newcastle's wish-list should the takeover eventually happen.
Benitez had a very cordial relationship with the Chelsea hierarchy during his time at Stamford Bridge even though the supporters despised him because of his previous comments about the club and his ties with Liverpool. Frank Lampard was sacked on Monday and Roman Abramovich wants a high-profile 'project' manager and Thomas Tuchel has been linked with the club after parting company with Paris Saint-Germain. The German's perceived arrogance is a concern at Stamford Bridge. Max Allegri and Brendan Rodgers are also under consideration but Chelsea may seek a caretaker to tide them over until the summer. Benitez would prefer a permanent role to reprising his time in west London.
If Rodgers does attract the attention of a bigger club than Leicester City, that scenario would suit Benitez. He was offered a move to the King Power stadium before Rodgers was appointed but refused to leave Newcastle until the end of the season. Leicester were determined to bring in a new man immediately and turned to the Northern Irishman, who had no qualms about walking out at Celtic.
The Spaniard has had a series of inquiries from around the world and the likes of Zenit Saint Petersburg and Napoli, his former club, would regard signing Benitez as a major coup. He has had enough of exotic adventures for the time being and his family is rooted on the Wirral. A national team role is not on his agenda at this point in his career.
Benitez has a record of taking the wrong jobs at the wrong time. He succeeded Jose Mourinho at Inter Milan after the Portuguese had led the Italian side to win the Champions League with an ageing team. It was an impossible act to follow.
Then he took over at Real Madrid during a tumultuous period and was made a scapegoat for problems relating to Florentino Perez, the president. Some, even among the Spaniard's inner circle, considered St James' Park a hiding to nothing, too.
Benitez is in demand. A man with a CV that lists a Champions League among three European trophies and a La Liga title will always attract attention. He needs to choose carefully. The exile in China has not hurt his reputation too badly but he needs to pick the right job next time round.
Register for free to continue reading
Registration is a free and easy way to support our truly independent journalism
By registering, you will also enjoy limited access to Premium articles, exclusive newsletters, commenting, and virtual events with our leading journalists
Already have an account? sign in
Register for free to continue reading
Registration is a free and easy way to support our truly independent journalism
By registering, you will also enjoy limited access to Premium articles, exclusive newsletters, commenting, and virtual events with our leading journalists
Already have an account? sign in
Join our new commenting forum
Join thought-provoking conversations, follow other Independent readers and see their replies