Real Betis 1 Liverpool 2
Gerrard gamble pays dividends for champions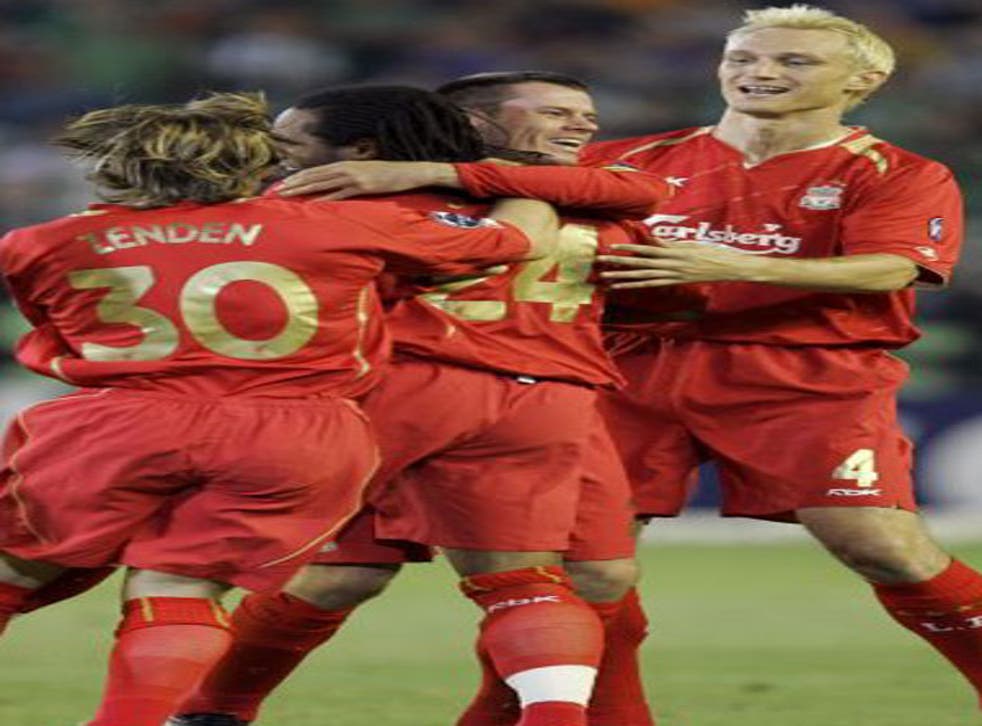 There is one more reason why Spain must regret the departure of Benitez to Merseyside one year ago: Liverpool now have three precious points in the Champions' League's group of death. Group G is where three, rather than two of the competition's big beasts lurk and Chelsea should not underestimate the frenetic atmosphere of Real Betis's Ruiz de Lopera stadium. Last night it was the site of a classic Liverpool ambush.
Daring and speedy on the counter-attack, Florent Sinama-Pongolle and Luis Garcia struck twice within the first 14 minutes long before Gerrard had even begun jogging down the touchline to warm up. Liverpool were forced to scrap for their victory in the second half, and Gerrard's presence for the last 16 minutes was crucial, but with a victory for Chelsea against Anderlecht, the all-English battle for the two top places has had some of its sting removed.
Benitez, typically, said that he would still approach the game at Anfield in two weeks as a game his team "must win" but the progress they made last night was significant. Liverpool have scored just once so far in the Premiership this season, but Sinama-Pongolle struck within 90 seconds against Betis and Sven Goran Eriksson was in the stands to witness a first-half performance by Peter Crouch that might convince the England coach there is hope for his 4-5-1 formation yet.
"In resting Stevie we were trying to protect him because we have some players who are a little bit tired from the games so far," Benitez said. "I tried to use some new players with fresh legs to give a rest to those like Gerrard, Steve Finnan and Stephen Warnock. We started the game by controlling the situation: we were compact and organised with a clear idea of how to counter-attack. I think we've done a good job."
They were pressed hard by Betis after Arzu scored in the 52nd minute, but there is no doubt that this Liverpool team can play on the counter-attack like European champions. Just as he finished last season, Jamie Carragher was peerless in defence and Jose Reina contributed with four fine saves in the first half as Betis woke from a shocking introduction to Champions' League football.
Sinama-Pongolle's early goal suggested that the nerves of a Champions' League first night were biting Betis. Carragher's long ball should have caused no problems for Juanito and Melli, but they combined to lose possession and with the goalkeeper Antonio Doblas stranded, Liverpool's French winger lobbed a gentle shot into the goal.
It was Crouch who expertly changed the angle of play for Liverpool's second goal on 14 minutes when he spotted Bolo Zenden overlapping on the left and snapped a quick pass into the Dutchman's feet. Zenden cut the ball back to Luis Garcia and his first time shot beat Doblas at his right-hand post.
Benitez said that it would be impossible for Eriksson to ignore Crouch after a performance of such quality and one first-half flick and turn on the centre-spot, which drew a crude challenge from Juanito, was proof enough that he is rather more than just an eager target man from Macclesfield. "Mr Eriksson knows he's a good player and a good type of person and he will give England the chance to keep the ball," Benitez said.
At half-time, Betis's coach Lorenzo Serra Ferrer removed Juanito and threw everything into attack. The midfielder Arzu, pushed up front, took a ball from the substitute Dani that bypassed Sami Hyypia and finally beat Reina with a shot that went through the Spanish goalkeeper's legs. It was a goal that ignited the stadium and placed Liverpool under siege.
Gerrard's introduction was timely and his energy in Liverpool's midfield broke up the waves of Betis attacks. The European champions, who had their names and numbers picked out in gold on their shirts, were applauded from the pitch by the home fans - Anfield would no doubt appreciate a few more opportunities to do the same.
Real Betis (4-3-3): Doblas; Melli, Juanito (Xisco, h-t), Rivas, Lopez; Arzu (Capi, 72), Fernando (Dani, 36), Assuncao; Joaquin, Oliveira, Varela. Substitutes not used: Contreras (gk), Lozano, Nano, Castellini.
Liverpool (4-4-1-1): Reina; Josemi, Carragher, Hyypia, Traoré; Garcia, Sissoko, Alonso, Zenden (Riise, 66); Sinama-Pongolle (Gerrard, 74); Crouch (Cissé, 58). Substitutes not used: Carson (gk), Finnan, Hamann, Warnock.
Referee: K Plautz (Austria).
Join our new commenting forum
Join thought-provoking conversations, follow other Independent readers and see their replies