Redknapp could rest 'mentally unfit' players
Jack Pitt-Brooke
Wednesday 21 March 2012 01:00 Comments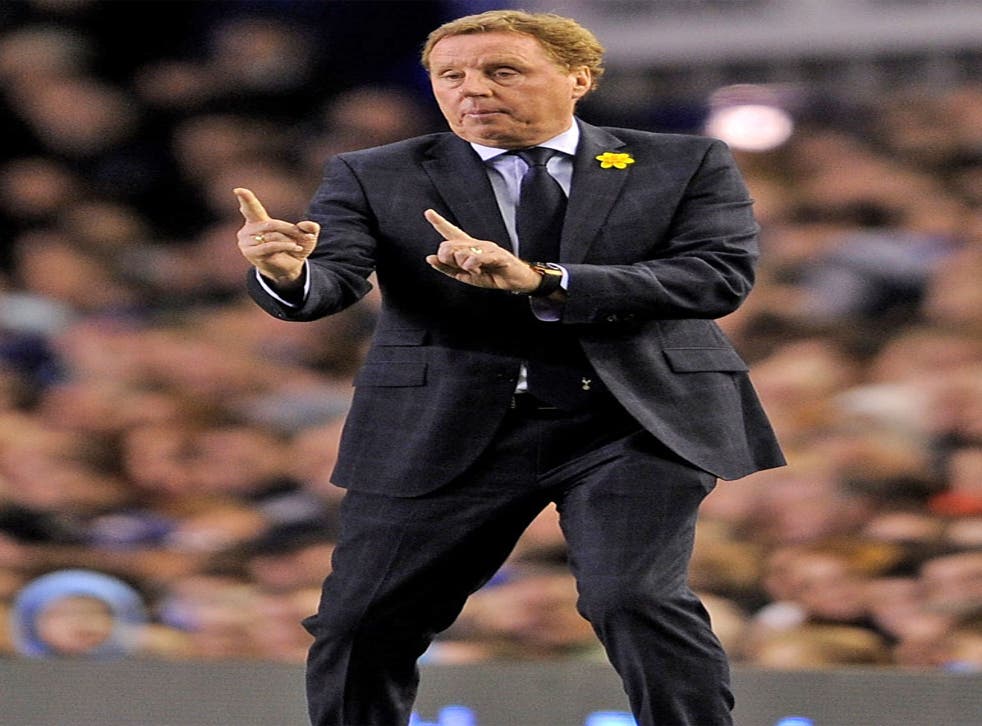 Harry Redknapp, the Tottenham manager, will assess the mental state of his players for tonight's home game with Stoke City, but he said that Spurs could not afford to be distracted by their abandoned match against Bolton last Saturday, in which Fabrice Muamba suffered a cardiac arrest.
Redknapp (right) said he had been "knocked flat" by Muamba's collapse during the FA Cup game at White Hart Lane. "I think it's a case of seeing who's ready and who's right to play," he said. "We'll find out when we see how they train; if their mind's in the right place. If it isn't then obviously I wouldn't want to take a chance with them.
"You can soon tell when they're training if their mind's on it or they don't look like they're into it, for any reason. If they're not I'll have a chat with them. If they come out and train and they look bright then there's no problems."
The Tottenham manager confessed to being shaken by Saturday's events. "It has knocked me low, it has knocked me flat for two or three days," Redknapp said. "It does take its toll on you. Especially with a young boy like that, to see that happen was unreal."
Redknapp admitted to not sleeping well on Saturday evening: "I think when we went home none of us could believe what we had seen. It was all surreal, wasn't it? Obviously it affects you when you see a young boy like that. It had an effect on everybody, I think, who saw it, who was there. But when the news is coming now, it's just been incredible."
While the trauma of Saturday was obviously the main focus, Redknapp said that Tottenham cannot ignore the importance of tonight's game. Having lost three successive league games, Spurs need the three points as they compete to qualify for next season's Champions League.
Asked whether the atmosphere at White Hart Lane might not be as vibrant as usual, Redknapp replied: "We need it to be really, that's the thing. It's an important game for us, we can't come off and say, 'We got the game out of the way'. We need to win. It's a massive game. We can't afford to lose any games, we've got to be ready to play."
Redknapp knows that re-focusing the players on football might be difficult, but he is used to the challenges of man-management. "I think football management is about it being half a psychologist with them anyway," he said. "There's more to it now than there ever was. Everything you do with them, it's all psychology. You've always got people who are up, or some who are down because they're not playing. You're never going to have everybody happy or all on the same wavelength."
Striker Emmanuel Adebayor is a doubt for tonight's game with a hamstring injury, while winger Aaron Lennon is out with a similar complaint. For Stoke, first-choice goalkeeper Asmir Begovic is set to return after missing Sunday's FA Cup defeat to Liverpool. Ricardo Fuller is suspended.
Register for free to continue reading
Registration is a free and easy way to support our truly independent journalism
By registering, you will also enjoy limited access to Premium articles, exclusive newsletters, commenting, and virtual events with our leading journalists
Already have an account? sign in
Join our new commenting forum
Join thought-provoking conversations, follow other Independent readers and see their replies