Retired Manchester United goalkeeper Edwin van der Sar says he misses playing
Simon Stone
Thursday 25 October 2012 15:13 Comments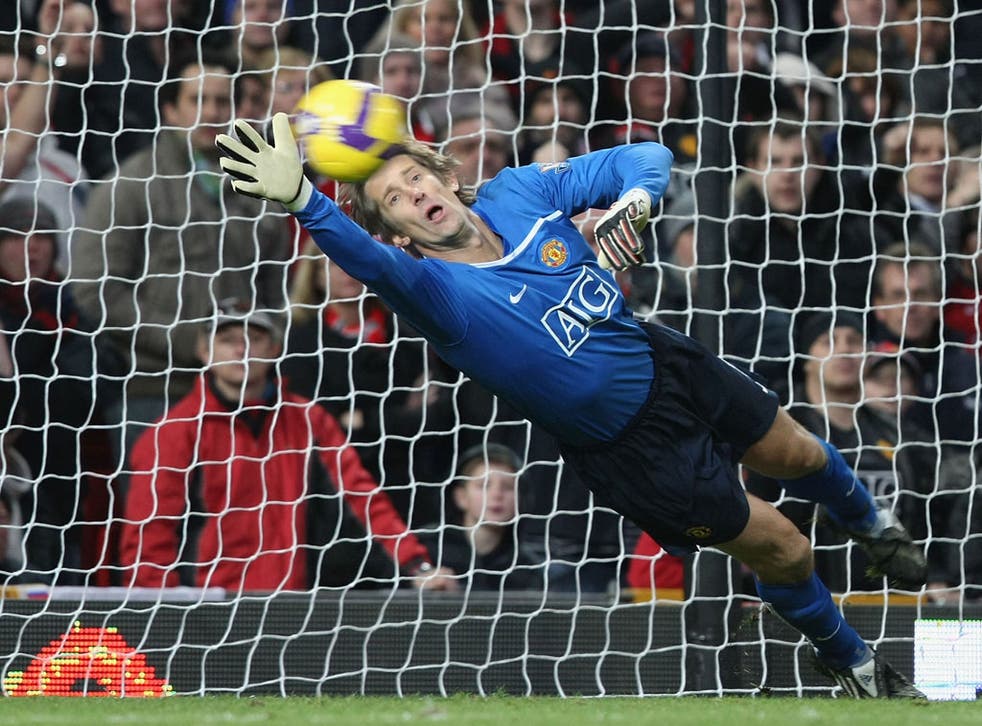 Edwin van der Sar will sit down to watch Manchester United's Premier League showdown with Chelsea on Sunday still feeling a little pang of regret at no longer being involved.
Van der Sar enjoyed an incredible career.
He won the Champions League twice, with Ajax and United, four Dutch titles, four Premier Leagues, was named Europe's best keeper on three occasions and won a record 130 caps for Holland.
Van der Sar was rarely injured during a top-flight career spanning two decades and three countries.
Yet he knows nothing he does in life can match the extreme highs and lows his professional career gave him.
And when he sees Ryan Giggs and Paul Scholes in action, he wonders whether he might have eked it out for just another year prior to his retirement in 2011.
"Playing is the biggest thing there is," said Van der Sar.
"You want to experience it for as long as possible and when you see people like Paul Scholes playing you think 'maybe'.
"It is such a great life. I would urge anyone to cherish every moment.
"Life is better now, but in a different way. I have more time with my family. There is not as much travelling.
"But nothing can replicate the thrill of making a great save at an away ground, or hearing your own fans cheering you, or the atmosphere when you score a goal or win a big game."
Probably the greatest single moment in Van der Sar's United career came against Chelsea, when he turned away Nicolas Anelka's penalty to win a dramatic penalty shootout in the Moscow rain to win the 2008 Champions League.
But the Dutchman knows from that experience, and all the others he had against Chelsea, Sunday's task is not an easy one considering United are not exactly watertight at the back just now.
"We didn't win at Chelsea too many times when I was at United and it won't be any easier this weekend," he said.
"They have changed their formation. They are more lively now and have more go-forward in their team.
"They certainly look to have great attacking options in midfield, which is the area United seem to have struggled a little bit.
"So far United have not had many tests, just Tottenham, and unfortunately they lost that. But this will be a big one."
Van der Sar will fit the match in around his training schedule for the New York Marathon on November 4.
It is the second time the 41-year-old has done the event and is aiming to break four hours in addition to raising funds for Headway, the UK-wide charity that supports people affected by brain injury.
The charity is particularly close to Van der Sar's heart because his wife Annemarie suffered a brain haemorrhage in December 2009 while at home with the couple's two children.
Thankfully, she has made good progress in her recovery and will be doing the 5km Dash to the Finish Line event in New York 24 hours before the main race.
"Running a marathon is unlike anything I have done," he said.
"You can recall all those bad weights sessions or the work you had to do in pre-season, but marathon running is worse than any of it, probably the hardest thing I have had to do in my entire life.
"I spoke to some of the physios at United and they just said it is not good for the human body. It is not designed to run that far.
"But it is something that is important to me, so the pain is worth it."
PA
Register for free to continue reading
Registration is a free and easy way to support our truly independent journalism
By registering, you will also enjoy limited access to Premium articles, exclusive newsletters, commenting, and virtual events with our leading journalists
Already have an account? sign in
Join our new commenting forum
Join thought-provoking conversations, follow other Independent readers and see their replies