Rijkaard 'will not move to Chelsea this year'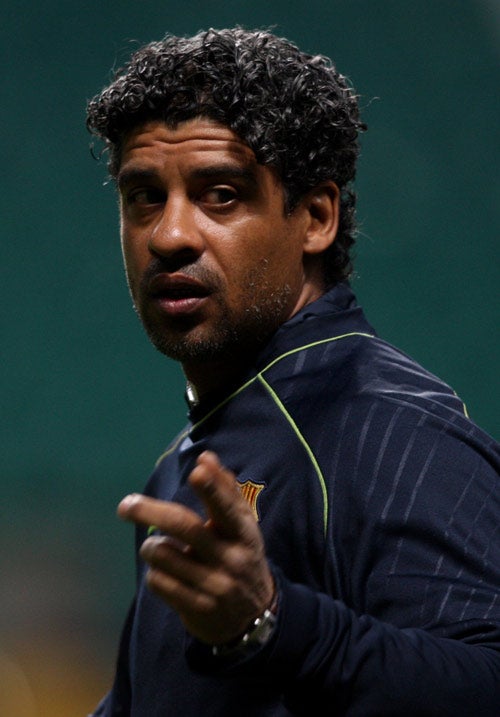 Chelsea will face an uphill task if they attempt to lure Frank Rijkaard to Stamford Bridge in the summer, the Barcelona head coach's brother and adviser said yesterday.
With mounting concern over whether or not Avram Grant should continue beyond this season as Chelsea manager, Rijkaard's name has again been mentioned, by associates of the club's owner, Roman Abramovich, as a possible successor. Chelsea considered a move for Rijkaard last season, when they were close to sacking Grant's predecessor Jose Mourinho, and some contact was made then with the 45-year-old former Netherlands international, who fits the bill as the kind of coach the Russian billionaire has considered employing.
If Rijkaard did move, it would mean reuniting him with Henk ten Cate, Chelsea's assistant manager, who was his assistant at Barça when they won the European Cup in 2006 with the free-flowing, attacking football that Abramovich craves. Rijkaard and Ten Cate, who has had recent difficulties following a blazing row with the Chelsea captain, John Terry, remain firm friends.
The Rijkaard camp are aware of the renewed interest but Herman Rijkaard told The Independent that his brother, whose contract at the Nou Camp runs until 2009, has decided to see out the remainder of his deal "at the moment". He claimed that any potential offer would stumble because "he's not the kind of guy who signs a deal and then doesn't fulfil it".
Rijkaard has endured a tricky season at Barcelona, but results and performances have improved dramatically of late and the club are closing on Real Madrid at the top of La Liga and are still in the Champions League. Last night they played the first leg of the Copa del Rey semi-final against Valencia. "Frank is having a very good time at Barcelona," Herman Rijkaard said. "This is his fifth year and it is going well at the moment. The team is growing and if they can keep growing they will win the championship. He has one season left [after this one] and he has decided to fulfil his contract period with Barcelona. All the fuss is happening where you are in England."
That fuss grew after Chelsea's defeat to Tottenham Hotspur in the League Cup final on Sunday amid growing signs of unrest in the squad with Grant. Abramovich has been far more conspicuous at the club in the past few days, while a series of discussions has been held as to why Chelsea performed so badly.
It has led to an increased sense that Grant will have to oversee a dramatic improvement, and probably win a trophy, if he is to have any chance of continuing in the post after this season, even though he only recently signed a three-year deal.
Herman Rijkaard said he was aware of Chelsea's difficulties but said of his brother: "Maybe they [Chelsea] would like to have him because he is a good trainer and a decent guy, but it is not an option at the moment. He has still one year left and he's not the kind of guy who signs a deal and then doesn't fulfil it."
The key phrase in that statement – and one that he used several times – is "at the moment". Although Barça have publicly distanced themselves from claims that they have already lined up Mourinho to replace Rijkaard, there does appear to be some foundation in the claims, although the Portuguese is also interesting, and interested in, Milan.
Nevertheless, Herman Rijkaard said he expected his brother to take a year off after he leaves Barcelona "and do nothing". He added: "But we are happy at the moment. Barcelona is a big club with big players and it's a beautiful city. He and his family are very happy there."
Asked whether or not Abramovich's millions could not eventually lure Rijkaard, Herman Rijkaard said: "Frank has money. He can eat two or three steaks a day if he wants to. He has a contract and he is happy."
Join our commenting forum
Join thought-provoking conversations, follow other Independent readers and see their replies