Riyad Mahrez: From match-winner to malcontent and back again
The flame has been rekindled at the King Power - for one reason or another - though for how long it burns blue only Mahrez knows
Samuel Lovett
Friday 12 January 2018 14:09 Comments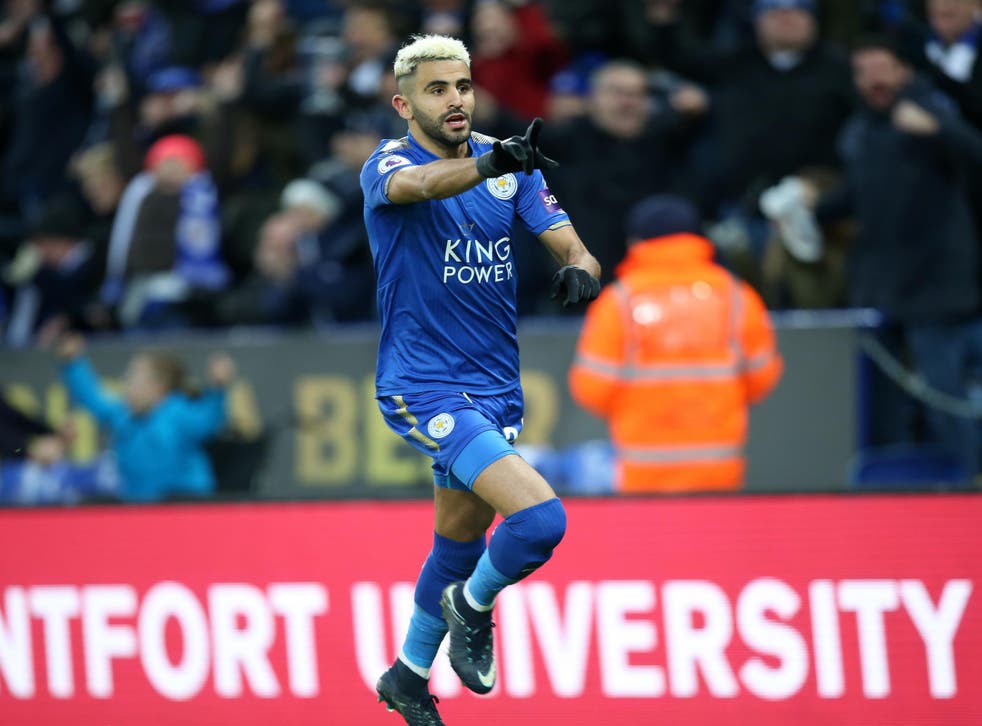 A flash of shock-blond hair, a twizzle of that willowly left leg, a shoulder dip, a dizzying burst of speed and, whoosh, a second goal in as many games. There are some sights in football for which, sometimes, a simple tip of the hat is not enough. Indeed, when these moments concern Riyad Mahrez, Leicester City's shining "light", as Claudio Ranieri once opined, they deserve all the hyperbole thrown their way.
The goal in question belongs to Leicester's memorable 4-1 rout of Southampton last month – just four days after the Algerian's similarly sublime strike against Newcastle. Picking up possession inside the hosts' final third, the winger weaved his way forward, twisting and turning as he did so, before assertively drilling the ball into Fraser Forster's bottom-right corner. Delicate of touch, technically brilliant and dangerously unpredictable, this was trademark Mahrez.
More significantly, it was further confirmation that the 26-year-old had returned to the height of his powers after a year in the wilderness. Fast forward one month and Mahrez now has eight goals and seven assists to his name at Leicester – a far greater return than his exploits throughout the entire 2016/17 campaign. Under Claude Puel, the player looks revitalised, re-focused and energised.
But is this resurrection as simple as it seems? Puel certainly has a reputation for getting the best out of his players, as his record in Ligue 1 suggests. Has the Frenchman, then, given Mahrez the metaphorical kick up the backside needed to lift him out of his slumber?
Or, alternatively, is there a not-so-hidden agenda at work here? As a player who handed in a transfer request over the summer, Mahrez's desire to move on to bigger and better things is plain to see. As he said himself, "I wanted to be transparent, not play people around, be honest about it". With the likes of Liverpool and Arsenal being continually linked to the winger, is Mahrez simply placing himself in the shop window?
There's no doubting, though, that Puel's presence has certainly helped. Tactically, the player has been given license to roam. Initial attempts to centralise him brought limited success, but in allowing him to drift inwards across opposition final thirds Mahrez has rediscovered his potency. His goal at St James' Park exemplified this, with the build-up to his stunning 25-yard strike stemming from the fact he had dropped deep and left his post on the far right touchline to claim possession.
Puel's propensity for tinkering with his line-ups has also brought a renewed competitive edge to Leicester's squad. This climate has notably benefited rising star Demarai Gray, who has greedily seized the opportunities handed to him.
Could it be the case, then, that the young gun has helped keep Mahrez on those twinkly toes of his? Quite possibly. With his days as an England U21 international limited as he approaches his 22nd birthday, Gray has made it clear to those at the club he believes he's ready for a shot at Gareth Southgate's squad. Against such confidence and self-belief, Mahrez has had no option but to raise his own game.
And then there's the player's relationship with Puel himself. Both loyal students of the game, both reticent, unassuming figures, the two men have struck up a healthy rapport at Leicester. Puel has already spoken of his encouraging one-to-one chats with Mahrez, who has shown a willingness to listen and positively respond to his manager's words.
It's a relationship that naturally stretches to the intense demands of the training ground. Through their French connection, Puel has been able to deliver clearer and more concise messages to which Mahrez can respond straight off the bat. This has similarly helped with Islam Slimani, another French-speaker, who, as a result, has been brought more into the picture under Puel.
But hanging over this upturn in form is the unshakeable sense that Mahrez's time in a blue shirt is drawing to an end, for this is a player with grand designs for the future, a player who has set his sights on the very top.
He made it clear last month that he won't rest until he's reached the game's apex. "I'm confident," he told the Daily Mail. "Contract or no contract, I believe I will get to the top. When you have quality, and show it, there's no problem."
On the club's part, there is no bad blood over the player's desire to take on a new challenge. He remains an intrinsic cog in the Leicester machine and a core squad member, having played a vital role in the side's title-winning campaign two years ago. His relationship with his teammates remains strong as ever, too, as does his love for the club, while his commitment to the side's cause is plain to see through his performances.
And although Leicester would prefer to keep hold of his game-changing talents, there is a sense at the club that Mahrez's departure, if and when it comes, needn't hinder their ambitions to refashion themselves as an elite Premier League side. There is no desire to sell the player now – asides from N'Golo Kante, the club has a strong record of standing firm in the face of buyers' interest – but the club is equally confident they would be able to fill his hole, especially given the promise and potential of Gray.
In the meantime, it's a case of sitting back, relaxing, and enjoying the spectacle that is Riyad Mahrez. From match-winner to malcontent and back again, the Algerian has proven he's more than just a one-trick pony – and Leicester are all the better for it. The flame has been rekindled at the King Power, for one reason or another, though for how long it burns blue only Mahrez knows.
Register for free to continue reading
Registration is a free and easy way to support our truly independent journalism
By registering, you will also enjoy limited access to Premium articles, exclusive newsletters, commenting, and virtual events with our leading journalists
Already have an account? sign in
Join our new commenting forum
Join thought-provoking conversations, follow other Independent readers and see their replies