Riyad Mahrez hands in transfer request at Leicester: 'I feel now is the time for me to move on'
Mahrez was named PFA Player of the Year during Leicester's remarkable title-winning season, scoring 17 goals and providing 11 assists, but failed to deliver for the side across the past campaign
Samuel Lovett
Tuesday 30 May 2017 16:11 Comments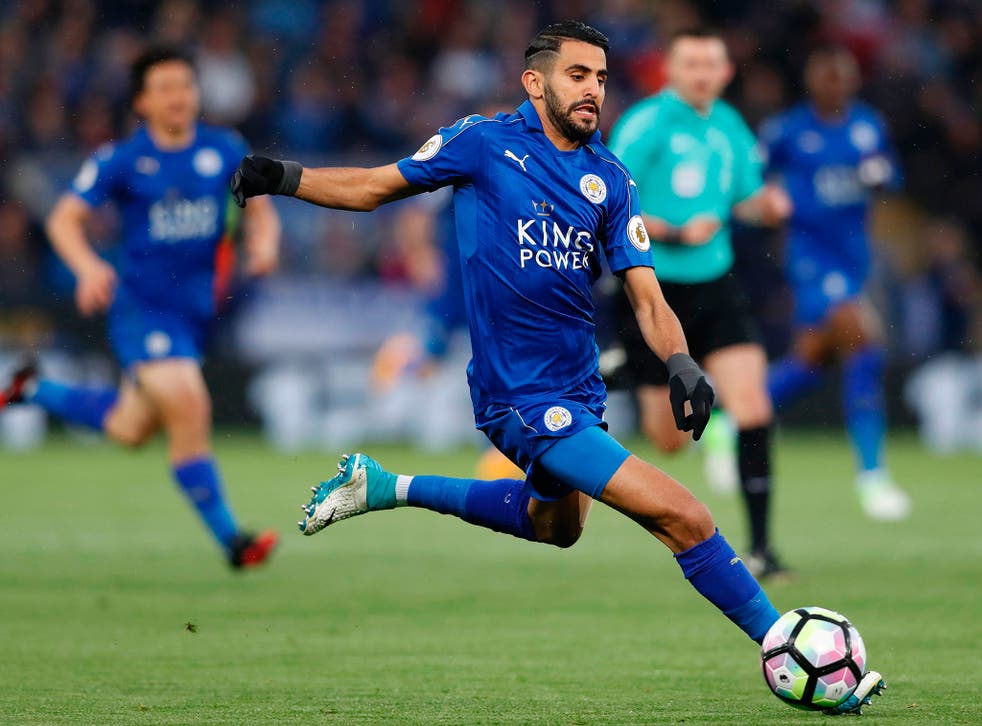 Leicester City winger Riyad Mahrez has handed in a transfer request at the East Midlands club, stating that "now is the time to move on to a new experience".
The 26-year-old has been linked with a move away from the Foxes throughout the past season and has now formalised his desire to leave the former English champions.
Mahrez was named PFA Player of the Year during Leicester's remarkable title-winning campaign, scoring 17 goals and providing 11 assists, but failed to deliver for the side across the past season.
In a statement released on Tuesday, the "fiercely ambitious" Mahrez expressed his desire to move on after four years at the club.
The Algerian said: "Out of the huge admiration and respect I hold for Leicester City Football Club I wanted to be totally honest and transparent with them and have therefore informed the club that I feel now is the time for me to move on.
"I had a good discussion with the Chairman last summer and we agreed at that time that I would stay for another year in order to help the club as best as I could following the transition of winning the title and in the Champions League.
"However, I am fiercely ambitious and feel that now is the time to move on to a new experience.
"I've always enjoyed a good relationship with the Chairman and everyone at the club, and I hope I have been able to repay the faith shown to me by my performances and commitment on the pitch during my time here.
"I've had the four best seasons of my career at Leicester and have loved every moment. I feel immense pride to have been a part of what we have achieved during my time at the club, culminating in becoming Premier League Champions."
Speculation has mounted of a summer transfer to Ligue 1 champions AS Monaco, with a recent photograph depicting the Algerian signing autographs next to an unidentified man in Monaco training gear.
But contrasting reports have stated that the French club is unprepared to meet Mahrez's high salary demands, leaving the door open to Arsenal who attempted to sign the player last summer.
Mahrez confirmed in October of last year that Arsene Wenger rang him to convince him to move to the Emirates Stadium, though the winger said at the time that he decided against forcing through a deal.
"There was contact with Arsenal," Mahrez said. "But Leicester wanted to keep me and I was pretty expensive.
"I did not want to create a conflict when the offer came in."
But following Mahrez's transfer request, Leicester will now seek to force the best deal possible and reports suggest the club have priced the winger at £35m.
Register for free to continue reading
Registration is a free and easy way to support our truly independent journalism
By registering, you will also enjoy limited access to Premium articles, exclusive newsletters, commenting, and virtual events with our leading journalists
Already have an account? sign in
Register for free to continue reading
Registration is a free and easy way to support our truly independent journalism
By registering, you will also enjoy limited access to Premium articles, exclusive newsletters, commenting, and virtual events with our leading journalists
Already have an account? sign in
Join our new commenting forum
Join thought-provoking conversations, follow other Independent readers and see their replies