Roberto Mancini back on the defensive after Manchester City make leaky start
Italian blames late pre-season for Lescott exclusion as Balotelli's conduct raises concern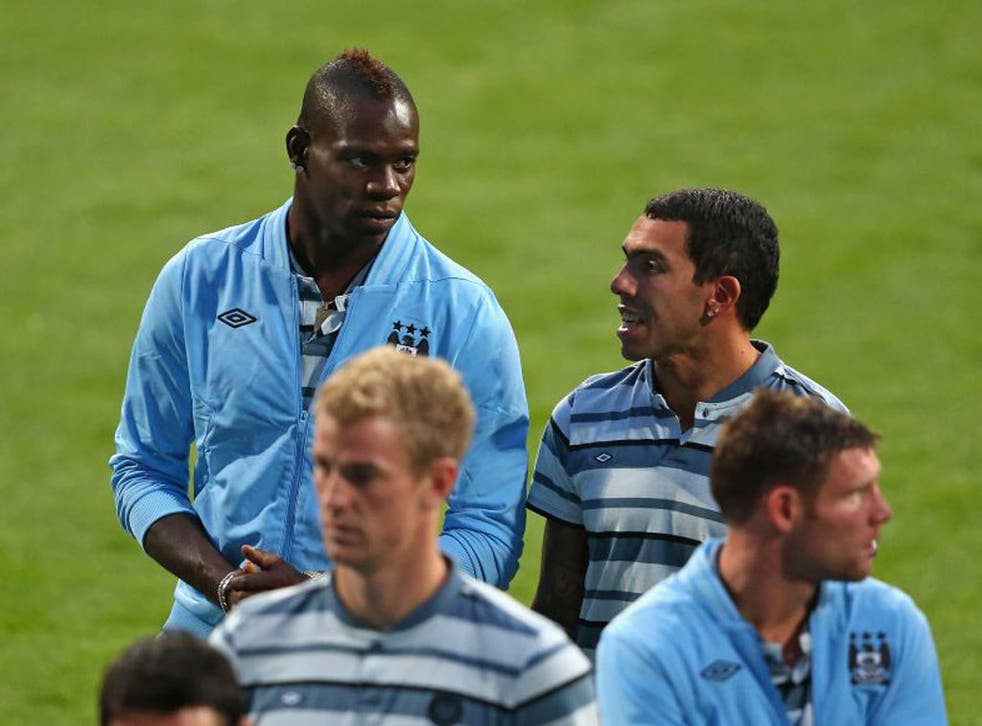 When Roy Hodgson wonders aloud about first-choice England internationals who have become second-choice footballers for their clubs, he may think of Joleon Lescott.
Here was a man who, Rio Ferdinand aside, is the Premier League's most expensive English defender and yet, when Manchester City entered the Bernabeu to face Real Madrid, Lescott was left on the bench, his place taken by the teenage Matija Nastasic.
Until or unless England face Brazil in the Maracana or Germany in Dortmund's Westfalenstadion, Lescott is unlikely to face a more searching examination of his technique and temperament at international level.
Yesterday, Roberto Mancini confessed he was dissatisfied with his back four as a whole, one that has conceded 11 goals in their opening six games. Arsenal, tomorrow's opponents, have conceded two in five.
The fact is that Kolo Touré is not the player he was under Arsène Wenger; Mancini appears to have doubts about Lescott's technique while the usually immaculate Vincent Kompany has hit a patch of relatively poor form.
"We have started so-so," said Mancini, who has experimented with a regular four at the back and a 3-5-2 formation this season.
"[Because of the European Championship] we did not have enough time with them in pre-season and because of the internationals we have not had enough time with them once the season started. Joleon, like a lot of players, started his pre-season very late.
"We have played six games and I wanted to ensure that each player played two or three matches."
As City attempted to recover from their 3-2 defeat in Spain and the exhausting emotions that come with having victory against Real Madrid snatched from them as the curtain fell, the spotlight was on another player who simply watched as Cristiano Ronaldo struck the winner.
Mancini denied absolutely that he had forced Mario Balotelli to sit in the stands because he had spent the Saturday night after the 1-1 draw at Stoke with the boxer Amir Khan in Manchester's Circle Club. The manager had wanted the squad to rest before travelling to Madrid on the Monday.
Though he smokes, Balotelli is teetotal and his manager claimed the decision was purely tactical. But Mancini was entitled to be asked why Sergio Aguero, who had not played for four weeks due to injury, was thought more worthy of a place on the bench than Balotelli, an outstanding success in Euro 2012.
"He was upset, that is normal," said Mancini. "But when you have five games in 20 days, you should pay attention to the consequences. If you want to go through in all competitions, it is important that you have players who understand this situation.
"I have to make the best decision for the team. Afterwards, you might see it as a mistake but, before, I thought it was a good decision."
Mancini showed himself relatively relaxed about Balotelli's relationship with cigarettes and said: "If he wants my opinion, it is better that he quits. But if he smokes 10 cigarettes a day and scores two goals every game, then that's better."
Register for free to continue reading
Registration is a free and easy way to support our truly independent journalism
By registering, you will also enjoy limited access to Premium articles, exclusive newsletters, commenting, and virtual events with our leading journalists
Already have an account? sign in
Join our new commenting forum
Join thought-provoking conversations, follow other Independent readers and see their replies