Roberto Martinez staying sunny but clouds gather over Goodison
The man who could do no wrong three months ago is under pressure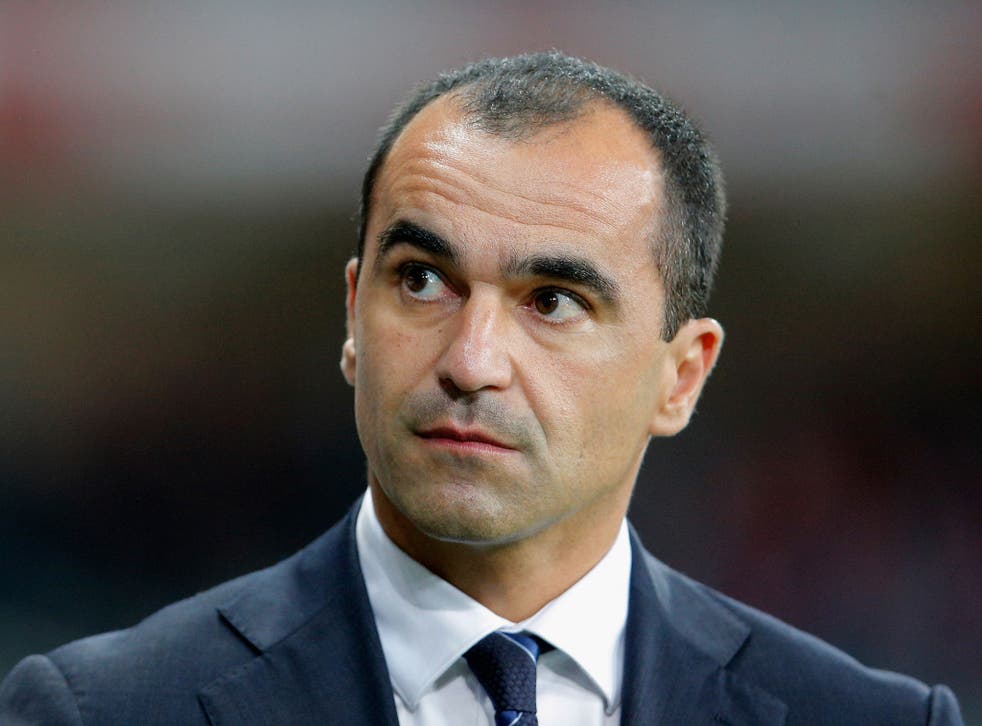 Roberto Martinez began this season with his face adorning a mural on the side of Goodison Park's Main Stand.
This was a tribute to his impressive first campaign as Everton manager – achieving the club's highest points' total since 1987 – but on Wednesday night, after the disappointing 1-1 draw with Hull City, Goodison offered a different kind of verdict as boos echoed around the ground.
The result left Everton 11th in the Premier League and followed a home performance widely regarded as the worst of Martinez's reign. It has not been the start to the season anybody at Goodison would have envisaged after a summer when Romelu Lukaku joined for a record £28m fee and Ross Barkley signed a new contract. Martinez reflected yesterday that this had "created huge expectations" yet Everton are currently nine points worse off than 12 months ago and as they prepare to visit in-form Manchester City today, their anxieties are magnified by the memory of this week last year when it felt like Martinez, questioned now for the first time since arriving on Merseyside as Everton manager, really did have the Midas touch.
It was on 4 December 2013 that Everton claimed their first win at Manchester United since 1992; four days later they travelled to Arsenal and delivered another bold statement, matching the Gunners in a footballing contest before earning a 1-1 draw through Gerard Deulofeu's spectacular equaliser. Twelve months on, they have won just four of their 14 league fixtures . Arguably the most striking statistic of a frustrating, stop-start campaign is that in a league table of half-time results, they would sit second behind Chelsea. Everton have dropped 12 points from winning positions – in the past week they led against both Tottenham and Hull but came away with a defeat and draw – and given that resilience was a key characteristic under David Moyes, this fragility is alarming.
Martinez's sunny disposition meant he was able to share a joke about that statistic yesterday – "I've already asked the Premier League and the FA if we can play 45 minutes" – and also come up with a stat of his own, namely that his side have lost just one in 10 in all competitions. "We have been unfortunate at times," he added. "At times we haven't been able to take advantage or we've been punished when the game becomes more open. That will balance up over the season but I'm delighted we are the team that takes the responsibility of wanting to score the goal and take the risks. At the moment we are getting punished and too many 50-50s are going against us."
For Everton, it seems the tone of their season was set in the opening week. Last year Martinez's reign had lift-off with a 1-0 home victory over Chelsea. This time, by contrast, they led 2-1 at Leicester before conceding a late equaliser and then threw away a two-goal advantage in a 2-2 home draw with Arsenal. If that had a psychological impact, there are other factors according to Barry Horne, the former Everton midfielder-turned- Sky TV analyst and Liverpool Echo columnist. "Early in the season you had a combination of fatigue from the summer, a few players not being at the top of their game, and players being 12 months older," he says. "They are small differences but when you consider how fine the margins are, they might add up to a significant difference."
Although captain Phil Jagielka has put his World Cup troubles behind him, Horne notes that Everton have not had a settled back line. Last season they had the division's best attacking full-back pair in Seamus Coleman and Leighton Baines but both have been hampered by injuries. Moreover, Father Time appears to be catching up with centre-back Sylvain Distin and goalkeeper Tim Howard. Distin – back in the team owing to injuries to John Stones and Antolin Alcaraz – turns 37 this month while Howard will be 36 in March and the pair were at fault for goals conceded against both Tottenham and Hull.
One worry for Evertonians is whether Martinez can restore last season's seemingly perfect blend of his own attacking philosophy and the Moyes-instilled resilience that he inherited. A former colleague of the Spaniard at Wigan recalled yesterday a frustrating pattern in games where Martinez's old side would "have lots of the ball" but "give a soft goal away at the back [and] overplay at times"; there have been echoes of this in Everton's displays this term.
The Europa League is another consideration. Martinez has picked strong sides and Everton have excelled in the competition but they have won only one of five league matches afterwards and the extra workload has meant more injuries, with James McCarthy and Steven Naismith – arguably Martinez's most consistent performers – both currently sidelined.
A final cause for concern is the form of Barkley. The England midfielder turned 21 yesterday but has struggled since returning from the knee ligament injury he suffered in August. Martinez said that "after Christmas we are going to see the best of Ross" as he reflected on the impact of his untimely injury. "I must admit the pre-season, before the injury, was the best I've seen him. That was him at his very, very best. He really benefited from going to the World Cup. The injury set him back but now he's fully fit and he's played a lot of minutes already."
Martinez accepts that opposition teams are now "making sure it is difficult for him" and City certainly know all about a player who struck a brilliant goal past Joe Hart at Goodison in May. The champions were rumoured to have been quoted a £50m fee when they enquired about him in the summer yet Barkley has not actually scored since then. Fortunately, Martinez believes the bigger stages bring the best out of him. "That is the big attribute he has," he said. "His biggest games last season were against the top sides – Man City, Arsenal." Everton will hope for more of that today because they certainly need some inspiration from somewhere.
Join our new commenting forum
Join thought-provoking conversations, follow other Independent readers and see their replies