The Independent's journalism is supported by our readers. When you purchase through links on our site, we may earn commission.
Robin van Persie turned down £300,000 Manchester City deal to join United, says Arsene Wenger
Arsenal manager urges fans not to target former hero tomorrow despite decision to join rivals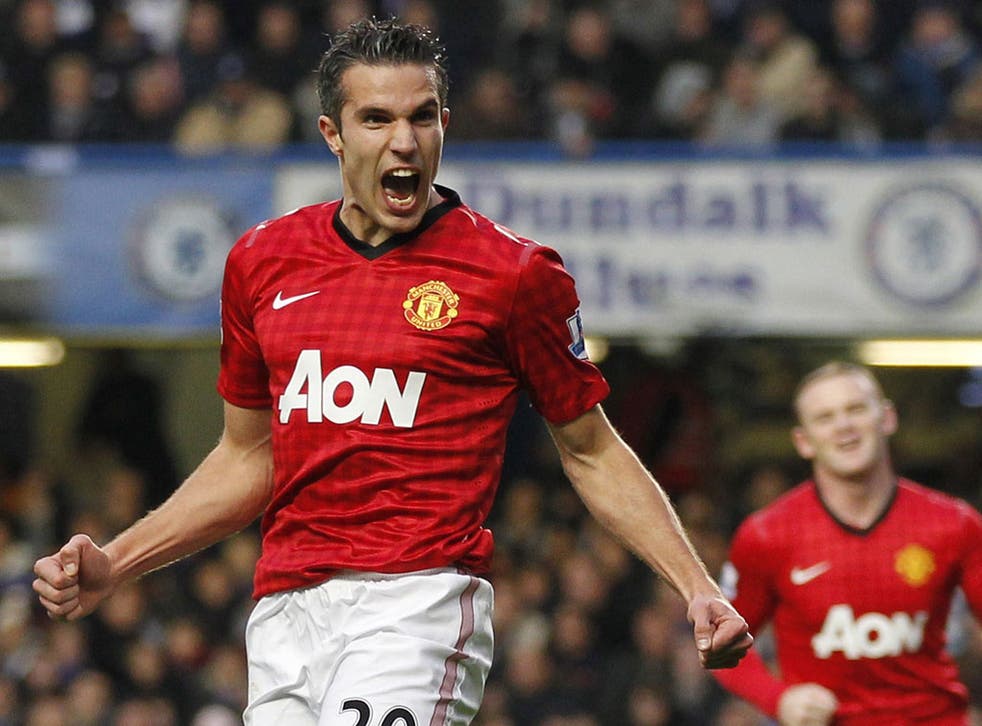 Arsène Wenger confirmed yesterday that Robin van Persie turned down an offer from Manchester City – thought to be in the region of £300,000-a-week – to join Manchester United from Arsenal this summer.
The Arsenal manager also urged his club's fans to give their former captain a warm reception when he faces them, for the first time since he left the club, at Old Trafford tomorrow.
Van Persie's defection from the Emirates Stadium was the most protracted transfer of the summer, with the Dutchman making it clear that he would not sign a new deal at Arsenal following a season in which he scored 37 goals and was named double Footballer of the Year.
That left Arsenal with little choice but to sell their talisman, and Van Persie's destination was narrowed down to United, City or Juventus.
After a £24m fee was agreed the forward turned down City's huge salary offer and eventually decided to become the first player since Viv Anderson to move to Old Trafford from Arsenal in a deal that brought huge criticism of his former club.
But despite the acrimonious nature of his departure, Wenger believes Arsenal's fans will let themselves down if they abuse Van Persie as they have other former heroes such as Samir Nasri, Emmanuel Adebayor and Ashley Cole. "It is true that Manchester City [were] interested in him and he has chosen to go to United," said Wenger, who acknowledged the contract offer from City. "He could come out more on the reasons but I didn't want to know more about that.
"Does it hurt more that he left for another English club? That is not exactly what I wished! I hope the reception for him is a respectful one because he has played for us for eight years, he has done very well for us. You want him to be respected. We campaign against discrimination, it was still the case last week so why should it not be the case this week? I don't know [what the fans will do], I think he will get the reception I hope for."
Van Persie's swift adaptation to life under Sir Alex Ferguson has been somewhat of a surprise. The forward tired towards the end of last season and endured a torrid European Championship but has been superb in his new surroundings, scoring seven league goals so far. Wenger can take some credit for that in the role he played in transforming van Persie from a tearaway to a consistently world-class player, and there was a rueful smile as he acknowledged his role in his former player's development.
"Am I surprised he has done so well at Manchester United? No, not really," said Wenger. "In Manchester you have good players around him, and Robin is very intelligent around the box. You would think that one of the parts of my job is to have a positive influence on people's [lives] as a player. When you do that, you are always satisfied. I think my influence (on van Persie) was not too bad."
Wenger has reiterated that Theo Walcott's contract dispute must be resolved by Christmas, with the England international's current deal expiring next summer.
"There is urgency, how much I don't know," he said. "But there is urgency. We want to sort it out before Christmas, one way or the other."
Related articles...
Robin van Persie has given 'everybody a lift' at Manchester United says Ryan Giggs
No fresh injury concerns for Manchester United ahead of visit of Arsenal
Arsenal winger Alex Oxlade-Chamberlain faces fitness test ahead of Manchester United trip
Register for free to continue reading
Registration is a free and easy way to support our truly independent journalism
By registering, you will also enjoy limited access to Premium articles, exclusive newsletters, commenting, and virtual events with our leading journalists
Already have an account? sign in
Register for free to continue reading
Registration is a free and easy way to support our truly independent journalism
By registering, you will also enjoy limited access to Premium articles, exclusive newsletters, commenting, and virtual events with our leading journalists
Already have an account? sign in
Join our new commenting forum
Join thought-provoking conversations, follow other Independent readers and see their replies