Ronald Koeman's sense of detachment at Everton ensured this was a relationship doomed to fail
From the beginning, Koeman never really sounded like he wanted to stick around. If Everton are to progress, they need to find a manager who can identity with the club's fans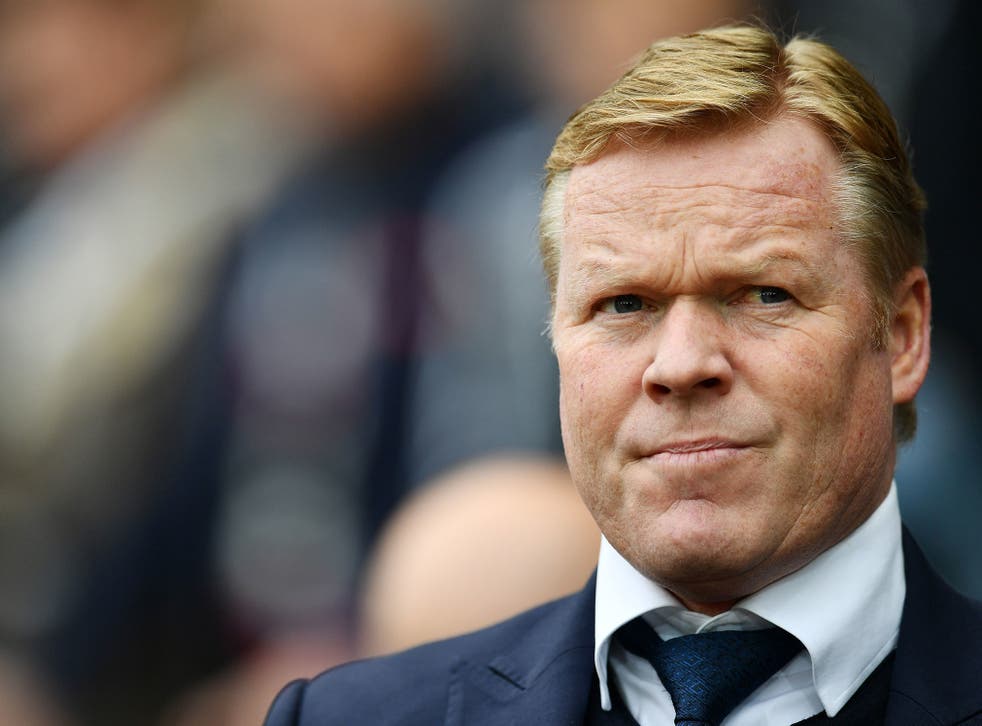 The vile winds met corrugated steel and it was as if Goodison Park had become an old container ship struggling to navigate in the wilds of the Irish Sea.
Five minutes were still left to play against Arsenal and in that time two more goals were scored. Goodison, though, had already given up. So often a "bear pit," as Frank Lampard once described it, "the most difficult place to play" had sunken to a new eeriness, marked by a sad acquiesce.
"Taxi for Koeman," came the hopeful voice from behind the press box half way up the main stand. A gallows sort of laughter followed. When Arsenal made it 5-2, the calls for Koeman to go were more audible, more aggressive and widespread – amongst those who were still present, anyway.
For Bill Kenwright, sitting uncomfortably in the directors' box, the horror was attached to his face. "Oh no," he appeared to say before nuzzling his chin into his heavy coat, trying to escape the cold and maybe the embarrassment.
A group of Evertonians had flown to Tanzania for a summer friendly carrying a banner with a message: FC SEXY, it read, in recognition of a social media hashtag that had become popular. It reflected the confidence of the period: new money, new players, a bigger squad, a youth team to be excited about, European football on the horizon, a new stadium on the docks to look forward to.
In less than four months, that mood has changed completely, with Ronald Koeman paying the price for turning Everton into a rather less amorous and rather more frigid description.
There had been a feeling inside Goodison that Koeman should get until next month's international break to improve Everton's state. Chelsea in the League Cup, Leicester, Lyon and Watford were to follow. In assessment following yesterday's submission to Arsenal, it was realised that if Koeman did not get it right, Everton would be out of two cups and facing a relegation battle with a crowd that was not behind the manager.
Who could replace Ronald Koeman as Everton manager?

Show all 9
In truth, it probably never was. From the beginning, Koeman never really sounded like he wanted to stick around – his comments about ambitions to manage Barcelona one day adding to that impression. There had been suggestions that he had not tried to embrace Everton in the way previous managers had – that he was distant and used his brother and assistant manager Erwin Koeman to communicate with staff.
Then, last Christmas, days before losing to Liverpool in the Merseyside derby, he posted a picture on the internet of his tree decorated exclusively in red. These types of moments chip away at trust. It is fair to say he never seemed to really get what Everton was all about. It is fair to say he will be ok with a red Christmas tree this year.
There are mitigating circumstances that Koeman might point towards when he discusses what went wrong with future employers. Any manager would find it difficult when a 30-goal a year striker is sold and not replaced, as Romelu Lukaku was. Will the position of Steve Walsh, the much-vaunted director of football, also be examined? It was not Koeman's fault either that the Premier League's fixture list at the beginning of the season was so unkind. Koeman also inherited an ageing defence which needed re-shaping and really could not afford to do without Seamus Coleman who has been injured for so long – as well as Yannick Bolasie, Koeman's big signing from 2016.
Ultimately, though, he has been sacked because none of these issues were subsequently managed well enough. Confidence has drained quickly and amid the bad results, his tactics and team selections have been puzzling.
It is likely in the short-term Everton will turn to David Unsworth who has many admirers inside the club for the way he has progressed both individually and collectively Everton's under-23 team, who became title winners last May. It was suggested in one Sunday newspaper that David Moyes was set for a return as well, though this possibility has received a lukewarm-at-best reception. When Peter Reid, the legendary Everton midfielder, was asked whether he'd like to see Moyes return on Twitter last night, his response was swift and perhaps brutal. "No," he wrote.
There are other candidates, Burnley's Sean Dyche and Bournemouth's Eddie Howe amongst them. One thing is certain, the appointment needs to involve someone Evertonians can identify with – and maybe it is Dyche who fits this category the best. "My biggest problem was that he called us Everton, he never called us 'us,'" Kevin Ratcliffe told Radio City this afternoon, Ratcliffe being someone who captained Everton to two First Division titles and spent his 12 best years of his playing career at the club. For the next man in line, he at least has to make Everton feel like a destination.

Register for free to continue reading
Registration is a free and easy way to support our truly independent journalism
By registering, you will also enjoy limited access to Premium articles, exclusive newsletters, commenting, and virtual events with our leading journalists
Already have an account? sign in
Register for free to continue reading
Registration is a free and easy way to support our truly independent journalism
By registering, you will also enjoy limited access to Premium articles, exclusive newsletters, commenting, and virtual events with our leading journalists
Already have an account? sign in
Join our new commenting forum
Join thought-provoking conversations, follow other Independent readers and see their replies