Scholes class masked by dreadful refereeing
Manchester United 2 Queen's Park Rangers 0: Young's somersault fools the officials but veteran's enduring quality shines through
Ian Herbert
Monday 09 April 2012 13:16 Comments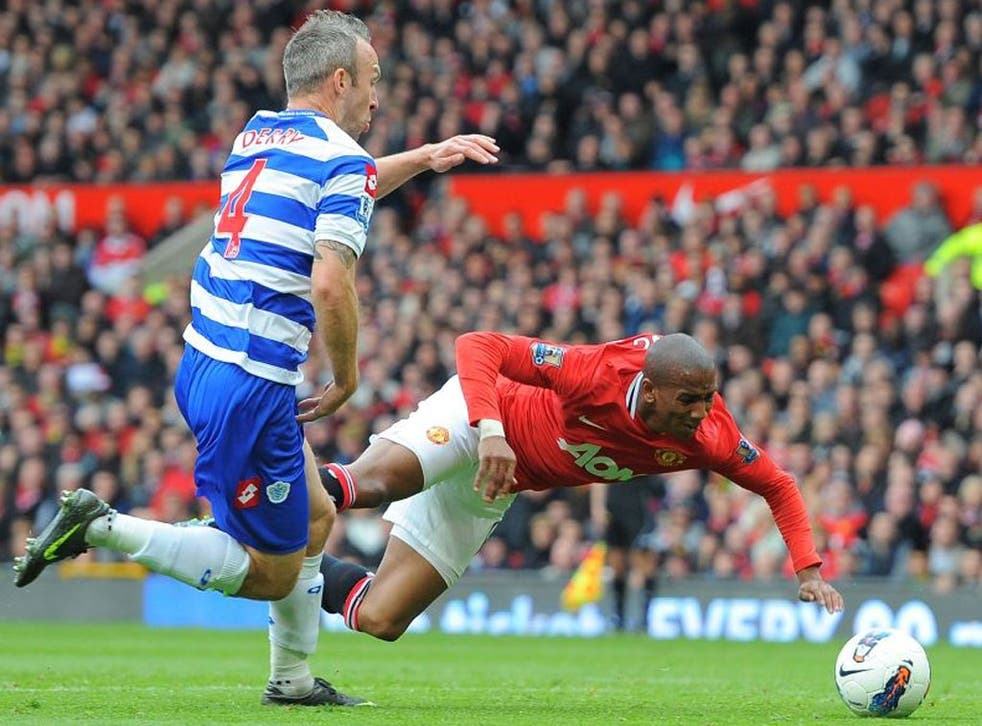 Manchester City's sense of injustice will only be quickened, of course, by the fact that the afternoon's headline moment belonged to the same square yard of turf where a referee had bestowed another gift on Manchester United last time around.
It was Fulham's Danny Murphy being denied a penalty out there 13 days earlier and now here was Ashley Young being handed one for the kind of reaction which made Shaun Derry's marginal connection with his back appear to have the properties of an electric shock. Derry was also dismissed for his supposed offence.
Gary Neville was being diplomatic when he said that Young "knew what he was doing" and those of an Aston Villa disposition may also allow themselves a knowing nod. Young does have previous where triple somersaults with tuck are concerned and this was the most high-profile occasion to have earned him comparisons with Tom Daley since he leapt for England against Montenegro at Wembley two years ago.
It is tempting to say that referee Lee Mason and linesman Ceri Richards between them killed the game in that instant, though such an observation should be resisted, because it is based on an assumption that the game might ever have come alive before Mason fell for Young's gamesmanship and Richards failed to spot that the winger was offside before he retreated to receive Wayne Rooney's ball to him in the penalty area.
Queen's Park Rangers only lasted 14 minutes with 11 men but that was long enough to reveal a side of no ambition, who left four forwards on the bench, packed five players into midfield and were vulnerable enough defensively to concede two reckless free-kicks in front of their own box in the opening six minutes.
It was after his excoriating attack on officials that Mark Hughes detailed all the players he had kept out of the side to preserve them for his really significant matches ahead.
Joey Barton was being protected from a suspension which would rule him out of Swansea at home on Wednesday and West Bromwich away, three days later. Bobby Zamora was being nursed into 100 per cent match fitness after a virus. "We've finished the weekend games in a better place than where we started," Hughes said of the goal differences at the bottom. No mistaking – this was always a damage-limitation exercise.
The most unfortunate outcome of another lamentable piece of officiating is that the headlines will today get in the way of a good story – that of the 37-year-old Paul Scholes, whose fine performance was capped by one of those 25-yard strikes which he made his trademark when he stopped popping up inside penalty areas. United have now won 11 and drawn one of his 12 appearances since his return to the fold. He was conspicuous by his absence when Sky were dispensing their man-of-the-match champagne afterwards – halfway back to the family and the Saddleworth hills by then, you imagined – but the vision, distribution, time on the ball had spoken for him.
Michael Carrick, who had a powerful shot deflected against the bar by the indefatigable Paddy Kenny in the second half, offered more of the same in what has been a personal renaissance in the past half-season or so. Rooney, with 12 goals in 11 matches in all competitions, delivered far more than that penalty, which he tucked away. There have been some recent calls for Antonio Valencia as United's player of the season but surely that prize belongs to Rooney – quick, crisp and busy yesterday and with more than double the goals tally of any team-mate now.
His free-kick had already forced Kenny into a twisting athletic save to palm the ball over when his angular pass created the game's headline moment, though it has to be said that in the artillery attack that followed Danny Welbeck did not seize the opportunities Rooney offered him to reveal that theirs could be a deadly partnership. One shot teed up by Rooney was placed over the bar by Welbeck and another provoked a very weak finish from several yards of space.
Rafael da Silva, the other unconvincing member of Sir Alex Ferguson's side, was equally profligate. The Scholes pass he controlled on the half-volley squirted out of his control and his shot hit the thigh of the diving Kenny.
But it was when Scholes took on Rafael's own short pass on 79 minutes that he revealed how it was done, the power of the shot sending it in under Kenny's hand as he threw himself at it.
Adel Taarabt and Hughes himself were the only QPR personnel revealing any type of intent. Referee Mason dared not leave the field at half-time until he had seen that Hughes, lying in wait, had gone. That's the kind of spirit forged at Old Trafford. It's what they call champion class.
Match details
Booked: Man Utd: Rafael.
Sent off: QPR: Derry 14 min
Attendance: 77,500.
Man of the match: Scholes
Register for free to continue reading
Registration is a free and easy way to support our truly independent journalism
By registering, you will also enjoy limited access to Premium articles, exclusive newsletters, commenting, and virtual events with our leading journalists
Already have an account? sign in
Join our new commenting forum
Join thought-provoking conversations, follow other Independent readers and see their replies