Shaw shapes up as the 'new Bale'
Latest talent off the Southampton production line is already interesting tonight's opponents Arsenal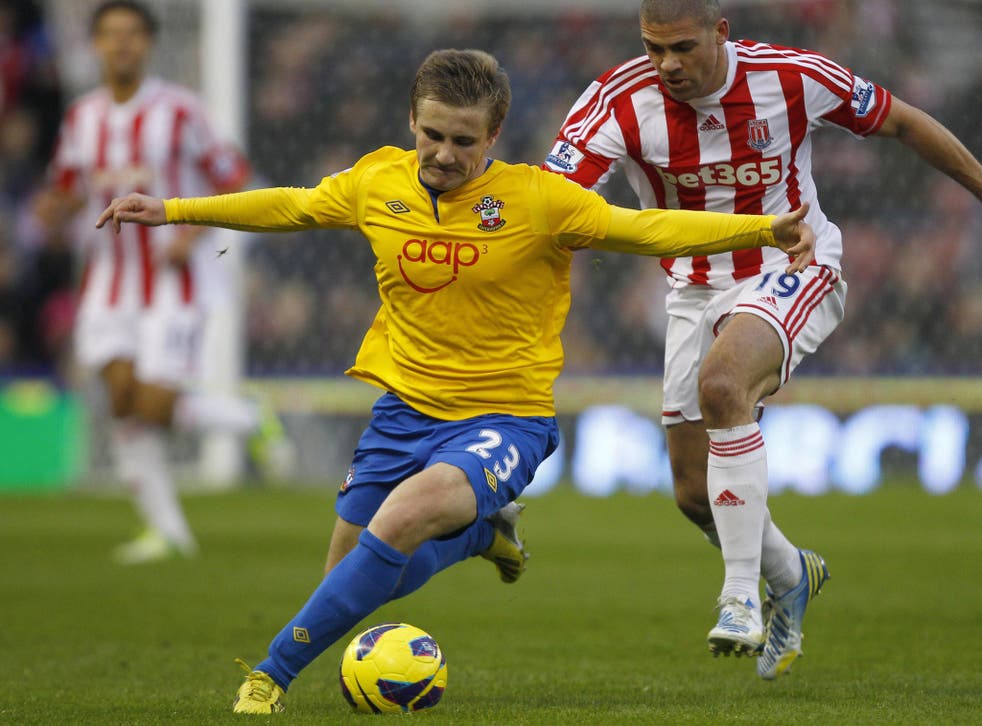 Theo Walcott and Alex Oxlade-Chamberlain return to Southampton today for the first time since leaving St Mary's for Arsenal, Walcott for £5m in January 2006 and Oxlade-Chamberlain in August 2011 for £12m. They head back as England internationals, and reports suggest that – sooner or later – they will be joined at the Emirates Stadium and in the England squad by a third graduate of the South Coast club's vaunted academy, the left-back Luke Shaw.
Shaw, 17, was singled out by Arsène Wenger, the Arsenal manager, when asked ahead of this evening's match what he thought of the outstanding output of the Southampton youth system, which also includes Gareth Bale of Tottenham and Wales. "It is exceptional what they have done," Wenger said. "Three wingers and Luke Shaw..."
With problems at left-back, where Kieran Gibbs has struggled to stay fit consistently, Wenger is certain to have watched plenty of DVDs of Shaw, as well as had him scouted several times. But the England Under-17 defender has also been linked with Chelsea, where Ashley Cole's future is uncertain. It may seem fanciful to suggest that a player with only 10 Premier League appearances to his name could step into either team, but Shaw shows a maturity way beyond his years.
Nigel Adkins, the Southampton manager, held him out of the team at the beginning of this season as Saints attempted to get to grips with the top flight, but eventually the need for more quality in a shaky defence forced Adkins' hand. The teenager made his first Premier League start against Swansea City on 10 November and his impact was immediate. Southampton conceded only six goals in his first eight matches. In the previous 10, they had let in 28.
Everything suggests that Shaw will follow in the illustrious footsteps down the St Mary's left flank of Bale, to whom he has been compared. Speedy going forward and recovering, a good decision-maker, and a resolute defender, he already looks almost the finished article.
"'Almost' is the word," Les Reed, the Southampton executive director, said. "He is still learning but nothing fazes him and he has stepped up into the Premier League very comfortably. I think a lot of that is to do with the way we bring them up. He has been with us since he was eight, as a lot of our academy players have, and we keep them grounded."
And tell them not to take any notice of transfer rumours? "He doesn't need to be told," Reed said. "The message we give to all of them is that there is a pathway at Southampton, and that is the way the club is run. Although one or two have done it, leaving the club is not necessarily a route to success. Each player has someone a few years older that they can look at and say 'Yes, I can do that.' Adam Lallana is an example to all of them as someone who has made it. And there are others below Luke who will be thinking the same about him."
Playing for Southampton, moreover, has not held Shaw back at England level. "Roy [Hodgson, the England manager] was impressed," Reed said. "Roy has been down several times this season, as has Stuart Pearce [the Under-21 coach]. That is another thing that makes Southampton an attractive place to come to for young players – the people in the England set-up know what we are doing and that is a credit to Matt Crocker, our academy manager, and his staff." Shaw will be out to impress again tonight. But perhaps, Saints fans will hope, not too much.
Kick-off 5.30pm Referee L Probert (Wiltshire) TV Sky Sports 1 (Highlights 10.25pm, BBC1).
Odds: Southampton 4-11 Draw 11-4 Arsenal 7-10
Register for free to continue reading
Registration is a free and easy way to support our truly independent journalism
By registering, you will also enjoy limited access to Premium articles, exclusive newsletters, commenting, and virtual events with our leading journalists
Already have an account? sign in
Register for free to continue reading
Registration is a free and easy way to support our truly independent journalism
By registering, you will also enjoy limited access to Premium articles, exclusive newsletters, commenting, and virtual events with our leading journalists
Already have an account? sign in
Join our new commenting forum
Join thought-provoking conversations, follow other Independent readers and see their replies