Shinji Kagawa learning the short route to goals and glory for Manchester United
Ferguson applies the finishing touches to Japanese midfielder's attacking game
Ian Herbert
Tuesday 09 October 2012 17:04 Comments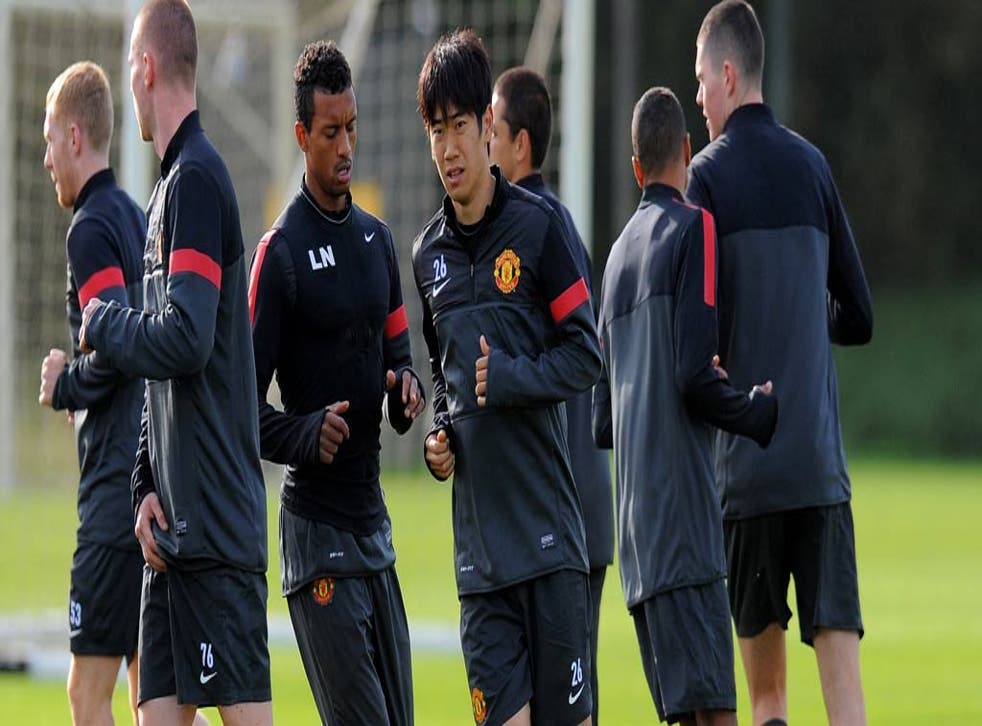 Manchester United's Shinji Kagawa has revealed that Sir Alex Ferguson's advice to him is "face the goal or you won't be a threat," as he attempts to impose himself on the Premier League. Kagawa has scored twice for United in seven starts, though Ferguson clearly feels he must develop a direct style to find the net more, just as the manager did when telling Antonio Valencia he should shoot more often, after he brought a poor goalscoring record to Old Trafford in the summer of 2009.
Ferguson last week said of the 23-year-old that "you always try and improve your players; that's our job as coaches and hopefully we can improve Kagawa" and the midfielder's discussion with Japanese journalists reveals the basic advice. The message has been "don't face the goal with your back, but move your body so you have a short way to the goal. Shape your body so you are facing the stands," Kagawa said. "I have to face the goal or I won't be a threat."
The huge throng of Japanese journalists who are following Kagawa on the journey which has taken him from J-League side Cerezo Osaka to Old Trafford, via Borussia Dortmund, are baffled as to how the player will have been able to achieve such communication with the Glaswegian.
The player admitted in July his English would require some working on and his study of the language was more limited than most fellow 15- to 18-year-olds during his senior high school days at Sendai on Japan's Miyagi prefecture. During that time Kagawa was deeply preoccupied with football while he studied for a back-up career option in the construction industry.
Though the 5ft 7½in Kagawa looked at times physically challenged in United's 3-0 win at Newcastle on Sunday, there were more flashes of the creativity and he hinted at his potential to become a major Champions League performer in the first half of United's 1-0 over Galatasaray last month.
Kagawa has expressed disappointment at not translating that Old Trafford performance into a first European goal for his new club, but saw a substantial difference between his current and previous club in how, despite an unconvincing display, United beat the Turkish team. "Dortmund would have lost that match," he said. "I think that winning a game [that] way is characteristic of a big club. The level of experience [at United] is very high and that means that the team is not in a hurry to win. That's the main difference with Dortmund."
The physical toll of the Premier League has already revealed itself in a back injury and Kagawa said, "I've realised that I need to limber up and strengthen my body trunk."
Having grown up in Kobe, Japan's fifth city, he moved to Sendai, 12 hours driving distance to the north, because of the presence of FC Miyagi Barcelona – a club with no formal links to the Catalans but with plans to develop a similar style. His five-years at the junior Miyagi club seems to have created a fervent desire to play at the Nou Camp in the future.
The impression Kagawa made on the Bundesliga after his 350,000 euro (£294,000) arrival from Cereza Osaka in August 2010 was instantaneous. "The boy plays like an angel," said his then team-mate Nuri Sahin, now at Liverpool, after a Europa League match.
Ferguson, feels the adaptation here will be more challenging for the player. "We're very pleased with Shinji," he said. "Adapting to English football isn't easy but bit by bit he's getting down to that part."
Register for free to continue reading
Registration is a free and easy way to support our truly independent journalism
By registering, you will also enjoy limited access to Premium articles, exclusive newsletters, commenting, and virtual events with our leading journalists
Already have an account? sign in
Join our new commenting forum
Join thought-provoking conversations, follow other Independent readers and see their replies