The Independent's journalism is supported by our readers. When you purchase through links on our site, we may earn commission.
Roonaldo: How Sir Alex Ferguson built his greatest ever Manchester United side
In an extract from his book The Mixer, Michael Cox explains how the Red Devils became England's most dominant force between 2006 and 2009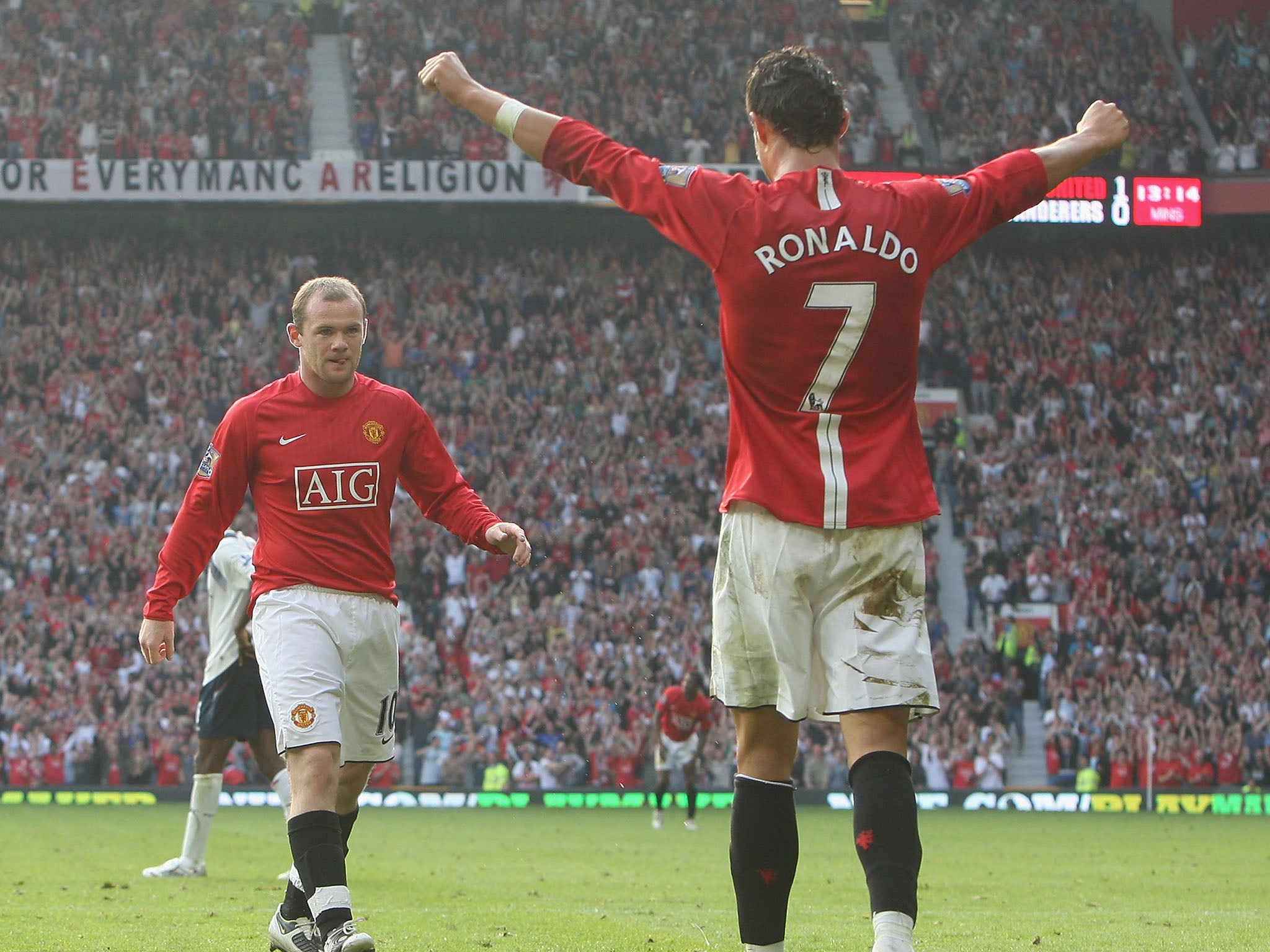 For three consecutive seasons, 2006/07, 2007/08 and 2008/09, the Premier League provided three of the four Champions League semi-finalists, an unprecedented level of dominance. In truth, this wasn't converted into enough outright success, and it's notable that in four consecutive years – Arsenal in 2006, Liverpool in 2007, Chelsea in 2008 and Manchester United in 2009 – each member of the 'Big Four' was a defeated finalist. It took an all-Premier League final, in 2008, for an English club to taste success, as Manchester United defeated Chelsea after a dramatic penalty shoot-out.
Manchester United were unquestionably the Premier League's best side; in this three-year period, they won the title every season. The defensive quartet of Gary Neville, Rio Ferdinand, Nemanja Vidic and Patrice Evra was so cohesive that all four were voted into the PFA Team of the Year for 2006/07, the only time this has happened in Premier League history, while Edwin van der Sar was United's best goalkeeper since Peter Schmeichel, keeping an incredible, record-breaking 14 consecutive clean sheets midway through 2008/09. The midfield was boosted by the addition of Michael Carrick and Owen Hargreaves, while Paul Scholes played an increasingly withdrawn role and became an outstanding deep-lying playmaker.
Miguel Delaney ranks all the Premier League champions
Show all 29
More than anything, however, this side was defined by its attacking flair and versatility. The interchanging of positions between Wayne Rooney, Carlos Tevez and Cristiano Ronaldo was spectacular at times, with the latter producing arguably the best-ever individual Premier League campaign in 2007/08 with 31 goals in 31 starts, realising his ambition of becoming the world's best by winning that year's Ballon d'Or. He represented an entirely new brand of Manchester United, because Ferguson – and assistant Carlos Queiroz – created Europe's most complete side by playing without a genuine striker.
This was Queiroz's second stint at United – he was Ferguson's assistant in 2002/03, but left to become Real Madrid's manager, before being dismissed after a year and returning to his old job as Old Trafford. Ferguson described Queiroz as "brilliant, just brilliant – outstanding, an intelligent, meticulous man" and deferred to him in terms of tactics. While the process of moving from 4-4-2 to 4-5-1 had started upon Ruud van Nistelrooy's arrival in 2001, with mixed results, this was still a controversial concept amongst United's supporters. Jose Mourinho's Chelsea meant meant one-striker systems were considered a surefire sign of defensive football, and Queiroz became a target for some supporters, who blamed him for the shift away from United's 'traditional' way of playing, even chanting 'four-four-two!' in protest at the new system. Queiroz hit back, somewhat unwisely, midway through 2005/06. "People have been crying out for us to use a 4-4-2 formation but in the Blackburn game we tried the system and we lost," he complained. "That's why football is a game in which imagination and, on many occasions, stupidity has no limits."
United's era of success, notably, started immediately after the departure of Van Nistelrooy in 2006. For all the Dutchman's goals, he simply wasn't appropriate for the type of side Ferguson and Queiroz wanted. He was little more than a penalty box poacher, whereas this new United team was based around movement, selflessness, cohesion and counter-attacking. After United won the title in 2006/07, Ferguson was asked whether he'd made two big decisions the previous year, sanctioning the departures of Van Nistelrooy and Roy Keane. "Well, Roy was, certainly, because he was such an influence on the club," Ferguson replied. "But I'm not sure about Van Nistelrooy being a big decision at all." That spoke volumes.
United's most significant encounter that season was a two-legged Champions League tie against Roma. The second leg, an outstanding 7-1 victory Ferguson described as United's greatest European performance during his tenure, was notable for brilliant performances from Carrick in his deep-lying playmaking role, and Alan Smith as an old-fashioned battering ram upfront.
But the first leg, a 2-1 defeat in Rome, was surprisingly more significant. Ferguson always learned his greatest lessons from European competition, and Roma boss Luciano Spalletti defeated United with an unusual system often described as 4-6-0. Their most advanced player was legendary captain Francesco Totti, considerably more of a number 10 than a number 9. He dropped deep, peeling off into midfield and creating space for teammates to exploit. Ferguson had ditched the pure goalpoacher, but Spalletti had ditched strikers entirely.
That summer, Ole Gunnar Solskjaer retired and Smith moved to Newcastle, while Louis Saha's injury problems restricted him to just six league starts in 2007/08. Meanwhile, Sir Alex Ferguson signed Carlos Tevez, a surprising move considering the Argentine was, like Rooney, a second striker rather than a pure goalscorer. But Ferguson had a plan. "I've read all these opinions about the two of them being identical," he said. "I don't think they are at all. What you can say is they both have a similar physique, they are both two-footed, they are both quick-ish, they can both beat a man. I don't think it's a bad thing in terms of the similarities. When they get playing with each other they will hopefully get an understanding about where they are playing." That was an intriguing quote. Ferguson didn't suggest one would permanently play behind the other, or that one would be shifted wide. He instead envisaged them working out positional responsibilities naturally, gradually developing the understanding to dovetail and rotate. That's precisely what happened.
During 2007/08, it was impossible to define Manchester United's system. The rotation between the attackers – generally including Ronaldo, Rooney and Tevez but sometimes one of Nani, Park Ji-Sung and Ryan Giggs too – was exceptional. At times United's basic shape looked like a 4-3-3, on other occasions it was 4-4-2, but ultimately it was fluid, flexible and fantastic to watch. In some matches, particularly at home to weaker sides, the attackers had no set positions and simply had responsibility to cover the wide areas between them when possession was lost.
At this stage, such attacking fluidity was extremely rare in the Premier League, with the division still based around the structured systems that became popular when Mourinho and Rafael Benitez joined the league in 2004. Of course, Ferguson's continued use of Park was almost exclusively because the Korean was hard-working defensively and nullified opposition full-backs effectively, but United's level of attacking rotation was nevertheless completely different to everything else in the Premier League, and effectively marked the return of exciting, free-flowing attacking play after a period of defensive, cautious football.
Ronaldo thrived with this freedom. At times he'd play on the right, the left and through the middle at different points in the same match, with the likes of Rooney, Tevez and Park expected to fill in wherever required. Ronaldo was absolutely ruthless, simply positioning himself wherever was appropriate to get goals. "He sniffs blood, he will find the weakness in the back four," Gary Neville recalled a few years later. "If he's not getting the left-back in the first 15 minutes, he'll switch to the right-back. If he's not getting the right-back, he'll switch to the left-centre-back. He'll find someone in your back four who is weak and doesn't like defending one-on-one, and against pace and power."
Ronaldo had a perfect combination: Ferguson's trust, Queiroz's tactics, and individual training sessions with Renee Meulensteen. The highly-rated Dutchman worked with Ronaldo for hours, turning him into a ruthless goalscoring machine. It was a holistic process, all about getting Ronaldo to finish in an efficient rather than spectacular manner. It involved drawing diagrams, visualising goalscoring situtions, splitting the final third into zones to help his decision-making, giving colours to the corners of the goal and shouting them out as Ronaldo received the ball, encouraging him to target different points. He became unstoppable, and fired United to the European Cup in 2008.
That eventual success, a dramatic triumph after a penalty shoot-out victory against Chelsea in Moscow, was rather unfitting. That type of victory was more the 1999-era United – always finding a way – but during this period Manchester United were hugely dominant. They were capable of playing pure defensive football, possession football or thrilling counter-attacking football, and therefore must be considered the most tactically complete side of the Premier League era.
This is an edited extract from The Mixer: The Story of Premier League Tactics, from Route One to False Nines, by Michael Cox (HarperCollins) £16.99, out now.
Join our commenting forum
Join thought-provoking conversations, follow other Independent readers and see their replies