Slaven Bilic running out of answers and running out of time at West Ham
Bilic was in talks with the club on Monday after a dreadful start to the season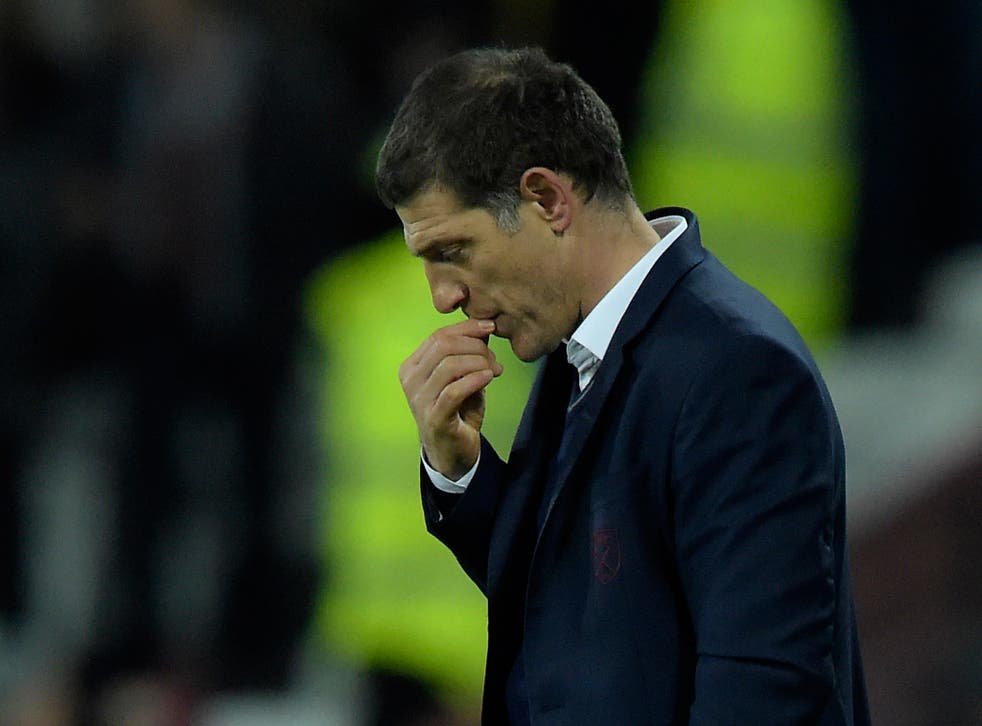 When Slaven Bilic gathered his West Ham United players for pre-season in July, he had one priority above all others: to work them harder. He thought that Premier League teams did not train hard enough and that there was an edge that West Ham could gain by out-working everyone else. So he planned to tear up their weekly schedule, move their day off from Wednesday to Thursday, introduce more double sessions, taking advantage of the new expensive Rush Green training base.
Five months later, Bilic admitted in the press room of the London Stadium that the exact opposite has happened. The intensity and work-rate and commitment has entirely dissipated from the club. "I feel responsible for this," Bilic admitted. "Somewhere down the line, since pre-season, we lost our intensity in training. Our intensity, and our dedication to the cause, is missing."
The result is a West Ham team that is embarrassingly easy to play against, which does nothing at all to make it difficult for the opposition. One player who faced West Ham recently described them as one of the worst teams he had ever faced at Premier League level. They are an abject mess and there is no reason whatsoever why, one third of the way into the season, they should not go down.
That is why Bilic spent Monday in very serious talks with the West Ham board about how to turn around a season that is heading in the wrong direction fast. The problem they face is that what Bilic identified – a lack of intensity – is as much of a symptom as a cause. Plenty of different things have gone wrong this season, some of them mistakes, some of them bad luck. But they have combined to strip away everything that made West Ham such a powerful side last year, one that with three games left still had a reasonable shot at fourth place.
When Bilic spoke about working hard on Saturday evening, it sounded insufficient, or at least incomplete. If that was a usable answer, it would have worked before now. He admitted that there was no "secret formula", no simple trick, like a Rubik's cube, that could untangle this problem. In fact, when Bilic admitted that he had already "changed the system, changed the personnel…to try to provoke something new" he sounded like a man who had run out of answers some time ago.
The problem is that it is a very general malaise at West Ham. Too many things have combined to go wrong. Last season they had Upton Park, and everything that went with it. They had Dimitri Payet, desperate to show what he could do in the Premier League. And in Bilic they had a charismatic clever new manager who could inspire the players to do whatever he told them to. This year Upton Park is a building site, Payet does not play with the same hunger he showed last year, and Bilic's ability to motivate his players, by his own explicit admission, has slipped away.
Throw on top of that bad luck that was not under Bilic's control. West Ham have been dreadfully unlucky with injuries, and have never had anything like their full first team together. They have spent much of this season without a fit centre-forward, or with only one, which is remarkable for a Premier League club which was in Europe at the start of the season. Jonathan Calleri and Gokhan Tore have been almost entirely forgotten about and are unlikely to play for West Ham again. Simone Zaza has made very little impression , Andre Ayew has been unlucky with injuries, and only Edimilson Fernandes has been a success. It remains hard to understand why the club did not pay the money to sign Christian Benteke from Liverpool.
West Ham vs Arsenal player ratings

Show all 22
But all of this has combined to produce a team desperately lacking structure and direction. When Darren Randolph was asked last month what had gone wrong, he could not find the answer. "It is not easy to recognise what it is, it is hard to put your finger on it," he said. "It is not really easy to fix."
That is exactly what Bilic is finding now, and why he decided to turn on the players in public on Saturday night. He knows very well, though, that it is his job to get the players to perform, and not their job to keep him in his. If they he cannot spark a reaction of out of the squad, West Ham will have to find someone else who can.
Join our new commenting forum
Join thought-provoking conversations, follow other Independent readers and see their replies