Stamford Bridge: 'Slinky' or Bird's Nest? Chelsea reveal new £500m stadium
Ambitious redevelopment of Stamford Bridge confirms club's intentions to remain a big player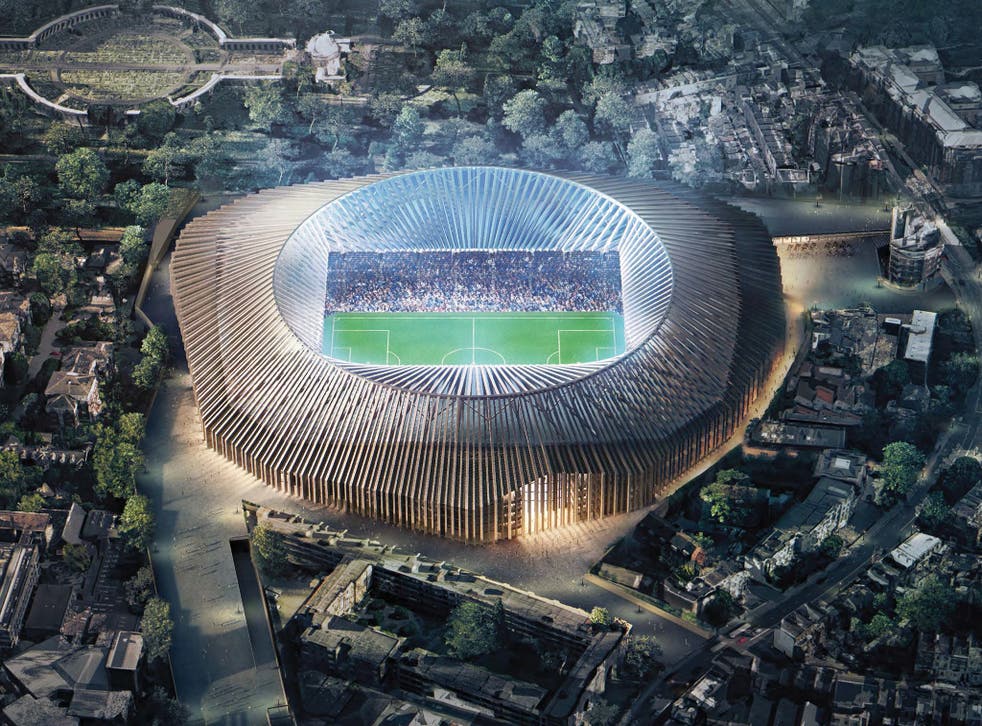 Chelsea have submitted a planning application to redevelop Stamford Bridge, the club's home since their formation in 1905, into a 60,000-seat arena, increasing capacity by almost 50 per cent from the present 41,600. The proposal is a surprise given the club stated only three years ago that staying at the Bridge was "not feasible or viable".
Q | So what has changed?
A | Chelsea have run out of alternatives. West London is highly built-up with few available locations large enough to put a football stadium on. One by one, possible sites – Earls Court, Battersea Power Station, White City – have come on to the market but eluded them. The failure in 2011 to persuade Chelsea Pitch Owners, a non-profit body which owns the freehold, to sell Stamford Bridge back to the club also reduced Chelsea's room for manoeuvre.
The problem with Stamford Bridge was the footprint of the site. Chelsea's solution has been to increase that both by digging down, and by proposing to cover over two adjacent railway lines, using the new space for concourses. This expands the area they can build on.
Q | Is the 'Bates Motel' to be demolished?
A | The Millennium Hotel, and accompanying restaurants, which comprised the Chelsea Village complex devised by former chairman Ken Bates, are going, along with all four stands. In their place will rise a stadium designed by Swiss architects Herzog & de Meuron who have an impressive track record. They created the Bird's Nest Stadium that hosted the Beijing Olympics, Munich's Allianz Arena, and Bordeaux's new ground, all of which are architecturally stunning.
Closer to home they converted Bankside Power Station into Tate Modern. Their design for Chelsea is said to draw inspiration from Westminster Abbey, though that is not immediately obvious from the plans which have drawn comparison with a Slinky or an egg-slicer. Close-up, the one certainty is that it will be imposing.
Excavation will lower the level of the pitch and provide, the club promise, "an outstanding view of the stadium from every seat" and "an arena designed to create an exciting atmosphere". There will also be direct access to and from nearby Fulham Broadway Station.
Q | The cost is estimated at £500m. Previous re-developments have almost bankrupted Chelsea. Will this be different?
A | The 1970s construction of the East Stand, an early cantilever, led to a financial crisis that resulted in relegation and years of difficulty. The loans taken on to finance Chelsea Village may well have had a similar effect had not Roman Abramovich arrived in 2003. This time Chelsea have the Russian's billions to fall back on. The planned redevelopment appears to confirm his continued commitment to the club.
Q | Why only 60,000?
A | Space means it would be difficult to squeeze more in but 60,000 is probably adequate. Chelsea had 82,905 against Arsenal in 1935, but their support has varied through the decades. In the first two seasons of the Premier League (1992-94) gates averaged less than 20,000. The ground has been sold out for the last decade for league matches but it is only in the last few seasons they have been able to fill the ground for Champions League group stage matches without recourse to keen marketing. It is also in line with rivals. Arsenal's capacity is now 60,000, the redeveloped White Hart Lane will be 61,000, and the Olympic Stadium's capacity will be 54,000 for West Ham matches.
Q | How soon will it be built?
A | The planning application is anticipated to last beyond this season. While there will be some local opposition Chelsea are optimistic it will pass after a positive consultation period. Though some preparatory work can be done covering the railway lines, demolition of the main site is unlikely to start before the summer of 2017. It is estimated it will take three seasons, so Chelsea could be back at Stamford Bridge in 2020-21.
Q | Where will they play while it is being built?
A | Wembley Stadium is the most likely option and there have already been discussions with the Football Association. Most matches would have a 50,000 capacity due to restrictions on Wembley's usage. Tottenham, who need to play a season away from White Hart Lane, probably 2017-18, have spoken to the FA too, but if there is an overlap Chelsea are a more attractive option as their deal will be for two seasons longer. Twickenham has been considered, but there would be strong objections from local residents.
Join our new commenting forum
Join thought-provoking conversations, follow other Independent readers and see their replies