Steven Gerrard: Farewell to the Liverpool and England great who bore so many burdens and leaves with regrets
One of the modern era's most compelling players has called time on a brilliant and illustrious career that is nevertheless pockmarked by regret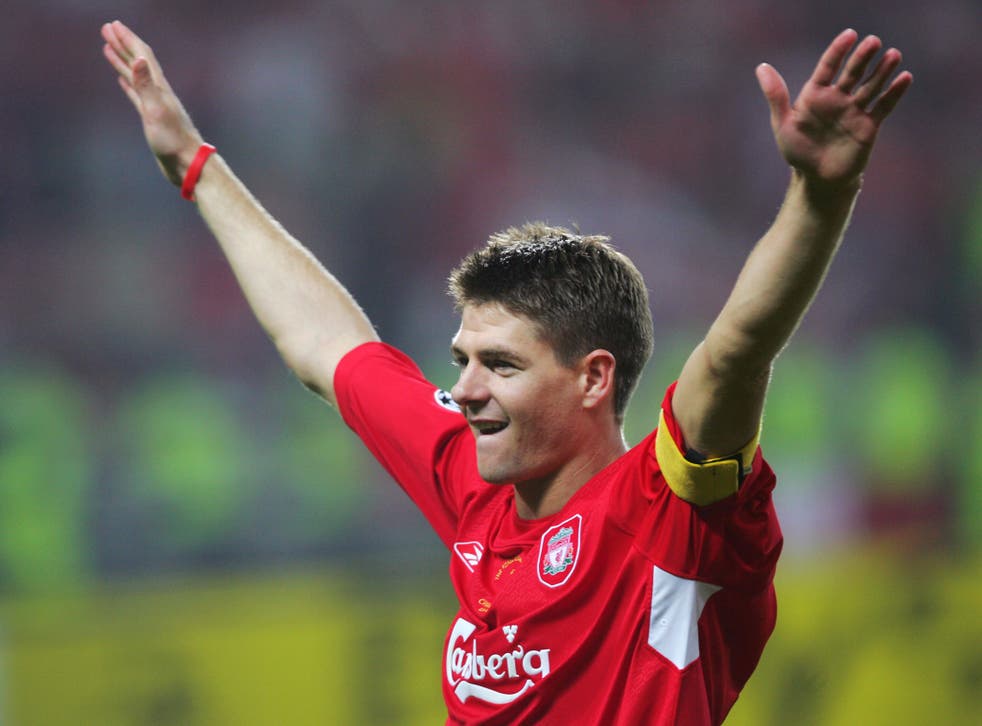 There was one last draw on his heart last month when a telephone call came in from an agent unknown to him, asking might he be interested in a six-month swansong for Internazionale, from the turn of the year.
Steven Gerrard was interested, of course, because he felt that he was discovering a new level of fitness as his second year in Los Angeles drew to a close, though the Milanese then sacked their manager Frank de Boer and everything went quiet at the Italian end.
It was over - and on Thursday he confirmed the fact, declaring almost 18 years to the day since his Liverpool debut against Blackburn Rovers that his playing days were done. His decision removes from the stage one of the great English players of all time: an individual of vision, strength and skill who drove Liverpool on almost single-handedly at times, dominating midfield while scoring profusely; very often when all seemed lost.
There was the 'Steven Gerrard Final' – the FA Cup victory he independently engineered against West Ham United ten years ago, Istanbul a year earlier and myriads more. "The greatest I've played with," Fernando Torres once said of Gerrard. The Spaniard has known a few.
And, of course, there was always that degree of visible angst and introspection. We asked him 18 months go to mark his Liverpool career out of 10, and though his old friend Jamie Carragher would doubtless have called it bluntly, the man with the furrowed brow grappled with an answer. "No one is interested in what I would give it. You're just after a headline, aren't you?" he responded. "With Stevie I could always see it in his face if he was disappointed: I maybe hid it a little bit better," Carragher once said.
Steven Gerrard retires - This is his career in numbers
Gerrard more than any other has known what it is to have been a Liverpudlian leading the club on its frustrated quest for the lost terrain of championship titles, with ghosts of glorious ages past all around. The absence of that title is what will haunt him most. Gerrard will tell you that when he started out, as a 16-year-old YTS player kicking a ball around Melwood with John Barnes and Jan Molby, he did not remotely conceive of the idea he would never bring the championship title back to Anfield.
An admission he is less inclined to make is that he knows he could have been a champion, had he taken the chance to leave for Jose Mourinho's Chelsea in one of the two angst-ridden summers he spent ruminating over that decision, in 2004 and 2005. The instructions he received from his father in 2004 revealed what an inward-looking republic Liverpool can be at times. "Steven. You are not going anywhere. I don't want you to go."
Steven Gerrard's five most important Liverpool goals

Show all 5
The lure of London was even stronger in 2005, despite Istanbul. Liverpool decided to make his new contract negotiations a drawn-out game of cat and mouse, he tabled a transfer request to shake the club out of their inertia but, characteristically, was the one who suffered because of it. Traumatised by TV pictures of fans burning a replica shirt with his name on it, he had to summon the family doctor, who arrived to find Gerrard in his bedroom, being helped through a state of distress by his father and paracetamol. Gerrard stayed.
More disappointments were to follow, including American owners who almost took Liverpool into insolvency and the failed managerial comeback of Kenny Dalglish - a huge image of whom Gerrard's father once heaved up to the family home at Ironside Road, on Huyton's Bluebell estate, and handed over for the boy's bedroom wall. Then came the seeming reward for all those years of waiting: the resuscitation of Gerrard's once-great club by the young Northern Irishman Brendan Rodgers, only for the talisman to make that slip of near Shakespearean proportions in the defining match against Chelsea, the very side whose overtures he'd resisted.
England is another story of what might have been. Gerrard is one of the English nation's great football servants: 114 caps and more captaincies than any other Englishman bar Bobby Moore, Billy Wright, Bryan Robson and David Beckham. Yet the accomplishments of a 14-year international career came in the teeth of every conceivable obstacle. He was never given the attacking midfield role which he had reason to believe was his inheritance when Paul Scholes walked away in 2004 and was twice overlooked as captain by Fabio Capello. Frank Lampard was the road block to him becoming the kind of marauding player known to Anfield.
"I wouldn't say that I was the best goal-scoring midfielder out there. I wouldn't say I was the best defensive midfielder out there, but what I would say is I could do a bit of everything," Gerrard said as he stepped down, betraying to the last that uncertainty which made his life's work on a football field so compelling and so very human.
Join our new commenting forum
Join thought-provoking conversations, follow other Independent readers and see their replies