Steven Gerrard returns to Liverpool: LA Galaxy life not been bed of roses for former Anfield captain
Long-distance travel that comes with playing in the MLS has taken a toll on midfielder already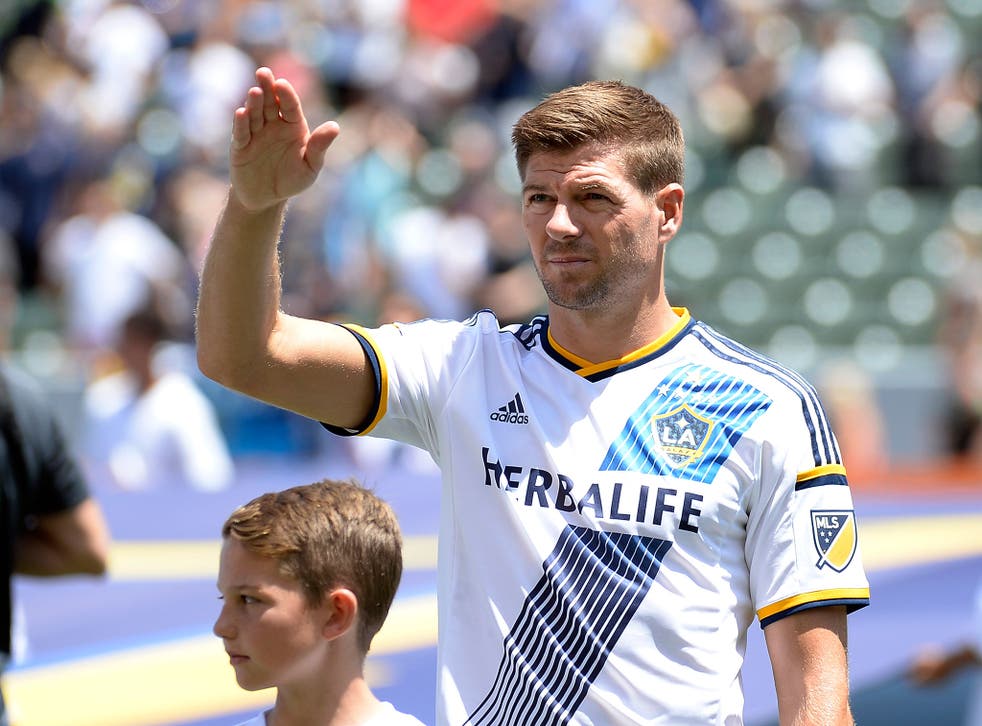 When Los Angeles Galaxy's jaded players wheeled their well-travelled suitcases through the arrivals hall at LAX for the final time in 2015, they had covered 21,999 miles in the course of the regular Major League Soccer season, a competition that enforces stringent rules which limit the number of charter flights each team can take.
While regulations were relaxed slightly in 2008, squads are still restricted to four private journeys per year: a guideline intended to prevent wealthier clubs such as Galaxy, who can afford to spend more on important details like preparation, from gaining a competitive advantage over the rest.
It also, in theory, stops those with lesser means from trying too hard to catch up before floundering financially like they did in the days of the North America Soccer League, a phenomenon, which contributed to the tournament collapsing entirely in 1984.
For all players, though, no matter their profile, it means weekends are long: often starting on a Thursday evening if going from west coast to east, before returning three, maybe four days later owing to the time differences involved and, occasionally, the number of connections needed.
It has meant then, that Steven Gerrard has been absent from his Bel Air home more than he envisaged when he originally agreed to move to California in January. When his wife, Alex, along with their three daughters were Stateside throughout the summer, he was in transit to another city as much as he was there with them, at his happiest.
The away trips also acted as a reminder that Los Angeles is – in football terms – in a relatively isolated part of a country where teams do not really share rivalries of any kind. Each time he produced a boarding card at the gate, in more ways than just one, it must have felt like a tap on the shoulder, telling him again that he was very far from Anfield.
Although these details do not explain entirely why Gerrard is contemplating a return to Liverpool in some capacity, they contribute towards a growing restlessness inside him.
Over the last few weeks, the former captain of the club has been busy ahead of his return to Merseyside for Christmas: speaking with Jürgen Klopp by telephone several times and meeting with Liverpool's chairman, Tom Werner, who lives a few miles away in Beverly Hills. Werner is the person inside Fenway Sports Group, the Massachusetts-based investment firm that owns Liverpool, whose opinion he supposedly respects the most. Werner, indeed, was the driving force within the group in the decision to sack Brendan Rodgers and replace him with Klopp.
On Monday, Gerrard convened with Bruce Arena, Galaxy's coach, and the pair discussed the future over lunch: going over what had gone right for Gerrard and the team over the previous four months, what had gone wrong – and the numerous areas where the former Liverpool captain feels improvements are glaringly necessary.
Jurgen Klopp's best quotes

Show all 11
Gerrard later admitted in a revealing interview with Galaxy's official website that he had underestimated the challenges posed by MLS. "It could be my last season as a footballer. I certainly don't want to feel like I'm feeling right now come next year," he said.
"Going on the road, playing on [artificial] turf, playing at altitude, playing in humidity, those are the hurdles that I've had to face over the last three months that I wasn't aware of," he continued. "Every away game has a different challenge."
Largely, Gerrard has enjoyed being over on the other side of the world. He has relished the relative anonymity afforded to him in a city where his star is nowhere near as A-list as it is in Liverpool.
It means that when he attends LA Lakers basketball games with Paul McGrattan, his closest friend from Huyton, as he did on Sunday night – despite having courtside seats – he is barely recognised. It is a completely opposite existence for him, knowing that there will be no requests for photographs when he drives his family over the hills and past olive groves to the steaming hot beaches of Malibu, as he did regularly in July and August.
What has changed the most, perhaps, is Liverpool's desire to have him back. Yet Gerrard appreciates that Los Angeles was not a for ever decision. If he does retire in the next 18 months, as he suggests he might, he must surely be considering what to do next.
He could end up just training at Melwood again, proving to Liverpool's youngest players that no matter your age, the quest for self-improvement goes on. He could even play for Liverpool once more if he is determined enough to leave Los Angeles and if someone as influential as Werner is able to broker an agreement that suits everybody with Chris Klein, the Galaxy president.
What is certain is that the laborious process of stepping off planes has become an all too regular feature of Gerrard's life recently. When he arrives in London this morning, having travelled through the night, he might wonder whether the theme is about to end.
Register for free to continue reading
Registration is a free and easy way to support our truly independent journalism
By registering, you will also enjoy limited access to Premium articles, exclusive newsletters, commenting, and virtual events with our leading journalists
Already have an account? sign in
Register for free to continue reading
Registration is a free and easy way to support our truly independent journalism
By registering, you will also enjoy limited access to Premium articles, exclusive newsletters, commenting, and virtual events with our leading journalists
Already have an account? sign in
Join our new commenting forum
Join thought-provoking conversations, follow other Independent readers and see their replies