Steven Pienaar the party pooper as Manchester United throw it away against Everton
Manchester United 4 Everton 4
Sam Wallace
Monday 23 April 2012 16:01 Comments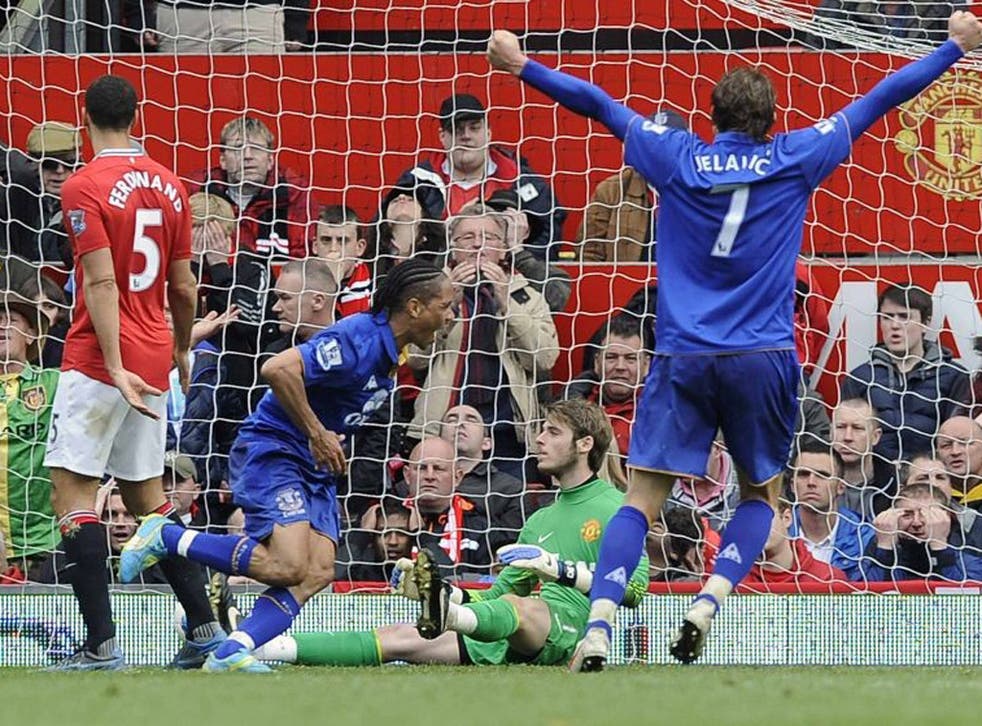 The Stretford End sang for Sir Alex Ferguson to wave to them and someone held up a sign announcing the arrival of the club's 20th league championship. There are some things they take for granted at Manchester United, not least an old belief that when the title race is reaching its crucial stage their team has what it takes.
To witness the home side lose a two-goal lead at Old Trafford is rare indeed, to see them lose a two-goal lead twice in one game is to invite disbelief. The modern United teams have made their reputation by exhibiting those characteristics of defensive discipline and sheer bloody-mindedness and yet there was precious little of that yesterday.
To be brutally honest, they have had worse days here this season, against Manchester City and Blackburn Rovers, when Ferguson must have had dark thoughts about his team's capacity to go the distance. But since the turn of the year they have overcome those problems, winning games with the usual steady predictability that breaks the hearts of their rivals. Now this.
United's title-winning seasons can be tumultuous but it is rare for them to throw away a winning position. Defeat to Wigan Athletic was supposed to be the last bad day at the office but rationalising how they conceded four goals at home to an Everton team with nothing more to play for than the prospect of finishing above Liverpool is more problematic.
United attacked like champions but they defended like Wolverhampton Wanderers. If they can toss away the advantage at the DW Stadium or at home to Everton then what does that say about their capacity to go to the Etihad Stadium a week today and see off a team that is playing for its place in history?
The chief worry for Ferguson was a defence which seemed to diminish with every Everton goal, culminating in Steven Pienaar's equaliser on 85 minutes in which Rafael Da Silva simply stopped when he should have been tracking the run of the South African. Ferguson called the game a "travesty" but he was referring more to the ease with which Everton were allowed back into it than any perceived injustice.
The performance of David Moyes' team could not be overlooked either. They took the lead in the first half and were unfortunate not to go in for half-time a goal up when Wayne Rooney scored his first goal four minutes before the break. Marouane Fellaini was outstanding for Everton – "nearly unplayable at times" according to his manager – and you had to wonder what might have happened had they responded in this fashion at Wembley last weekend.
It was a noble performance from Everton. Nikica Jelavic scored two more goals to make it eight since he signed in January from Rangers. Phil Neville came back with an unshakeable determination to make an impression against his former club and, after his failure to track Rooney for the first goal, was integral in making Everton's fourth.
That said, Everton were fortunate that the referee Mike Jones did not spot a blatant foul by Leon Osman on Rafael on the edge of the Everton area after 38 minutes. It looked a penalty and begged the question whether the Ashley Young incident against Queen's Park Rangers has, for now, turned the prevailing mood against United.
By then, Jelavic had scored his first goal at the back post with a nicely placed header from Tony Hibbert's cross that looped back over David De Gea and dropped into the far corner of the goal. At that point it was no less than Everton deserved but it prompted a response in United, who equalised with Rooney's header from Nani's cross from the left after the winger had switched the ball back on to his right foot.
United came out strong after half-time and took a 2-1 lead before the hour with the sort of goal that usually heralds the end of any hope an opposition team might have at Old Trafford. It was a beautiful curled finish by Danny Welbeck into the top corner of Tim Howard's goal, but there were chances for Everton to intervene in the build-up. Neville lost a header to Nani and then Johnny Heitinga was sold a dummy too easily by Welbeck on the edge of the area.
Moyes said later that he was unhappy that the referee had not stopped the play in order that Pienaar could have treatment for an injury sustained in the build-up to the goal, when the Everton manager said that he had done the same in the case of Jonny Evans earlier.
On the hour, United unstitched Everton's defence with a sequence of passes from Nani to Michael Carrick to Welbeck and back to Nani, who chipped the ball over Howard as he came out to dive at his feet. It was beautifully done and for all the United defensive disasters that followed this was a great goal.
When Everton scored to make it 3-2 on 67 minutes, a volley from Fellaini from Hibbert's cross, the warning signs were there. Neither Evans nor Rio Ferdinand were within touching distance of the midfielder. De Gea had another shot to save before Rooney restored the two-goal advantage two minutes later, having exchanged passes with Welbeck. It took him to 180 goals and fourth place on the club's all-time goalscorers' list but it was not enough to win this game.
It should have been over then, and it would have been had Patrice Evra not directed a diving header against the far post from close range with nine minutes left. Almost immediately Everton ventured up the other end and scored. Again it was Fellaini who won a header in United's area, and Jelavic swept the loose ball into the United goal.
The game already felt absurd before Pienaar ran on to Fellaini's pass through the United defence for his team's fourth goal and first equaliser. Only then did Ferguson send on Phil Jones and Javier Hernandez. Howard made his first really important save from Ferdinand in injury time but by then United's luck had run out. They had been given enough chances to win the game and had blown it.
The way United are playing, there are no guarantees about the kind of performance that is on the cards at the Etihad Stadium a week today.
Booked: Manchester United - Evra, Nani. Everton - Distin.
Man of the match Fellaini
Referee M Jones (Cheshire)
Attendance 75,522
Rampant Rooney: Wayne's record
Wayne Rooney's double against his former side yesterday took his tally against Everton to four goals in 13 games. The England international also moved up to fourth in Man-chester United's all-time scoring list.
Man Utd all-time top scorers
Sir Bobby Charlton 249 goals
Denis Law 237
Jack Rowley 211
Wayne Rooney 180
George Best, Dennis Viollet 179
Race for the title: Top two's remaining games
Man Utd 30 Apr Man City (a); 6 MaySwansea (h); 13 May Sunderland (a)
Man City 30 Apr Man Utd (h); 6 MayNewcastle (a); 13 May QPR (h)
Register for free to continue reading
Registration is a free and easy way to support our truly independent journalism
By registering, you will also enjoy limited access to Premium articles, exclusive newsletters, commenting, and virtual events with our leading journalists
Already have an account? sign in
Join our new commenting forum
Join thought-provoking conversations, follow other Independent readers and see their replies