Mark Hughes believes fixture pile-up is price to pay for mega broadcasting deal
Hughes' side face Newcastle United just 48 hours after Saturday's humiliating 5-0 defeat by Chelsea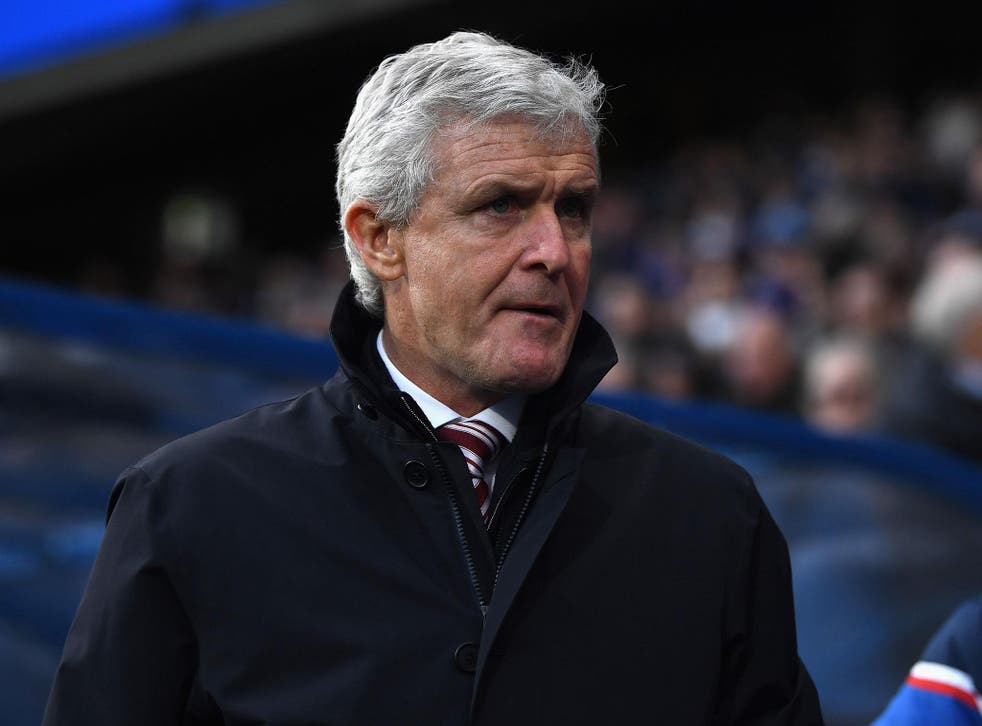 Mark Hughes says the Premier League's taxing Christmas schedule is "pay-back" for "the pound of flesh" that is the competition's mega broadcasting deals, but argued it forced him to put out a Stoke City XI that "didn't have enough tools to affect" Chelsea in a dismal 5-0 defeat.
With his side due to face Newcastle United just 48 hours after Saturday's humiliation, Hughes left out players like Joe Allen and Xherdan Shaqiri, and stated that the schedule just does not allow the scientifically-proven amount of time required to properly prepare for a game.
Stoke were 1-0 down within three minutes on Saturday, as a defence that featured two teenagers in Josh Tymon and Thomas Edwards collapsed in the face of Chelsea's firepower.
"We know this period tests everybody but you'd like everybody to be tested the same way," Hughes said. "We take the TV money and the pound of flesh and this is when we have to pay it back I suppose.
"It's harder for us because we don't have the strength in depth that the top teams have and they can turn it on very, very quickly and go again. But when we have to do that it tests us more than the bigger clubs. When it coincides with an injury crisis in a key area of the field, noticeably in defensive areas, then it didn't go for us.
"I made key decisions in terms of looking after players who are crucial in terms of what we are trying to do but I'll stand by it because we're trying to get points on the board for Stoke City. Given today, it was always going to be tough to get points on the board and I had to make the decision to make sure we were strong going into Monday and let's hope we can get the maximum points.
"With hindsight if you come and tell me after the game that you shouldn't have done what you did then I'll have to accept it but as I stand here I am very comfortable with the decision because I know I have a team ready to go, fit fresh and in better shape for Monday.
"I don't like the fact I had to make key decisions that on the face of it looked like I weakened us because I'm not like that as a person. I want to win every game I go into. Today we didn't have enough tools to affect a very good Chelsea side. We understood that before the game, we understood it after but we're in a better shape on Monday.
"It's less than 48 hours. It's scientifically proven that you need more than that for you to recover physically. Obviously on top of that you have the information that you need to give players prior to the game. It's not enough."
Hughes also admitted he was disappointed at fans walking out after just 25 minutes, when Stoke were already 3-0 down.
"That's their decision but it doesn't help us," he added. "We'd love them to stay and get behind us and hope for a change of fortune but, yeah, at 2-0 could they see a way back? Probably not. It was an honest decision from them but if they paid their money you'd think they would stay until the conclusion. But look, I've no doubt they'll be out in numbers again."
Register for free to continue reading
Registration is a free and easy way to support our truly independent journalism
By registering, you will also enjoy limited access to Premium articles, exclusive newsletters, commenting, and virtual events with our leading journalists
Already have an account? sign in
Register for free to continue reading
Registration is a free and easy way to support our truly independent journalism
By registering, you will also enjoy limited access to Premium articles, exclusive newsletters, commenting, and virtual events with our leading journalists
Already have an account? sign in
Join our new commenting forum
Join thought-provoking conversations, follow other Independent readers and see their replies