Suarez hat-trick sets up Liverpool for Wembley
Norwich City 0 Liverpool 3: Uruguayan striker a class apart as Dalglish gets perfect Cup final boost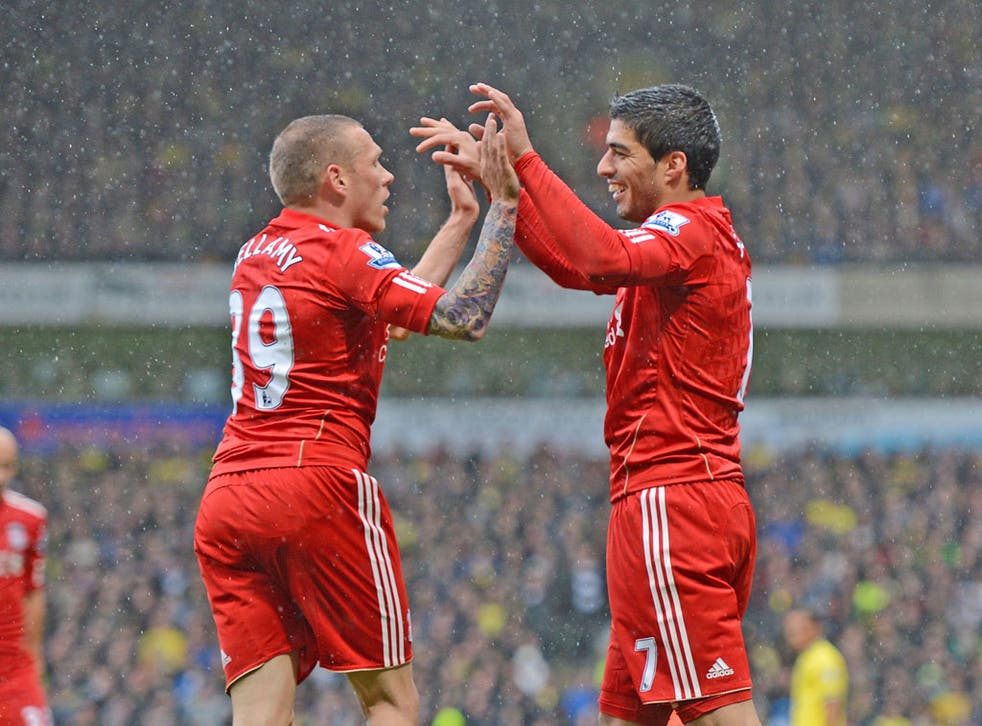 There are times, watching Luis Suarez play football, when the only option is admiration. For all the controversy, the unpleasantness and worse, he is capable of things that no one else in the Premier League can do. Last night, he produced a performance of bewitching imagination, craft and bravery, scoring two excellent first-half goals and one brilliant late 50-yard chip. There have not been many individual performances like it this season.
Kenny Dalglish admirably tried to spread the praise evenly afterwards. "It was a great win and a great performance," the Liverpool manager said. "I'm really pleased with the way the players committed themselves to the game today. They were a credit to themselves the way they went about their work." But there was only one name in town.
"Some individual performances will outshine others," Dalglish added. "Luis is a fantastic footballer, a fantastic person, and we are very fortunate to have him playing for us."
Paul Lambert admitted he was "disappointed to lose", but knew that, just two years out of League One, chasms in quality can sometimes be unbridgeable. "Liverpool are a world-renowned club with some fabulous players," the Norwich manager said. "You cannot give somebody of Suarez's calibre time on the ball and chances, he can hurt you."
Like in the 6-1 defeat to Manchester City two weeks ago, much of Norwich's play was typically spirited and competitive, and not devoid of threat, but the defence just could not cope with the twisting, turning Uruguayan. Elliott Ward and Ryan Bennett, Norwich's centre-backs, probably came out of that defeat looking better than they did last night, despite conceding half as many goals. By the end, having both been beaten by Suarez too many times, the pair resorted to a more robust approach, with just as little success.
Given the gulf between the teams, it felt a surprise that the result moved Liverpool only six points ahead of Norwich. At the start of the season, this might have looked like one of those real April compellers, part of the narratives at both ends of the table. In fact, both teams entered the game with mid-table comfort but little form or energy. Liverpool have an FA Cup final in six days, but in the Premier League they had won two of their previous 11 games, while Norwich's record was two from 10.
Maybe because of these runs, maybe because of the weather, and maybe because of the five changes each manager made, both sides started without much fluency or invention at all.
But after 24 minutes, Steven Gerrard stole the ball from David Fox, and flicked it with the outside of his boot to Suarez, waiting in space. Suarez took one touch with his right foot before whipping the ball with his left beyond John Ruddy and into the far top corner. It was like the sudden switching on of a lighthouse on a stormy night.
A transformed Suarez, smelling blood, beat Ward for the second time in two minutes, ran down the inside-right channel, and drove the ball fiercely into the far bottom corner. When Suarez drifted past Ward again, three minutes before the break, the exhausted and embarrassed Norwich captain cut him down and was booked.
Early in the second half Suarez, tired of Ward, nutmegged Bennett and chipped the ball just over the bar. He was thanked with a flurry of robust tackles, but continued to play his game. When, with eight minutes left, Suarez pinched the ball from Ward on the halfway line for what felt like the hundredth time, he saw Ruddy off his line. Rather than passing, Suarez chipped Ruddy from 50 yards. This one sailed over the keeper but under the bar, to complete his hat-trick. "I was about to give him a bollocking for not passing me the ball," said Gerrard. "But that soon turned into applause."
Norwich (4-1-4-1) Ruddy; Naughton, R. Bennett, Ward, Drury (Martin, 12); Fox (Vaughan, h-t); E. Bennett, Howson, B. Johnson, Pilkington; Morison (Holt, 76).
Liverpool (4-4-1-1) Reina; G Johnson, Carragher, Agger, Jose Enrique; Downing, Gerrard (Coates, 85), Henderson, Bellamy; Shelvey; Suarez (Kuyt, 85).
Referee Mark Halsey.
Man of the match Suarez.
Match rating 7/10.
Register for free to continue reading
Registration is a free and easy way to support our truly independent journalism
By registering, you will also enjoy limited access to Premium articles, exclusive newsletters, commenting, and virtual events with our leading journalists
Already have an account? sign in
Register for free to continue reading
Registration is a free and easy way to support our truly independent journalism
By registering, you will also enjoy limited access to Premium articles, exclusive newsletters, commenting, and virtual events with our leading journalists
Already have an account? sign in
Join our new commenting forum
Join thought-provoking conversations, follow other Independent readers and see their replies