Sunderland vs Chelsea: Sam Allardyce reveals use of Transcendental Meditation amid relegation struggle
The Sunderland manager is doing his best to keep calm as his side prepare to start the final three games of their season 
Jason Mellor Comments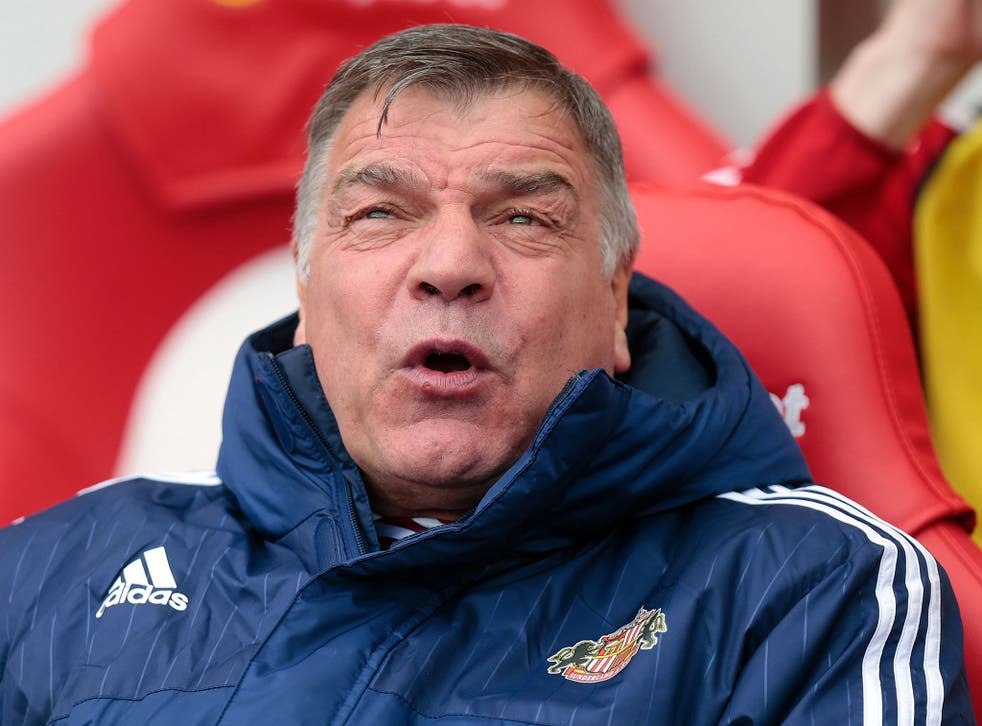 Transcendental Meditation and Sam Allardyce wouldn't at first appear to be the most likely of bedfellows, but the Sunderland manager has revealed how he uses the relaxation technique to help deal with the strains of trying to keep the Wearside club in the Premier League.
Rather than drink, Sunderland's plight has driven Allardyce to the widely-followed approach to stress-relief. "I'd say I'm doing it more this season," he concedes. It is somewhat ironic that with the Black Cats seemingly in the best position for several seasons to push on and thrive under the 61-year-old, they are at greatest risk of seeing three consecutive seasons of miraculous escapes finally catch up with them as the Championship beckons.
All is not yet lost. They sit third from bottom a point behind Newcastle, but have a game in hand as the prepare to host Chelsea on Saturday. The problem is that they have largely forgotten how to win. Having shared the spoils in six of their last eight games, the only thing they can't draw right now is comfort from how difficult they have become to beat since Allardyce took charge seven months ago. Wins are the currency they have to deal in for their final three matches, two of which are at the Stadium of Light.
Allardyce has regularly bemoaned the points frittered away by his side in the past two months - six alone in draws against Southampton, Newcastle and West Bromwich Albion which all arguably should have resulted in victory. His ranting and raving days largely behind a self-confessed more mellow version of his younger self, and Allardyce has taken to more laid-back ways of dealing with disappointment and anxiety in his efforts to avoid the stain of having a relegation added to an otherwise unblemished CV.
"It's just taking 25 minutes out when the day is finished," he revealed. "I might be in the office and I just chill out. I'm not a great sleeper, so half an hour of meditation they say in research is as good as two or three hours sleep, which is why you feel a bit better. It helps you cope with the pressure you come under in this job. It was brought in for my players when I was at Bolton and I tried it myself to have a better understanding in case the lads said it is a load of rubbish."
So what exactly does it involve? Allardyce, who had heart surgery in 2009 while manager at Blackburn Rovers, explained: "I read the science on it and it gives you a better insight into how it helps to reduce your blood pressure and keeps you calmer. You don't need to go into a quiet room with music on, you can be anywhere at any time, in a relatively quiet place. It refreshes you and makes you feel good to push on. The science behind it proves it actually works if it is done in the right way. It's helped me cope with the pressure of management which is why I still do it today."
Not that he has been pointing out its benefits to his managerial counterparts. "I don't talk to colleagues about it. If it helps them then it might make them better when they play against me, so why should I help them?" Perhaps his players would benefit from it, given that Allardyce described the performance in the 1-1 draw at Stoke as at times 'anxious'.
"That display did concern me," he added. "But my players here are not using it. There's only so much you want to introduce in one season.
"I don't see a repeat happening on Saturday as the lads will have 47,000 fans behind them. I will tell the players to use the atmosphere and anxiety that they are going to feel to make them play as best they can. The toilet will be busy before the game."
Although he meditates up to four times a week, Allardyce advocates other forms of stress relief, and he added: "I didn't need to do it yesterday," he added. "I was at Chester races, and I was relaxed enough for that."
Register for free to continue reading
Registration is a free and easy way to support our truly independent journalism
By registering, you will also enjoy limited access to Premium articles, exclusive newsletters, commenting, and virtual events with our leading journalists
Already have an account? sign in
Join our new commenting forum
Join thought-provoking conversations, follow other Independent readers and see their replies