Swansea rampage while Wenger rants
Arsenal manager scatters accusations as Henry is involved in angry exchange with fan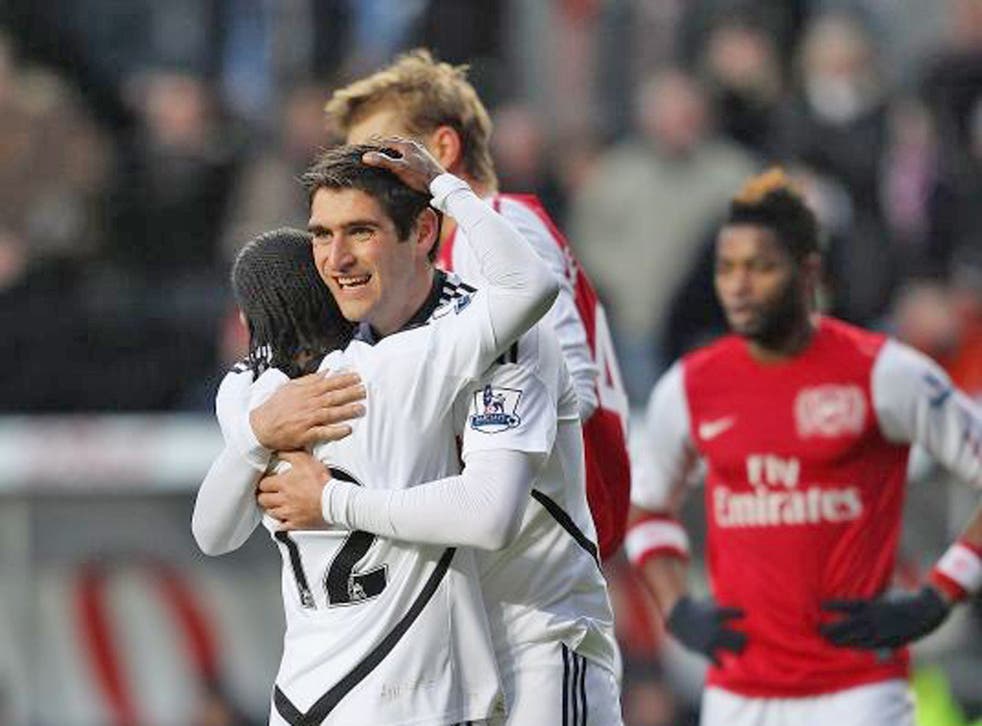 While Brendan Rodgers urged the England manager, Fabio Capello, to call up his match-winners against Arsenal yesterday, Arsène Wenger accused Nathan Dyer of "diving" and Michael Oliver of granting a penalty which he called "complete imagination".
The Arsenal manager, who did take time out from his rant to praise Swansea for the win which took them into the top half of the Premier League, was furious with the first-half spot-kick, given against Aaron Ramsey, which allowed the home side to equalise after Robin van Persie's early opener and set them up for a 3-2 victory. "The game was decided by some strange decisions, the first by the referee was the penalty, which was a complete imagination and it was a good dive by the player," Wenger said.
Dyer defended himself against the Arsenal manager's claim. "I dragged the ball back and got a kick on the back of my standing leg," he said. "It was a clear penalty."
At the final whistle, Thierry Henry exchanged angry words with an Arsenal supporter. The fan shouted something at the striker, who pointed at him in the crowd and shouted back: "Support your team."
For Arsenal, it was the second League defeat in a row, their year beginning in dreadful fashion, following the 2-1 loss away to Fulham. They are now four points behind Chelsea, level on points with Newcastle, 12 points off the top. Again, their back four was culpable, Wenger admitting "our defensive performance [was] not good enough".
He resisted starting Thierry Henry but did introduce him just after the hour for his first Premier League appearance in five years. However, he was unable to replicate his match-winning exploits against Leeds last week. This time, the euphoria was all Swansea's, with the three goalscorers – Scott Sinclair, Dyer and Danny Graham – the heroes. Capello was in attendance and Rodgers suggested the Italian should take note.
"He would have been surprised at the level they played at," he said. "The front three were a massive threat all afternoon. I'm sure they gave him something to think about."
Yet Rodgers was keen to praise his whole team for taking the biggest scalp of their season. "In adverse moments you find out about the players, and the response and resolve was incredible," he said. "Keeping the ball is something we all believe. The players show great courage to pass the ball, sometimes we make mistakes but I've got a great belief they can play and pass, even against the best teams.
Join our new commenting forum
Join thought-provoking conversations, follow other Independent readers and see their replies