Teenage kicks could be right way for Brendan Rodgers to rejuvenate Liverpool
The Weekend Dossier
Ian Herbert
Saturday 29 September 2012 11:04 Comments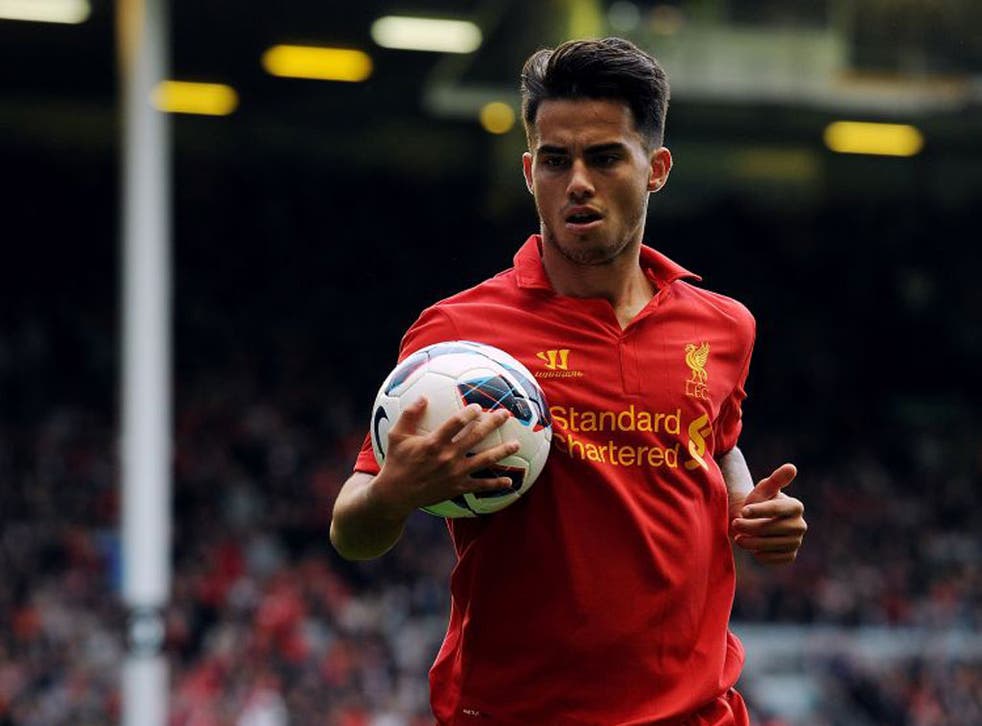 The president of the Disney Corporation told the BBC's Today programme yesterday morning that great achievements can flow from supremely bad misjudgements. This has been the week when Liverpool have proved the point.
Their dire failure to retain enough strikers when the transfer window closed last month is an outcome of a flaw in the club's senior management structure – the absence of a fully-empowered chief executive – which still has not been fixed. But the hole which was created in the squad has allowed some young players around the fringes to suggest, in convincing terms, that Liverpool possess the most talented teenagers in the Premier League.
If a side in which the Spanish 18-year-old Jesus "Suso" Fernandez may start are defeated by Norwich City today, then Liverpool may find themselves joint-bottom tonight. But ignore the bookies, should you hear them promoting short odds on Rodgers winning the sack race. Rodgers is building something very interesting and club owner John W Henry, perhaps the canniest mogul in United States sport, knows it.
If Liverpool finish 16th this season, as the club's playing foundations go in, Henry will accept it, and so will many supporters. The singing of Rodgers' name when the club were 1-0 down at West Bromwich Albion in the League Cup on Wednesday told us a lot. His decision to send on a 16-year-old and an 18-year-old at 1-1 revealed even more. This was a Liverpool who had not won a domestic fixture all season. However, their excellent football won through.
Young players like Raheem Sterling – raw, yet remarkably high on game intelligence – and Suso, a teenager possessing the coolness to set up a goal against Manchester United last weekend – are not of Rodgers' finding. Both belong to the academy system Rafael Benitez built up. There were a few bids for Suso on deadline day and only now is work under way to extend his contract, which is in its last year. But while using youngsters can buy a manager time, Rodgers has required depths of courage to give them a go and make them believe.
Andre Wisdom, a defender who stagnated like some others in the Kenny Dalglish era but shone in Liverpool's Europa League win in Berne last week, is in the same bracket, but the best may be yet to come. Look out for Jack Robinson, with pace and the tactical nous Benitez always wanted drilled into the Academy players, who has the potential to be a first-team left-back for a decade to come. Jordan Ibe may follow. There is some surprise around the England Under-17 ranks that Jerome Sinclair, who became Liverpool's youngest player, at 16 years and six days at The Hawthorns, should have accelerated into the team so fast. Even the Football Association had not seen that one coming.
"It's funny how things work out," said Rodgers. "Maybe it's fate. Maybe this is all part of the story. Sometimes things happen by design, others by necessity." He's a master of rhetoric and knows all too well that this fits a long Liverpool tradition.
A gem of a book on the Bill Shankly and Bob Paisley era, Simon Hughes' Secret Diary of a Liverpool Scout, reminds us of how it was the shock FA Cup sixth-round defeat at a Watford side struggling to avoid relegation from the old Second Division in February 1970 which led Shankly to turn to youth. In adversity, he signed a young Kevin Keegan and Ray Clemence.
A manager can't just employ those players, though. It is the way he ushers them into senior football which tells you about his really significant skills. Professionals often talk about the nervous energy which accompanies their fragile first game, playing in front of 20,000 people, rather than the usual 20. They'll tell you that you can burn off so much of the stuff that by kick-off time you are shattered.
The adjustment to the higher level of pace and technique required also means that virtually no young player will be good enough to go straight into a top-six side and flourish. It takes 20 games, maybe 30.
Look out for the manager's relationship with that young player during the game for a sign of whether he really possesses the powers to help him flourish. When Marnick Vermijl, Manchester United's 20-year-old debutante right-back, put a cross into the stand against Newcastle United on Wednesday there was muffled disappointment from supporters. Sir Alex Ferguson was straight out of his dug-out to clap the Belgian. It was a revealing moment. Rodgers has the same intuition. "He gives you energy," the young players say.
It is conceivable that Rodgers may have broader resources to call on, in time. Some in the United States speculate that Henry and the Fenway Sports Group will sell the Boston Red Sox baseball team. Henry bought the Sox and the New England Sports Network for $700m in 2001 and Forbes reckons that the team alone is now worth $1bn. Henry says there is no basis in rumours that he will sell. But the Sox are having a poor season which another mogul with money may be willing to pay over the odds to revive.
The view from the US is that the Premier League is the most effective place to export American knowledge of making money from a sports franchise. For now, though, it is a delicately balanced story of Rodgers and youth. Every defeat brings renewed urgency. Liverpool have four "winnable" fixtures before the Merseyside derby. But history proves champion sides aren't built in a day. It was six years after Keegan arrived that Liverpool finally soared. By then, Shankly had gone.
Five asides
1. Wilson could become United's next big thing
The talk around Manchester United this week was 16-year-old striker James Wilson's five goals for the Under-18s in the 7-1 win at Newcastle. Wilson and the Norwegian 17-year-old midfielder Mats Daehli are United's emerging players of real promise. The best known of the only three United players to score five goals at Under-18 level was Mark Robins, in 1988. His FA Cup winner at Nottingham Forest two years later was more legendary, but he started only 19 league games for United. No guarantees in football.
2. Clubs have a role in monitoring Twitter trolls
The faceless Twitter handle @LFCJohn259 scurried off into the gutter where he belonged after his despicable messages about referee Mark Halsey, in the aftermath of Liverpool's defeat to Manchester United. "Apologies," he tweeted, before his account was closed down. That Liverpool FC should have been one of his followers loaned him some legitimacy. The self-policing of the network demands vigilance. Clubs need to check who they're following.
3. Capital One Cup ticket prices need evaluating
Should managers tell fans that they'll play weakened sides, to help inform the decision on whether to fork out for League Cup tickets? They'll never agree to it. Reduce prices instead. Manchester United charged £20 more than any other club this week for away tickets. Their cheapest home ticket was £30, compared with Arsenal's £20, City's £22.50 and Chelsea's £25.
4. Still no apology for Clough's Hillsborough outburst
The reputation of so many organisations are tarnished by the Hillsborough Independent Panel's 400,000 pages of documents relating to English football's worst disaster. Brian Clough's hurtful claim about how Liverpool fans were to blame was based on what we now know to have been lies, propagated by South Yorkshire Police. But Liverpool's Hillsborough Disaster Working Party got short shrift from Nottingham Forest when they wrote expressing their dismay at their former manager's outburst. The Forest chairman Fred Reacher replied: "I do not see that [Clough's] opinion is any of our affair."
5. New City man has a ready handle on transfer madness
The new Manchester City chief executive, Ferran Soriano, had a useful piece of equipment when interviewed for his position: the management manual he wrote long before City came calling. Soriano doesn't waste time in saying of the summer of 2010, when City's £110m outlay was the biggest in European football, that: "These signings were perhaps slightly above their market price but they were not outrageous." But Chelsea's £50m on Fernando Torres was "staggering".
Register for free to continue reading
Registration is a free and easy way to support our truly independent journalism
By registering, you will also enjoy limited access to Premium articles, exclusive newsletters, commenting, and virtual events with our leading journalists
Already have an account? sign in
Join our new commenting forum
Join thought-provoking conversations, follow other Independent readers and see their replies