Gabriel Agbonlahor scandal is much bigger than one illicit photograph
COMMENT: Agbonlahor is a parable for what Aston Villa have become under Randy Lerner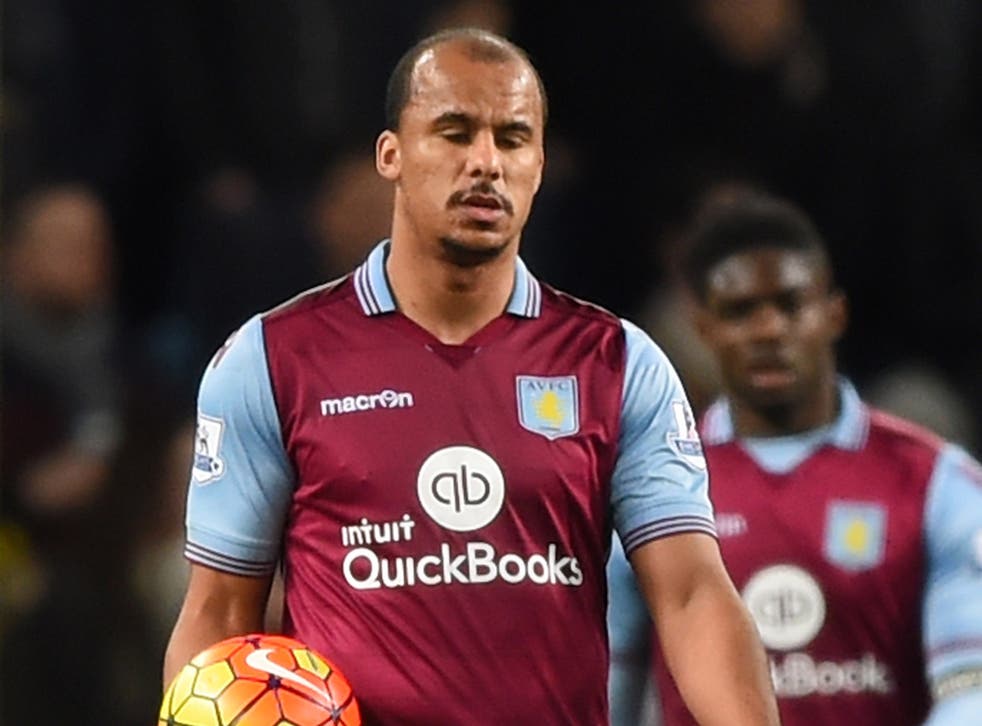 Mercifully for the England national team, Roy Hodgson doesn't pay too much attention to images on social media. He tends to uphold the libertarian view that what players - and he - get up to at 2am is their own business - and his.
It's why he didn't lose too much sleep over the story of Raheem Sterling inhaling nitrous oxide last year which, at the time of writing, has generated 292 national newspaper stories. Though Twitter's window on their world creates that sense of a community of footballers on £50k-a-week minimum taking the game to hell in a handcart, Hodgson actually wouldn't mind if they let go a little more at times. When the FA threw a little reception to mark England's Euro 2016 qualification last November, only five of the squad invited accepted a glass of the champagne on offer.
On the face of it, a privately published image of Aston Villa's Gabby Agbonlahor is equally insignificant. The player's performance is no more likely to be affected by the singular act of smoking a shisha pipe in Dubai, captured on camera, as Sterling's was by his brush with laughing gas last year. Living it up and drinking hard? Look up Liverpool and the late 1970s. Jimmy Case and Terry McDermott were locked in the cells after an altercation with one pub landlord in Llangollen, North Wales, in 1979. Their desperation to play football and win games meant that the incident made not the blindest difference, beyond the need for some new furniture in the Bryn Howell Hotel.
Next Aston Villa manager (six serious, five not so...)

Show all 11
What confound belief about Agbonlahor, is that it has taken an image of the player taking hippy crack, circulated on a fans' forum, to provoke some action from Aston Villa when the player has been the problem which has haunted the club's managers for years. As far back as Martin O'Neill's time as manager, in the last decade, Agbonlahor would arrive back from international breaks a day after everyone else – a practice which was allowed to ride. No-one actually got the sense he wanted to be selected for England all that much anyway, given that an international break was the alternative.
Drift is what happens when such a strong character occupies the dressing room of a club in which manger after manager – five of them in the last five-and-a-half years at Villa - is left to feel so pathologically insecure. Paul Lambert felt deeply uneasy about Agbonlahor's power, influence and deeply questionable work ethic, but his influence on player around him meant he held sway. So, too, did Gerard Houllier. It was Houllier who told his compatriot Remi Garde to sell him, at a time when the noises coming from the dressing room were that classic form of insurrection. Agbonlahor was finding Garde's training "too intense," we were told.
But having failed to get him out, Garde then found himself so short of players that he suffered the indignity of having to go back to Agbonlahor to say: "We've not found anyone so will you lead the line for me." The player haunted Garde until the very end. He had to use him as a substitute in the last game he took charge for at Swansea. "I've never seen someone take so long to come on," were the Frenchman's parting words.
How Aston Villa were relegated - in numbers
In a sense, Agbonlahor is a parable for what Villa have become under Randy Lerner: a spineless club so incapable of creating the conditions for strong management that egos like those of Agbonlahor – the so–called 'Mr Villa' – are able to take root.
"It would never have happened at a club I've worked at," says an insider whose worked within the senior first team management units at several Premier League clubs, included a period with Sam Allardyce. Allardyce would not have tolerated Agbonlahor and, though the player is too self-absorbed to compute the fact, the benefits might have been mutual. Allardyce is the reason why the difficult, some say detestable, El Hadji Diouff – another in the Agbonlahor mould - succeeded at Bolton and Blackburn.
Villa are finally clearing up the mess at the time when they cannot afford to do anything less. Supporters see the player's white Lamborghini and £2.75m salary, hear of the 500 job losses which Villa's relegation will bring, and conclude what a grotesque place the club they once called theirs has become. The man to whom the task of ushering Agbonlahor out of the door has fallen, Eric Black, is becoming a specialist in these kind of clean-up operations: a caretaker manager in careworn places. It was Black who mopped up at Blackburn Rovers after the club's Indian owners had kicked out Allardyce and watched Steve Kean drag that club down, too. "Dignity." "No side to him," people tell me.
The Professional Footballers' Association will attempt to arbitrate between club and player, too, with the sentiments from the union when we spoke yesterday including some despair that a photograph, initially published on a private forum, has landed the sport with more negative publicity. But Agbonlahor is the story of what happens to a club when those at its helm stop caring. It's about infinitely more than a photograph.
Davis - anything but a 'big yawn'
It was a wonderfully and typically self-deprecating observation that Steve Davis gave when he announced he was retiring from snooker. He'd told Barry Hearn, his promoter, this, he said…. "And he said, 'Steve, you retired 10 years ago, we just didn't have the heart to tell you.'"
The mischief was no surprise to those of us who have travelled through the pages of his autobiography – entitled, with that same dry mischief, 'Interesting.' It's a wonderful, colourful evocation of the world he occupied when nigh-on unbeatable, though with that quality of small detail which separates biography from great biography. The mustard bow tie he wore at Prestatyn where he went equipped without one, the cost of the light about the tables (5p for half an hour) in the Plumstead Working Men's club where he first played, the best of threes with Hearn on the Arcade game 'Defender' before a big tie. And all of this at a time, in the Pot Black age, when Davis was breaking. Davis recalls the Daily Star's Ted Corbett reporting on one tie – a "big yawn" – but he is anything but.
Ward's courage was boundless
Curious how society creates a ranking for forms of discrimination. When a couple of intellectually challenged Carlisle United fans, young enough to have their backsides tanned, uttered racial abuse at Brunton Park before the Everton FA Cup tie in January, it dominated press conferences and national coverage. The character assassination of Leeds United's Lucy Ward at an industrial tribunal last week has featured nothing like so widely. Ward's courage in the face of ridicule and mockery in court was boundless, her treatment no less than a scandal.
Register for free to continue reading
Registration is a free and easy way to support our truly independent journalism
By registering, you will also enjoy limited access to Premium articles, exclusive newsletters, commenting, and virtual events with our leading journalists
Already have an account? sign in
Register for free to continue reading
Registration is a free and easy way to support our truly independent journalism
By registering, you will also enjoy limited access to Premium articles, exclusive newsletters, commenting, and virtual events with our leading journalists
Already have an account? sign in
Join our new commenting forum
Join thought-provoking conversations, follow other Independent readers and see their replies