Tim Sherwood column: Boxing Day reminds me of the dreadful end to my playing career
EXCLUSIVE COLUMN: 11 years ago I broke my leg playing for Portsmouth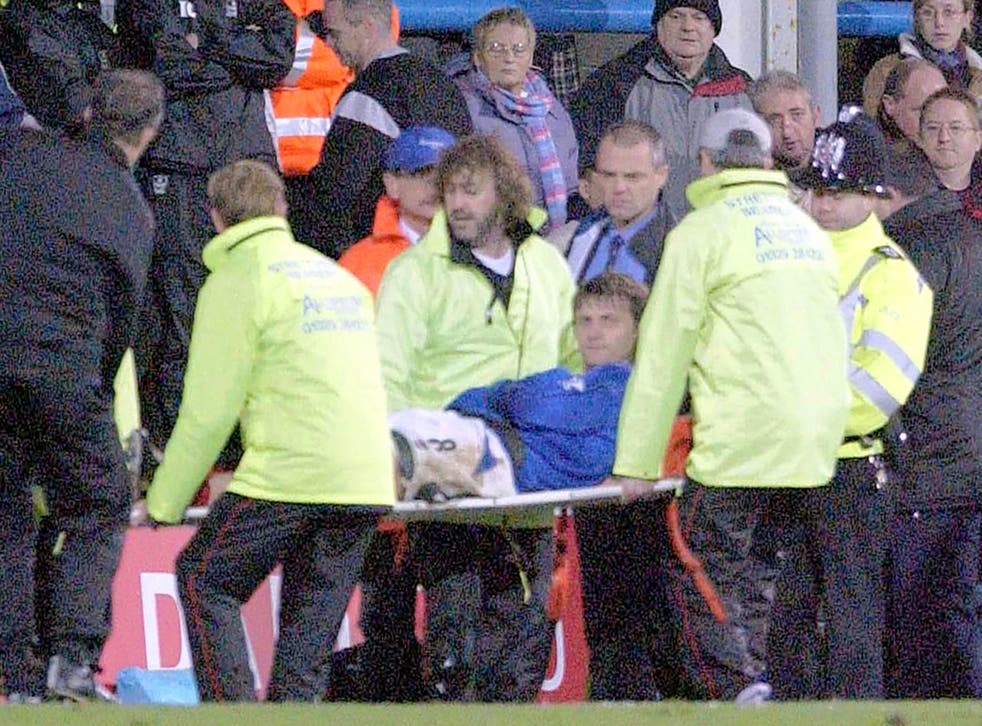 On Boxing Day it will be 11 years since I broke my leg playing for Portsmouth against Tottenham, the injury that effectively signalled the end of my career as a professional footballer, and when I look back on that occasion I still wonder at the amateurish way I was treated.
That afternoon I was driven away from Fratton Park in the front seat of the physio's BMW, still in my kit and holding my left leg so that it did not hit the floor of the car as we went over the speed bumps. Over 16 years in the game I had captained a Premier League-winning team and played for England and here I was with a broken tibia and a broken fibula making my way through the match-day traffic worrying whether I would ever play again.
Mauricio Taricco had tackled me and I knew immediately that the sensation in my leg was nothing I had experienced before. I had a high pain threshold as a player and had spent my career playing through injuries and niggles. I had been injected more times than I care to remember in order to get through games. Throughout my career, and especially in the late 1980s and early 1990s, that was the solution most physios came up with.
In 1993 I had dislocated my shoulder after 10 minutes of a game against Wimbledon. It was my birthday and having invited family up to watch the match and have dinner afterwards, I did not feel I could let them down. I went out that night and my shoulder must have popped out and been pushed back in by me or someone else about 10 times. I needed a few drinks to dull the pain.
I was young then, and gradually came to know better. There was another occasion, when Blackburn had a game against Arsenal at Highbury and we did a pre-match warm-up in Hyde Park. I was struggling to walk, let alone run, but I wanted to play so I agreed to have an injection to ease the pain in my medial knee ligament.
My view was that as long as playing on an injury was not going to do any further damage I would go through the pain barrier to play. That was how it was in those days. As a player you were never quite 100 per cent.
When the influx of foreign players began we noticed that if they had any kind of injury at all they would tend to pull out of games. At first we would laugh at them. Too soft, we thought. But it was they who were right. We were the daft ones playing on regardless.
On that occasion at Highbury I agreed to have the injection and the physio drew a black X on my knee where the needle needed to go in. In those days you would not travel with a doctor. As I lay on the bench the old boy who had been asked to do the job came towards me with the needle and went straight for the wrong knee. I had to shout out and point him in the direction of the enormous X on my other knee.
For the low level of care, nothing was as bad as the broken tibia and fibula at Portsmouth in 2003. The stretcher-bearers who carried me off had struggled so much to get me safely down the windy concrete tunnel at Fratton Park that at one point I had to tell them to stop. I already had a broken leg, I didn't want to be tipped on the floor and break my neck, too.
Once we were in the physio's car it was obvious we had left it too late. The injury had been in the latter stages of the game and the match had finished by the time we got on the road. It took us ages to get to the Queen Alexandra Hospital in Portsmouth. Once there I lay on a bed, still in my kit, and assumed I was going to see a specialist. It turned out I was in A&E.
I could hear the doctor at the next bed talking to a little old lady who had fallen over. "I'm going to see a specialist, right?" I said to our physio. "We don't have one," he said. The doctor came in. "Not another football injury!" he laughed. I had to explain to him that I hadn't done this on the local rec. I played for Portsmouth in the Premier League. Immediately I could see the worry in his eyes. He didn't want to treat me and get it wrong.
Eventually I forced the physio to ring around and get a specialist. This was my career on the line and the A&E doctor wanted to put a pin in my leg. By the time the specialist arrived, my leg had been broken for about three hours. I was grateful he had come all the way out on Boxing Day, having obviously been well into his festive celebrations. He recommended the leg was put in a cast. I later found out that it would not have made much difference either way.
I lay there in that A&E bed, still in my kit, with a constant stream of people coming through the curtain to ask me to sign autographs. Looking back, it was probably a bit of excitement for everyone to have a footballer on the ward. The nurse who came back with my X-rays gleefully shouted, "It's broken! It's broken!" like she had just got a good set of A-level results. Usually I could have seen the funny side of all of it but I was 34 years old and contemplating my last days as a footballer.
I did play a few games for Coventry City the following season, but I quit for good in October. I paid for my own treatment in London with the physiotherapist Kevin Lidlow, who I credit with getting me back up to a decent level. I am very thankful that I can still run, cycle and play football now. The only reason I don't play in the ex-players' exhibition games is that I don't like playing football at half-pace, and if I tried to play the way I wanted to I would be hobbling for weeks.
The treatment now for players is much better. Unlike at Portsmouth 11 years ago, there are specialists available at every club. Professional football makes a lot of demands on the individual and the level at which a footballer plays and trains over a career is an abnormal load for a body to bear. Sometimes I feel lucky to have come out of a career in the game still able to walk.
Rising stars to watch out for in the year ahead
These are my three names to look out for in 2015, having watched all of them this season. They are young lads who will require development and my one hope for them all is that, if they do decide to move, they go to clubs where they will play rather than sit on the bench.
Let's hope their agents don't push them for the biggest wages straight away. They need to play, and once they build a career the money will follow.
Ben Gladwin, 22, Swindon Town: He came up through non-league, most recently having played for Marlow, and can play a range of positions including centre-half, wing-back and midfield. Uses his size well. Great feet and technically very confident.
Demarai Gray, 18, Birmingham City: He has attracted a lot of interest from Premier League clubs, especially after his hat-trick against Reading last Saturday. I hope if he leaves he joins one that will give him first-team opportunities.
Teddy Bishop, 18, Ipswich Town: A very good midfielder who, like Gray, has probably not stopped growing yet. There is great potential there if his development is planned out properly.
Register for free to continue reading
Registration is a free and easy way to support our truly independent journalism
By registering, you will also enjoy limited access to Premium articles, exclusive newsletters, commenting, and virtual events with our leading journalists
Already have an account? sign in
Register for free to continue reading
Registration is a free and easy way to support our truly independent journalism
By registering, you will also enjoy limited access to Premium articles, exclusive newsletters, commenting, and virtual events with our leading journalists
Already have an account? sign in
Join our new commenting forum
Join thought-provoking conversations, follow other Independent readers and see their replies