Tomas Rosicky interview: I still owe so much to Arsenal
As the oldest player in the Gunners' squad prepares for his ninth season with the club, he tells Sam Wallace that he has not forgotten how manager Arsène Wenger stood by him when he was out injured for 18 months
Sam Wallace
Friday 08 August 2014 17:49 Comments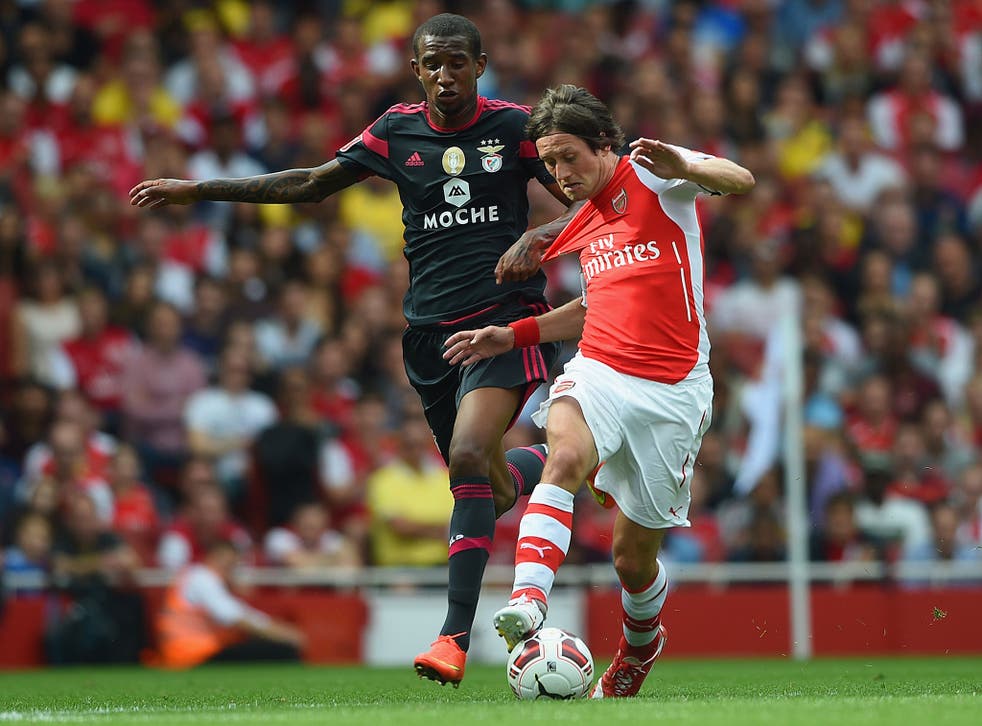 As we sit and talk by the side of the Emirates pitch, Tomas Rosicky spots Freddie Ljungberg – a guest at the club's members' day – and jumps up to greet him. "Freddie, I am the only one here who remembers you!" he announces to his former team-mate, a joke that is a nod towards Rosicky's seniority at Arsenal these days.
Rosicky is the third longest-serving first-team player behind Abou Diaby and Theo Walcott, who arrived just months earlier, and, at 33, he is the oldest member of Arsène Wenger's squad. He arrived in 2006, one year after what was their last trophy until this May's FA Cup triumph. Rosicky has been there through the lean years. He has had injury problems of his own – "a bumpy road" is what he calls it – but he is hopeful that the way ahead will be smoother.
Starting with tomorrow's Community Shield game against Manchester City, he will face the usual battle for first-team football in a squad strengthened over the summer to the tune of £60m. Nevertheless, the Czech Republic international has always been a favourite of Wenger and played his fair share of games. It was not an act of charity that Wenger awarded Rosicky a new contract in January that takes him to the end of next season.
Possible Arsenal starting XI for the Community Shield v Manchester City

Show all 11
Rosicky is talking to The Independent to coincide with Arsenal's involvement with the charity Friendship Works, an organisation that seeks to pair children who are experiencing problems at home and socially with adult mentors who provide them with days out. Arsenal have chosen the charity as the recipients of their £25,000 Community Shield donation. Rosicky listens with interest to one teenager reflect on how his days out with a mentor have helped his performance at school.
It takes him back to his own childhood with his parents Jiri, a former professional footballer, and Eva, a top Czech table-tennis player. Rosicky was nine-years-old when Czechoslovakia went through the "velvet revolution" and it strikes a chord with him when I point out that he is one of the last top footballers who can say they spent some of their developmental years in Communist eastern Europe. His parents were devoted to the lives of Tomas and his older brother, also Jiri.
His father won a couple of caps for Czechoslovakia and played his whole career at Sparta Prague and Bohemia Prague, restricted from playing for a foreign side by the Czech state's rules. During an away tie with Sparta in Switzerland, Jiri senior was offered a chance to seek asylum and play professionally there, Tomas recalls, but turned it down on the basis that he did not know whether his family would be able to follow him.
"In those days [in Prague] when you wanted to buy fruit, man, there was a long queue," Rosicky says. "Sometimes I got an apple, sometimes I got a banana. Things you take for granted now. When it [the revolution] happened you got more. It didn't happen overnight but suddenly our parents could get us more stuff like that. My mother was always looking at us getting vitamins and it was not always possible. Whatever they got they gave just to us."
It is eight years now since Arsenal paid a relatively modest £7m to Borussia Dortmund for Rosicky, and he has proved a very useful, popular acquisition. He has suffered two serious injuries along the way. One, a tendon problem, caused him to miss 18 months, including the entire 2008-2009 season. Rosicky had never wanted to leave, however, and the faith Wenger has shown in him is something that he feels keenly.
He is the first player I can recall who has brought up the subject of his own club's financial model, this time in response to a question about whether he senses a different kind of mood around Arsenal, a decade since their last Premier League title. "I cannot say I sense something really different. Arsenal for me is a massive name in the whole world. Even when there were rough periods the Arsenal name was up there with everyone.
"The road was bumpy for whatever reason but you can see now the club is stabilised. It doesn't have to look to someone from whatever country who owns them. It's a very clean club. It can compete from its own resources with everyone else."
With Wenger, Financial Fair Play is a weekly preoccupation. Is it the same for his players? "I don't think the players look at it that way," Rosicky says. "You see what is going on behind you. I have been here since 2006. This is my ninth year. I always had everything that I wanted here. Even in the difficult times.
"It is a big club with big ambition and for me it was always worth fighting for it. That's why I have been here so long. Was I happy that we didn't win for so long? Of course I wasn't. I just wanted to stick around and fight for it. This is a club that is worth fighting for."
Part of that comes from the way that Rosicky was treated by Wenger over his injuries, in 2008 and then again when he came back injured from Euro 2012. "I always wanted to come here because I always liked the type of football that Arsenal and Arsène Wenger wanted to play. When I was in Dortmund I was looking at it that I would like to play for Arsenal because of the philosophy of the club.
"When my injury happened it was 18 months I didn't play and they stuck with me. I am a person who does not forget how I am treated when something goes wrong. That is something which plays a big part in it. I want to pay everything back that I can."
His high point last season was his goal against Tottenham that gave Arsenal a 1-0 win over their local rivals in March. He was also in the side for the 6-0 thumping at Stamford Bridge and a second half substitute in the 5-1 defeat to Liverpool. For all the bounce that the signings of Alexis Sanchez, Mathieu Debuchy, Calum Chambers and David Ospina has given the club, it still does not feel that Arsenal have addressed their tendency to collapse. Or at least the way big teams have been able to expose Arsenal's soft centre.
Rosicky concedes that there are concerns. "The aggression from Liverpool in that game was too much for us. We couldn't cope with that. In the Chelsea game it was a bit different. We had the best chance of the game [early on]. We missed our chance, straight after they had a chance they scored and a second one. They had two chances and two immediate goals.
"That is what we have to improve as well. Maybe the influence of Sanchez can help in this department. In these kind of games you cannot expect to get two or three chances for a goal. You get one chance and that is it. That is what Chelsea do very well in the big games in particular. There is a place for improvement in this department. Sometimes it is right what you are saying, sometimes not really. Sometimes we are overrun but I don't agree with that completely."
Against City tomorrow, Arsenal face the fifth of their number who has decamped to the Etihad since the Abu Dhabi revolution. This time it is Bacary Sagna, a free agent last month who took up the offer from City. "It is not particularly that he left to Manchester City," Rosicky says. "First of all we didn't want him to leave because he's a great defender. A natural defender.
"No one was really looking where he was going. It was more the point that he was leaving. Everyone approaches their career differently. Some are looking for money, some are looking just for the football side. Every player sees it different and everyone has the right to choose what they want."
As for Rosicky himself, he will be part of the Czech team that has the Netherlands and Turkey in their Euro 2016 qualification group and has no plans to retire just yet. He is six caps short of his century and the third in the Czech Republic's all-time list behind Karel Poborsky (118) and Petr Cech on 107. Rosicky admits that it became more important for him now to reach 100 as the years passed since he made his international debut at 19. And now, more than ever he has the challenge to keep his place with Arsenal.
"When the boss bought me. He told me, 'Yes, I have you in this position, and I also have [Cesc] Fabregas, [Jose Antonio] Reyes, Ljungberg. Now, the names are different but the situation is the same. This is a big club and there always will be great players you must fight for a place. You know there will be good players and competition and I like that very much because it pushed you every day and you cannot take a week off in training."
And can this Arsenal team of 2014 win the title? "Last season we were there [top] for a big period of time. We didn't make it to the end. We had troubles at the end. We showed last season we are there and now we have some great new players. I think we will be up there at least. It's our goal to win it."
Arsenal football club is donating its £25,000 from the FA Community Shield to Friendship Works, that improves the childhood and ultimately life chances of children living in Islington and Camden through mentoring. To donate or for more information on volunteering as a mentor, visit: www.friendshipworks.org.uk
Register for free to continue reading
Registration is a free and easy way to support our truly independent journalism
By registering, you will also enjoy limited access to Premium articles, exclusive newsletters, commenting, and virtual events with our leading journalists
Already have an account? sign in
Join our new commenting forum
Join thought-provoking conversations, follow other Independent readers and see their replies