Tony Pulis sacking stopped Stoke City players walking out
Former Black Cat Kenwyne Jones relates how Stoke players developed the Paolo Di Canio feeling over ex-manager's 'sky football'
Steve Tongue
Sunday 29 September 2013 20:04 Comments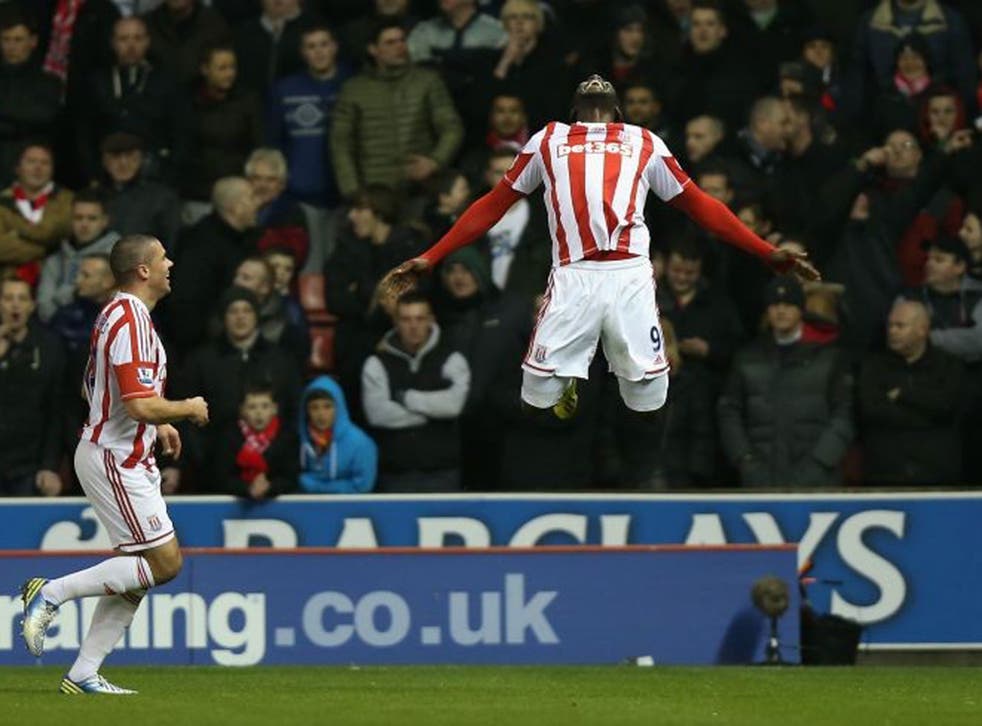 When Stoke City's striker Kenwyne Jones talks about "sky football" he is not alluding to the company which will televise this afternoon's game at home to Norwich City. The reference is among a stream of disparaging ones about what he calls "the old regime" at the club and the direct style of play they imposed until Tony Pulis's departure in May. Had change not come, Jones claims that he and other players might well have left. Now he is playing for a new contract.
The denunciations, in an otherwise light-hearted visit to a local primary school arranged by the admirable Stoke City Community Trust, are all the more unexpected in that, at 6ft 2in and 13st, Jones might have been regarded as a perfect fit for a style based on long balls, crosses and set-pieces aimed at a big target man. That was presumably why Pulis broke the club record in paying Sunderland £8m for him three years ago, only to discover that inside that giant frame there was a real footballer yearning to get out.
As Jones tells it, the mood in the dressing-room under Mark Hughes sounds remarkably like that of his former club now that Paolo Di Canio has disappeared. "What he's done is lift some of the restrictions we had and brought a new confidence and that freedom to go out there and express ourselves within the philosophy he has. And I think the entire squad has welcomed that. He's given us a lot of confidence and there's a good atmosphere at the club. You're going to learn something new every day. That's going to help you. The set-up has been wonderful and I hope that continues. That's wonderful when you can have that sort of relationship with the manager and coaching staff."
Under that "old regime" – he does not mention Pulis's name once – Jones felt: "It was more or less kick-and-hope. I think team-mates could testify it was very hard to come by chances. If you looked at Stoke's record for chances created in a game, goals scored and shots on goal, it was probably the lowest and that's because we weren't playing the type of football to create chances. We were just basically playing percentages.
"Now it's a good time because as a squad we're able to express ourselves and be free. We're able to try things as footballers. We're not restricted to that regimented 'sky football'. We're playing the game the way it should be played. You would probably not have seen a lot of players at the club this season if the situation had remained the same."
For all the criticism of the unloved old Stoke, there is something to live up to. Pulis, after all, took them into the Premier League, to a Wembley Cup final and into Europe, all the while sitting comfortably in mid-table. But even after bringing in players like Charlie Adam and Steven Nzonzi, he was either unable or unwilling to break the mould and supporters' disenchantment grew.
"We have good footballing players, but we weren't allowed to play football under the last regime, which was a waste of the talent we had in the squad," Jones says. "We have a lot of internationals and good footballers. He [Hughes] might have been surprised that we took to it so quickly, knowing the brand that we used to play before, but I've always believed we had enough in there to play that type of football and we're showing it at the moment."
Results and performances so far back up that conviction. Always strong at the Britannia Stadium – once officially recorded as the noisiest ground in the country – they beat Crystal Palace and should have done the same to Manchester City. Improving on an average of only three away wins per season in Pulis's five Premier League campaigns, however, is a necessity and the signs are encouraging for the long-suffering travelling support. There has already been greater ambition shown in games like a deserved victory at West Ham; a 1-0 defeat at Liverpool when Jonathan Walters missed a penalty in the last minute; and a loss at Arsenal in which Jones claims, "the team came out second half and played wonderfully".
Although defeated – ironically by three of the set-pieces at which they are supposed to excel – he believes the second-half performance showed the world the Potters' new craft: "You've seen how the Arsenals and Swanseas are accustomed to playing that type of football. Some people think it's boring but it gets you chances and better opportunities to score goals and win a game. Sometimes we think we need to rush the game. So it's a bit difficult sometimes making that transition from being more of a 100mph team to maybe a chess team. We're getting that blend slowly but surely, and hopefully we'll get better and better. It's a case of us being confident in what we can do and how we can play, being patient and doing that for 90 minutes."
If the opening gambit is paying off, what of the endgame? Jones agrees with Hughes that a top-10 finish, not achieved at the highest level since 1975, is possible, but must also accept that he needs to score more goals if that is to happen, denying the main striker's role to Peter Crouch.
"Football is a funny game but I'd be disappointed if we don't finish in the top 10 knowing the potential we have. I've set myself a playing target and with that hopefully the goals will come. The way we're playing, it's a bit more conducive to getting chances. I'm very optimistic about the season and how we'll finish."
Register for free to continue reading
Registration is a free and easy way to support our truly independent journalism
By registering, you will also enjoy limited access to Premium articles, exclusive newsletters, commenting, and virtual events with our leading journalists
Already have an account? sign in
Join our new commenting forum
Join thought-provoking conversations, follow other Independent readers and see their replies