Toothless Liverpool miss Suarez
Liverpool 0-0 Stoke City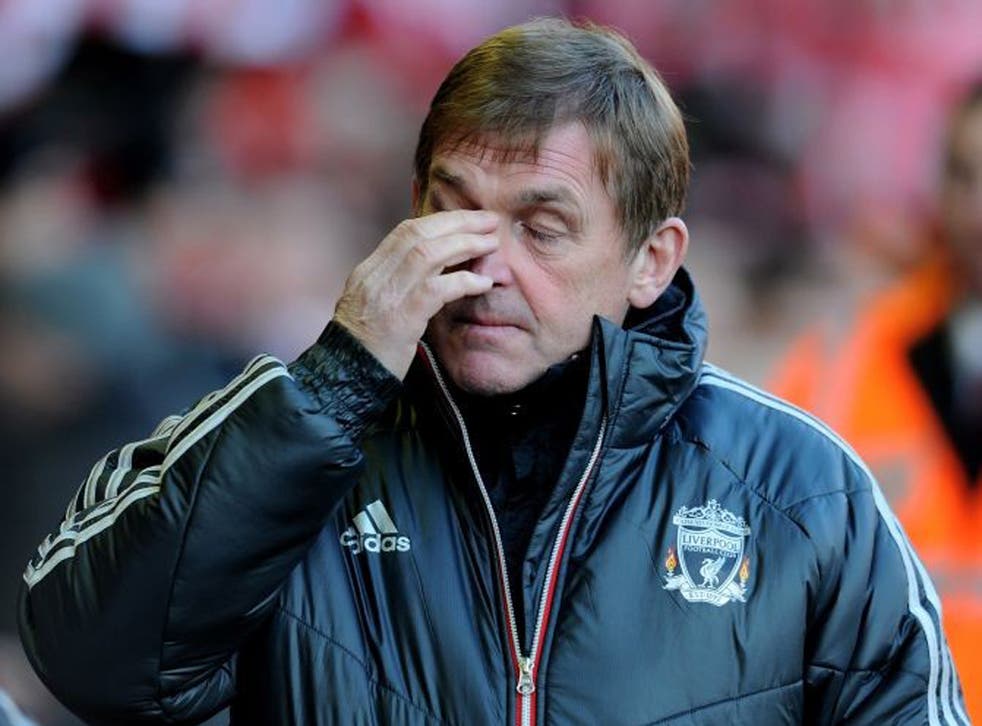 "I think I'm in danger of repeating myself here," said Kenny Dalglish when asked one question too many about his team's failure to break down a stubborn Stoke City side.
Over 44,000 Liverpudlians might have thought something similar after seeing their team's seventh draw in 11 league matches at Anfield this season.
Liverpool may rank alongside Manchester City as one of only two teams unbeaten at home in the 2011-12 Premier League but where City have accrued 30 points, for the Merseysiders the figure is 19 – fewer than all six teams above them.
Jose Enrique, one of their brighter performers on Saturday, acknowledged that this home discomfort was damaging Liverpool's Champions League qualification prospects. "If we start to take our chances then we can be in the top four, but if we don't then we will make it more difficult for ourselves," he said. This latest disappointment was down to a worrying lack of creativity. Besides a late free header missed by Dirk Kuyt, there was little serious threat to Stoke's goal.
On the weekend when Liverpool's managing director, Ian Ayre, both in a BBC interview and the match programme, conceded that their handling of the Luis Suarez affair had damaged people's "perception" of the club, the on-field consequences of that case were only too evident: Liverpool desperately lacked the spark of the suspended Suarez, who may miss opportunities but also creates them. Stoke's manager, Tony Pulis, who saw him score twice at the Britannia in the Carling Cup in October, admitted: "I could not have picked a better player for us not to play against than Suarez."
In his absence, Kuyt led the line, supported by Jordan Henderson and Stewart Downing, but they toiled against a Stoke side who flooded the midfield and defended resolutely. Andy Carroll's introduction for the last half-hour made things more interesting, if only for the fact Stoke risked conceding a penalty when first Robert Huth, then Ryan Shawcross grappled with him at corners, but the referee, Howard Webb, ignored the Kop's loud appeals.
"It is difficult to understand when they [the match officials] talk to the players and explain something to them and they commit the same [offence] immediately after it," said Dalglish, though he acknowledged his team's failings first and foremost. "We have got to be more creative and the deliveries into the box have got to be a lot better than they were."
Stoke's physical approach may infuriate opponents but they had every right to celebrate a point at a ground where they have never won in 49 top-flight visits. Pulis's team sit eighth in the table, having lost just one of their last nine League outings, but the Welshman is not getting carried away. "This is only our fourth year in the Premier League and we shouldn't lose sight of that. The aim is to get to 40 points as quickly as we can and then push on from there."
Man of the match: Shawcross
Referee: H Webb (South Yorkshire)
Attendance: 44,961
Join our new commenting forum
Join thought-provoking conversations, follow other Independent readers and see their replies