At least Maurizio Sarri was honest about Chelsea's utterly hopeless performance, now he must hope it's a one-off
It is no exaggeration to say that Tottenham should have won 7-0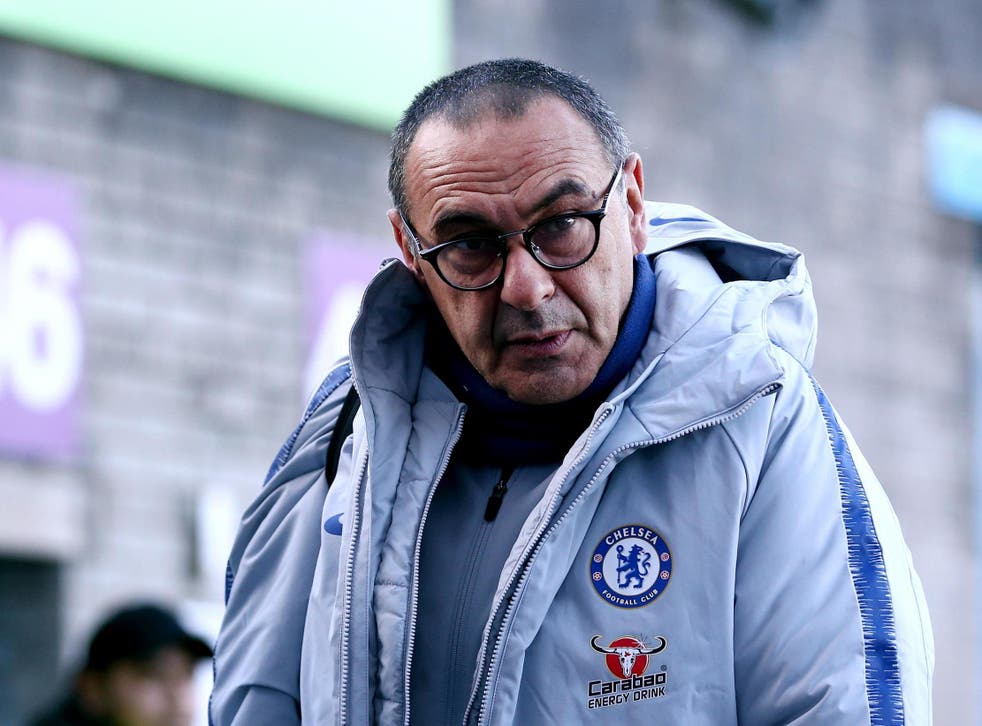 Maurizio Sarri left nothing out and spared no-one. His team had been "very bad in all directions, physically, mentally, technically and tactically." No player had impressed him, but even if he had played 11 different players he would not have expected a different result.
It was as meticulous a destruction of a team's performance as you will hear from any manager in a press conference this year. Three times Sarri used the word "disaster" and he made clear it applied to the whole team, not just his defence. But then desperate measures are for desperate times and this was the worst performance you will see from any Big Six side all year, a performance where a 3-1 defeat was a miscarriage of justice and 6-1 would have been a fairer sentence.
Think of everything you would associate with Chelsea teams over the years: organisation, discipline, refusal to lose, bodies on the line defending, personal responsibility, all the rest of it. Literally none of this was on show at Wembley on Saturday evening. And Sarri knew it. He spoke afterwards with sadness rather than surprise, and the forcefulness of a man hoping his message would start to get through to his players.
"Today I saw a lot of problems," Sarri explained. "We played very badly from a physical point of view. Mentally. Technically, especially the first 25 minutes. Tactically. So we have a lot of work, we have a lot of problems to solve. But I knew it very well before this match. And now I think it is clear for everybody, and I hope first of all, for the players."
Sarri could have left it at that but instead he went into detail about why the Chelsea performance was such a "disaster". And as bad as the defence was, he made it clear that this was a collective failure. The whole team was on the hook.
"The defensive phase today was a disaster," he said. "I am not just talking about the defensive line, but the defensive phase. The offensive players pressed very badly. The midfielders defended…not very well. And the defensive line, as a consequence, was a disaster. But it was a disaster in the defensive phase of the team."
The problem, or one of them, was that Spurs had realised how vulnerable Jorginho can be when put under pressure. Mauricio Pochettino had switched formation, going to a 4-3-1-2 with Dele Alli putting maximum pressure on a defensive midfielder who does not like to defend. The result, frankly, was carnage. And worst of all Sarri looked like a man who knew what was going wrong but had no way of solving it.
"It was clear after five minutes that it was really difficult to use Jorginho as usual," Sarri said. "We were surprised because they usually play 4-2-3-1 or 4-3-3, and today they played 4-3-1-2. In the first 25 to 30 minutes we have big problems to exit from our half. We lost a lot of balls. Against Tottenham it is very dangerous to lose a lot of the ball in your half. In short counter-attacks they are one of the strongest teams in Europe. So it was a disaster. After 20 minutes, 2-0 was the minimum."
"They were better than us, 11 players out of 11.I wanted to change the match with something different. But I think that I could have changed 11 players with the same result."
What Sarri really needs is time on the training ground to fix this, but he knows that he will not get it. Chelsea have two more Europa League group games left and then he is into his first Christmas spell in English football. There is barely time to breathe, never mind to coach his players how to be organised better. "We have to work in training," he said. "You know very well it is not easy. Unfortunately we have no time. We have to play every two days, so it is very difficult to have training just for improving the team. We have time only to prepare the next match. But we have to try to do something."
But as strikingly bad as this Chelsea performance was, maybe it should not have come as a surprise. Because there was a growing sense before today among some Chelsea fans that a bad defeat for them was in the post. Because as well as the team had started the season - unbeaten before today - and as well as Eden Hazard had been playing, the team as a whole had been far from perfect.
Just to watch Chelsea play this season is to see a team awkwardly trying to teach themselves how to do something that is difficult, dangerous and far from natural for them. At times it has been thrilling, at times it has been nervy but it has never felt safe. And how could it? Chelsea play an aggressive 4-3-3 with the full-backs pushed all the way up.
Manchester City can make that work but they are in their third season with Pep Guardiola, they have one of the league's canniest defensive midfielders in Fernandinho and two centre-backs quick enough to cover the wide areas to defend against the counter. Chelsea have none of the elements required to make the system work. David Luiz and Antonio Rudiger are flawed in different ways while Jorginho is a defensive midfielder who is not athletic enough to defend properly. This means that Chelsea can be remarkably easy to turn over when teams win the ball, with space to run into everywhere you look.
That was the story at Wembley on Saturday night. Sarri admitted that he was caught off-guard by Spurs' 4-3-1-2 with Alli playing in between the lines. Kane and Son got in behind the centre-backs every time they wanted to and it is no exaggeration at all to say that Tottenham should have won 7-0.
Apart from everything else it felt like the most un-Chelsea like performance of modern times. This was a team whose great successes over the years have been built on watertight defence, and an absolute refusal to give opponents a single inch. Here, the Chelsea back four gave them yards and yards and yards. Chelsea conceded 15 goals on their way to the 2004-05 title, 22 when they retained the title the following year, 27 when Jose Mourinho returned in 2013-14, 32 when they won the title back the following year. Keep defending like this and they will obliterate those figures this season. Sarri's job is to make sure this is just a one-off
Join our new commenting forum
Join thought-provoking conversations, follow other Independent readers and see their replies