Tottenham have to finish above rivals Arsenal to secure Champions League football, says Andre Villas-Boas
Tom Collomosse
Thursday 15 November 2012 13:12 Comments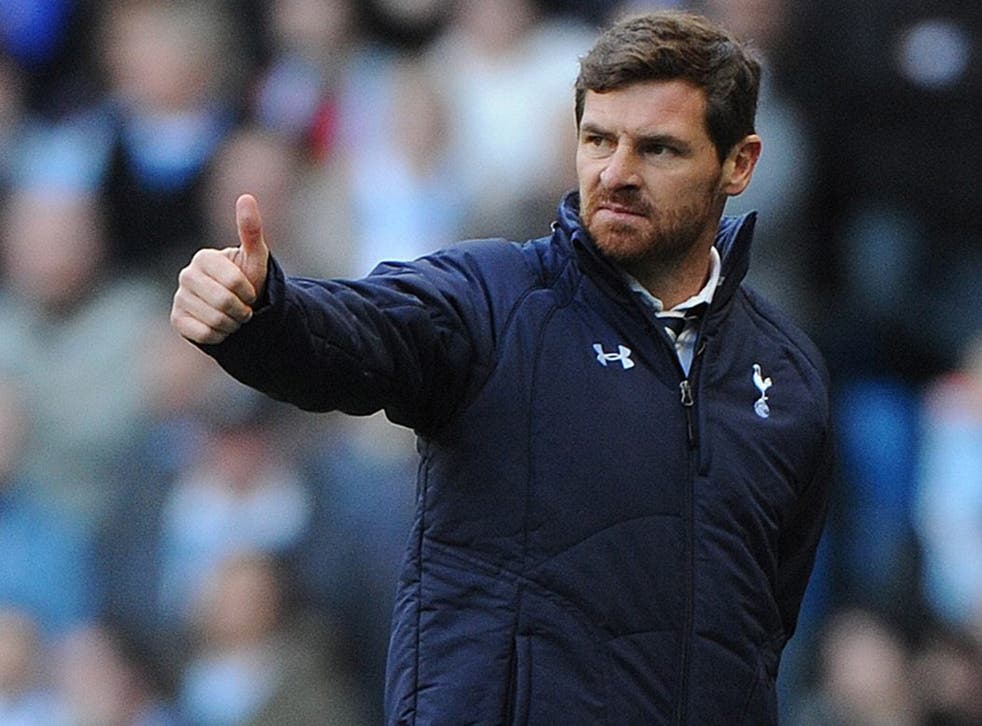 Andre Villas-Boas revealed he receives regular reminders from Tottenham chairman Daniel Levy about the significance of Saturday's north London derby and shared his belief that his side are fighting Arsenal for a single Champions League place.
Spurs have not ended a campaign higher than their north London rivals since 1995 and blew a 10-point lead over Arsenal last season, eventually losing third spot to the Gunners and missing out on Europe's top competition because it was won by Chelsea.
Two days before the first derby of the campaign, at Emirates Stadium, Spurs are one point above Arsene Wenger's team but the form of both sides is fragile. Villas-Boas believes Manchester United, Manchester City and Chelsea might already be too difficult to catch, effectively leaving Spurs, Arsenal and the other challengers to fight for a single Champions League place.
"Can we finish above them? We have to," said Villas-Boas. "From what I see, City and Chelsea are in the race for the title. We want to bring one of those spots closer to us but it's difficult as these clubs have other resources.
"Neither we nor Arsenal are where we want to be — the position in the League doesn't suit either of us. This time last year, we were higher up the table and had our poor period towards the end. We have both shown we can do better, though, and there is still time.
"I've been getting used to this derby for the last two weeks. The staff speak about it and the chairman keeps on mentioning it. It's normal and you have to embrace it. It's part of the greater culture of the game and it means a lot for both teams.
"I remember well from when I was Porto manager the games against Benfica. It was not a local derby but it was the 'clasico' of the Portuguese league. It was full of passion and people get ready to play a game like that. I've certainly felt the same thing this week.
"You understand the importance of it and the passion is very high. It is a game that represents only three points in the League but the history of the north London derby means that it is about more than that."
Spurs will be without Mousa Dembele, who has not played for his club since October 7 because of a hip injury sustained while playing for Belgium, although Villas-Boas believes there is a 50-50 chance the midfielder could be ready for the Europa League tie against Lazio in Rome next Thursday.
Kyle Walker, Aaron Lennon and Jermain Defoe are also injury doubts. The trio missed England's friendly defeat in Sweden last night and trained away from the rest of the group yesterday but Villas-Boas hoped they would be able to link up again with their team-mates today. Midfielder Sandro did not play for Brazil in their friendly against Colombia in New Jersey but still faces a transatlantic flight only two days before a lunchtime kick-off in the Premier League.
The resources of the Premier League's top three far outstrip those of Spurs and Arsenal but Villas-Boas is convinced it is possible to bridge the gap. "We had great games against all three of the top teams and led in all of them but ended up losing in two," he said. "What's important is to gain regular points but, against these teams, it's incredibly difficult. We've done it against United and we want to do it better next time against City and Chelsea.
"Arsenal's current position is irrelevant because last season they had a poor start and clinched third spot by picking up points at the decisive moment of the season, so it's wrong to condemn teams on a weekly basis. The League is so tight for these spots. We're nearer to Arsenal than we were in the past but it is still a step up and is where we want to be in the future."
Meanwhile, Steven Caulker insists he will have fully recovered for Saturday's derby after playing 75 minutes for England in their 4-2 friendly defeat by Sweden in Stockholm. The Spurs centre-half, who scored on his international debut last night after a full game against Manchester City last weekend, said: "It's a massive match. I need to get my rest and look forward to it. I've been used to playing in Europe. We play a lot away and travel back — I'll rest and look forward to the game."
Register for free to continue reading
Registration is a free and easy way to support our truly independent journalism
By registering, you will also enjoy limited access to Premium articles, exclusive newsletters, commenting, and virtual events with our leading journalists
Already have an account? sign in
Join our new commenting forum
Join thought-provoking conversations, follow other Independent readers and see their replies