Tottenham Hotspur take Manchester United apart in Wembley win as Alexis Sanchez fails to deliver
Tottenham Hotspur 2 Manchester United 0: Chrsitian Eriksen and a Phil Jones own goal revitalised Tottenham's top-four hopes as United were blown aside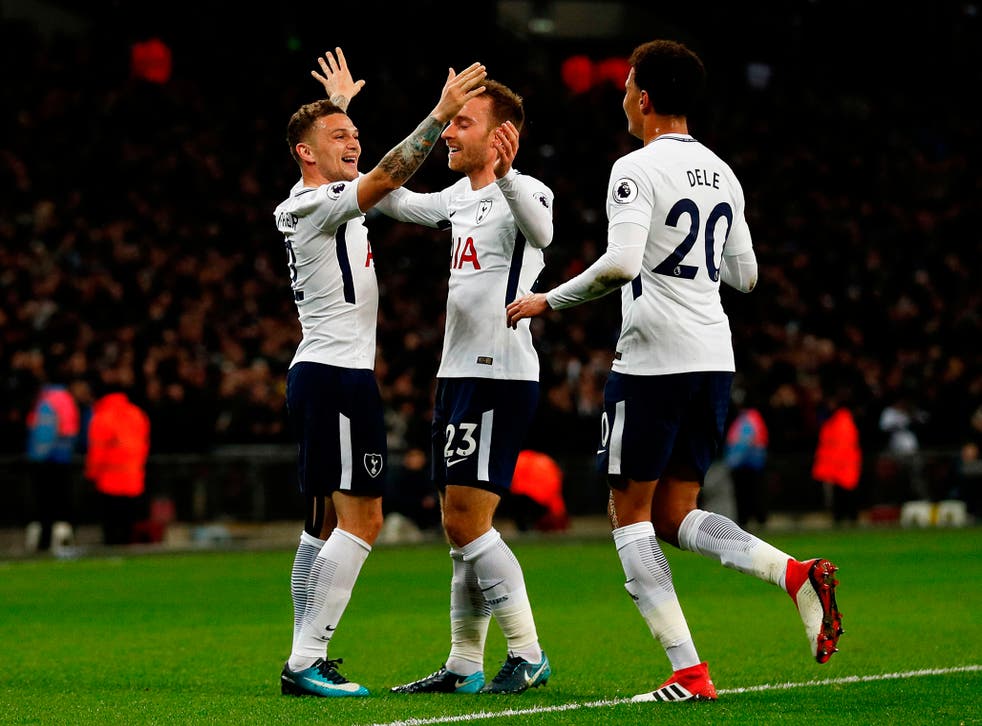 Quick feet, white heat. Christian Eriksen could only get what was the third fastest goal in Premier League history, but the real relevance to it was that it set a blistering pace that Manchester United just couldn't live with. Through that, this game at Wembley was effectively won in the 10.5 seconds it took for the Dane to sweep the ball into the net.
Not even Alexis Sanchez could keep up, and was instead barely visible in what was his own Premier League debut for United, in front of the largest crowd the competition had ever seen at 81,978. It was instead the audience for Spurs to take command, on a brilliant midweek for them.
This blistering 2-0 win also suggests that they once again look like they are going to be hugely dangerous in the Premier League's final stretch for the third season in a row, just as they make the Champions League chase hugely congested by bringing the gap between fifth and second from eight to five.
It really could have been a greater gap on the night, maybe 5-0, as Spurs produced a display as sensational as in their wins here over Real Madrid and Liverpool - bar the finishing.
Their goals came from that freakishly fast start, and a Phil Jones own goal but both still reflected the relentless nature of their play, as they went on to create - and waste - chance after chance. It was only the misses that spared United a bad beating.
The biggest humiliation was instead reserved for Marouane Fellaini, as he was brought off just six minutes after coming on for the hapless Paul Pogba. There was some debate over whether he was injured, but there could be no debate about what represented if he wasn't. It instead showed how badly wrong Jose Mourinho had got this big away game.
It should have been so much worse.
As with the chastening 4-0 defeat at Chelsea in his first season at the club, Mourinho argued that the entire game was conditioned by the worst possible start, but there was something deeper going on here. There was most pointedly the fact that he had actually started with what seemed the type of formation - at least relative to his regular tactical approach - designed to chase a game.
There wasn't much they could do to get back on the front foot on going behind, because they were already playing with a surprisingly loose midfield and four forwards. Rather than that allowing them to increase the pressure on Spurs after some good early chances - especially through Anthony Martial - it just saw Pochettino's relentless side rampage through them more and more. They were scorching through United.
That gave Mourinho a dilemma for this game, and maybe a big decision for the future in such fixtures.
Wednesday's Premier League action in pictures

Show all 31
As regards the former, the Portuguese had to work out how to stem the flow in midfield, but still ensure his side had sufficient bodies getting forward.
That was all linked to the latter, though. It seems painfully obvious by now that Paul Pogba just can't play in a two in such games. So much for one of the most complete midfielders in the world. He instead seems to need a structure completely built around him to look competent, and specifically two players of presence behind him to absolve him of responsibility. It said much that his early substitution on 63 minutes was the logical choice, rather than any surprise.
The real surprise will be if Mourinho ever plays this formation away to a top-six side again.
For his part, this is also precisely why the Portuguese has wanted a central midfielder like Arturo Vidal or Jean Michel Seri, but such an answer still raises two questions.
Much of the talk around United in the summer had been about how Nemanja Matic was the piece of the jigsaw required to really maximise Pogba and release Mourinho. As the Serbian's form has declined and he watches players just running past him, though, it now seems he needs… another final piece of the jigsaw.
That in itself reflects something of Mourinho's thinking, and leads to the second question. It seems the United manager just can't set up an attacking team without sacrificing too much defensively. Maybe it's why he so often reverts. It also illustrates that he still looks at teams in terms of fixed positions and individuals doing template jobs, rather than modern organic collectives.
The latter is how you could of course describe the current league leaders - and this Tottenham. The result, after all, was not just down to the effects of an early goal or Mourinho's tactics. A larger part was down to Spurs' brutal brilliance.
You could say they were ruthless in the way they went at United and so many minutes of the game seemed to be occupied by a player in white charging full pelt at David De Gea's goal, expect they were so often profligate in front of goal. Son Heung-Min squandered one big chance when he should have squared for Harry Kane, just before Fellaini was hauled off.
The only frustration beyond the many missed chances was that this was so different from their listless defeat to United in October, and one feeling is that - in terms of a title challenge - Spurs are again suffering from a slower start to the season.
The positive spin on that is this is just the way Pochettino physically conditions his team, as it is conspicuous that the last two seasons have been characterised by pulsating post-December runs.
It looks like it is building up to something similar, and Spurs are building something significant. United meanwhile looked nothing like themselves, despite a few familiar problems.
They were overran, as Spurs overawed them.
Join our new commenting forum
Join thought-provoking conversations, follow other Independent readers and see their replies