Why everything is going wrong for Tottenham's £30m record transfer Moussa Sissoko
Mauricio Pochettino took the unusual step of criticising the French international midfielder on Saturday, saying he has failed to live up to expectations this season
Jack Pitt-Brooke
Monday 28 November 2016 18:26 Comments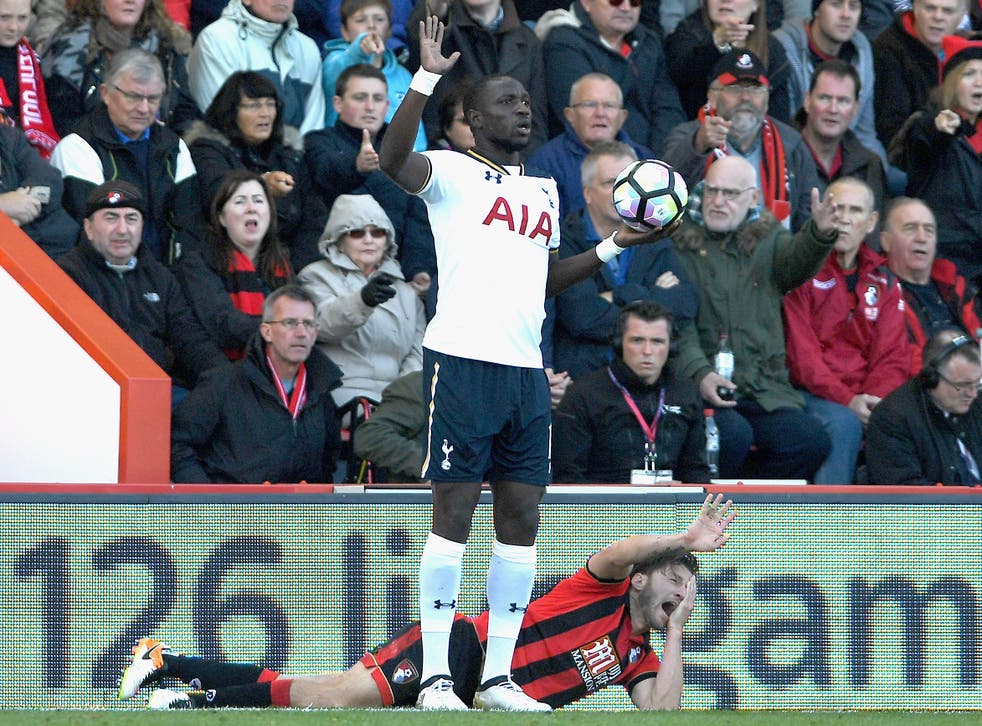 It is almost two months now since Tottenham beat Manchester City 2-0, and the more time that passes, the more that afternoon looks like an outlier, away from the trend. Not just because it was Spurs' best performance of the season, although it was. But because it was the only time when Moussa Sissoko has looked like justifying his £30m transfer fee.
Sissoko was excellent that day, harrying City into multiple mistakes. Mauricio Pochettino's team fought fire with fire, pressing City to their only Premier League defeat of the season. But after 2 October Spurs' form dipped, and has only recovered in the last few games. For Sissoko it has been downhill since then, culminating in the ignominy of not making the 18-man squad for Saturday's game at Stamford Bridge, before hearing Pochettino explain exactly why he was left at home.
Pochettino can be extremely reluctant to discuss selection issues with the press, and has not welcomed being asked about why he has left out certain players quite a few times this season. But on Saturday evening he was uncharacteristically open about why he did not bring Sissoko to Stamford Bridge with him, which is telling itself.
"Football is not about money," Pochettino said. "It is about players being better, and that they show on the training ground that they are better than another team-mate and that they deserve to be involved or not." That, clearly, is what Sissoko has failed to do recently. Which is why Josh Onomah and Georges Kevin N'Koudou were on the bench ahead of him on Saturday, despite their far lower profile.
Pochettino was making a point very clear to Sissoko that his price tag does not win him a place at the top of the pecking order. He has to do that himself. "It is about football," Pochettino said. "We can see in football different things that happen. You sign a player and then you expect something, and you don't find what you expected... Sissoko needs to work hard and to show in future that he deserves to be on the team."
It was a very pointed critique from a manager who prefers to keep things in-house. He had given short shrift to Sissoko's comments last week about moving European games back to White Hart Lane, but this was stronger than that. The last player he criticised this much in public was Andros Townsend, in November 2015, saying that he had to learn "about football, behaviour and discipline". Townsend never played for Spurs again.
There is no danger of that here. Sissoko is three months into a five-year contract. Tottenham do not want to get rid of him, they want to get the best out of him. But clearly Pochettino recognises that has not happened yet.
The big question when Spurs signed Sissoko was whether they would get the man who performed well once a month for Newcastle United, or who was one of France's most dangerous players at Euro 2016. The optimistic theory went that, playing in a more demanding environment, in bigger games, with more competition for places, that Sissoko would always be fully-motivated to produce his best football. If that were true, then Spurs would get a quick, dynamic, incisive player to provide pace down the right.
Just before completing the Sissoko deal, Spurs had tried to sign Wilfried Zaha from Crystal Palace and had bid £12m for him. Pochettino explained, days before completing the Sissoko deal, that he wanted a fast wide player to run in behind. "We need a player who is more direct, more aggressive offensively," Pochettino said. "Because we have players like [Christian] Eriksen, [Heung-Min] Son or [Erik] Lamela who like the ball played into their feet. So we need someone who has characteristics like we saw Sadio Mané, who can break the defensive line."
What Spurs have got is in fact far closer to the Newcastle Sissoko than they were expecting. A player who has performed well in a big home game against a top side, but who has offered very little in lower-key games, or on the road. He has simply not yet stepped up to the level Tottenham have demanded of him. His new team-mates have not yet been impressed by the performances, in training or in games, of the man who cost Spurs more money than any of them.
So, after a promising beginning, Sissoko's Spurs career already feels as if it is starting to tail off. In his last appearance, 15 minutes off the bench in Monaco last Tuesday, he was conspicuously poor. In his last start, on 2 November, Spurs were beaten 1-0 at home by Bayer Leverkusen. His last Premier League appearance, on 22 October, he elbowed Harry Arter, costing him a three-game ban. And his last league start, on 15 October, he was hauled off after an hour against West Bromwich Albion.
Ultimately Sissoko's time at Spurs has gone so badly, after Pochettino's pointed intervention, that from here the only way is up. Expectations have bottomed out already, three months after his record-breaking move.
Register for free to continue reading
Registration is a free and easy way to support our truly independent journalism
By registering, you will also enjoy limited access to Premium articles, exclusive newsletters, commenting, and virtual events with our leading journalists
Already have an account? sign in
Join our new commenting forum
Join thought-provoking conversations, follow other Independent readers and see their replies