Tottenham recover from two goals down as Pep Guardiola's Manchester City frustrations continue
Manchester City 2 Tottenham Hotspur 2: Two Lloris howlers gifted City the lead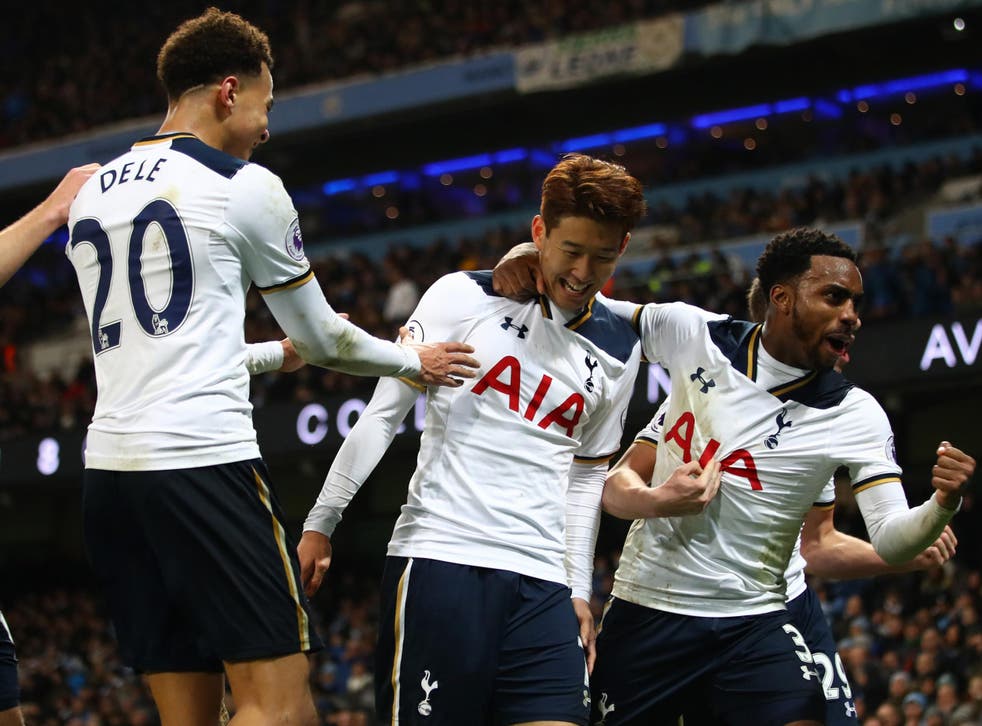 Just when Manchester City thought they were out of it, Tottenham Hotspur pull them back in. Mauricio Pochettino's side came back from 2-0 down to claim a draw at the Etihad that will re-assert their credentials, but those basic facts barely tell the story of a riveting psychodrama of a game that, really, was decided by hands as much as heads.
For once, they were no Claudio Bravo's hands, even if he could have done better on the Heung-Min Son's decisive final goal of the game. It was instead Hugo Lloris making two errors in this game for City to go ahead through Leroy Sane and Kevin De Bruyne, but also referee Andre Marriner, as he somehow failed to award a penalty for Kyle Walker's blatant push on Raheem Sterling when through on goal at 2-1.
It was instead left to Spurs to show they can push on, as they finally avoided a demoralising defeat at the home of one of their rivals for the first time since the 1-1 draw. That could be a landmark moment for Pochettino, but Guardiola can justifiably feel aggrieved that it wasn't a transformative moment for his own team.
The irony, and frustration was that he had done so much to right the problems of the last few weeks and that City had clearly done enough to win the game.
Those are the thin margins, as so much work was undone in one chaotic minute.
Undoubtedly stung by all the debate and criticism of the last week since the Everton game, City started by clearly looking to make a point, and looking much more like a Guardiola team. There was an intricacy and intensity to their attack again.
Part of that was probably because this wasn't the same Tottenham either, at least in defence. With Jan Vertonghen injured, City so conspicuously looked to play right through the centre, rather their more common route of the wings. It almost paid off several times in that opening 20 minutes alone. Raheem Sterling was pulled a little too wide after one brilliant interchange with Kevin De Bruyne and Sergio Aguero; David Silva and Pablo Zabaleta both shot narrowly wide from just outside the area, and Toby Alderweireld had to put in a brilliant last-man challenge to deny the Argentine defender when just in front of goal.
It was vintage Guardiola counter-intuitiveness in some senses. After weeks of criticism about his defence, that reached a peak in the last few days, the Catalan looked to get his side back on form by going completely on the front foot. This was a team crammed with attackers, with Yaya Toure as the sole defensive midfielder against one of the best pressing teams in Europe - except it was City here doing all the pressing. They were forcing Tottenham into a lot of errors and slips around Hugo Lloris' goal, and into an unusually meek initial display.
That did raise a question, though.
Was it all City forcing Spurs back - or had Mauricio Pochettino realised it was as well to save energy and wait to break against a backline that suspect; that fragile?
Guardiola's attack weren't willing to let them find out, as they just relentlessly pressed Tottenham like Tottenham so often do to so many others. They should really have been out of sight by the break, as the last 10 minutes of the half saw Leroy Sane put a header wide and Aguero put one into Lloris's hands.
Then, the game was completely inverted. Lloris was guilty of a mishap that even Bravo would struggle to produce. It won't go unnoticed, of course, that it also came from the most traditional of English routes. Nicolas Otamendi slid in with a industrial tackle, De Bruyne lofted the ball forward and Lloris somehow missed it with his head to ensure Sane couldn't possibly miss with his foot.
So clearly rattled, Spurs and Lloris crumpled again just four minutes as later, as the goalkeeper spilled the ball at the feet of De Bruyne for his first league goal since September.
City still couldn't get too confident or comfortable in themselves, though, as they were instantly reminded of why they have had such issues; why they haven't produced this level of performance so consistently: those holes at the back that so often suck out so much of their assurance.
Spurs found another on 58 minutes. Venturing forward, Harry Kane - who only had 11 touches in the first half - pushed the ball out wide, to give Gael Clichy a dilemma. He could have come out, but instead hesitated as Kyle Walker surged onto the ball. The wing-back put in a perfect cross, and Dele Alli powered in another header.
The season for both of these teams, then, may well have been turned on its head.
City were still purring even after that goal, to the point that a series of attacks eventually saw Sterling power through on goal for what should have been the clincher. Just as he was about to shoot, though, Walker clearly pushed him to unbalance.
Although Sterling was going to ground, he got a tame shot off, and that is the only possible reason that Andre Marriner could not have given a penalty.
An irate Guardiola could not believe it, and couldn't contain his anger, as Spurs immediately went up the other end and equaliser.
It was perhaps the goal of the match, as Christian Eriksen burst through for Kane to then exquisitely push the ball on oncoming substitute Heung-min Son to roll it beyond Bravo's reach.
A moment of crisp clarity amid so much chaos.
There was still more as City's substitute Gabriel Jesus had a goal ruled out for offside on his debut.
No-one could quite grasp it.
The title may well be handed to Chelsea.

Join our new commenting forum
Join thought-provoking conversations, follow other Independent readers and see their replies